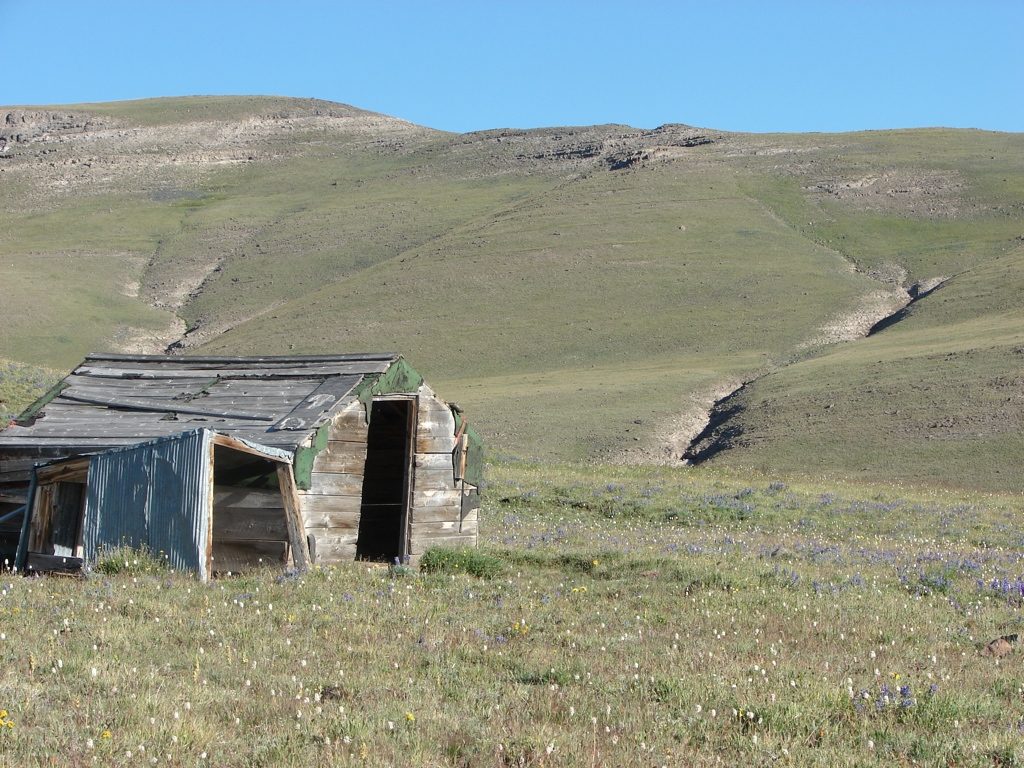 The weekend of August 6, 2010, Eric and I went to check out the Absaroka Mountains outside the east end of Yellowstone. I decided I wanted to try to see grizzly bears on the high mountains feeding on Army Cutworm Moths. They gather in large groups to feed on the moths, and I decided I wanted to see that. As a result, Eric and I armed ourselves to the teeth (well, he armed himself to the teeth, and I figured he wouldn't let me get eaten), and we headed out. I did take the bear fence I had bought a few years ago for our trip to Alaska.
I did a lot of research to try to figure out where the bears would be, and I found one overarching fact: I don't think the bear researchers want you to know where they find the bears. I read a lot of research reports, and they all told generically the types of places where they find bears, and they gave locations on very generic maps, but there was no mention of GPS coordinates, specific mountains, or anything else that would really help you find the places where they see bears. Okay, that kind of makes sense, so I figured there would be hikers with trip reports that mention seeing the bears. There weren't. It's weird, but after literally hours of searching, I couldn't find any trip reports that mentioned seeing bears feeding on moths. I found a couple of sites that mentioned bears may be on a certain mountain, or the mountain is prime habitat, but there was no mention of someone actually seeing the bears. So, I took the little information I did have concerning habitat, and I scoured the map looking for a good place.
We ended up going to Carter Mountain on our first day. I had high hopes for this mountain. There was a road that would get us up high, and I had read good things about the bears up here. After an extremely long drive through Yellowstone, into Cody, and then up the teeth jarring 4 wheel drive road to the top of the mountain, we made it to the top late in the afternoon. The views were spectacular, and the mountain was much prettier than I expected. The bear signs, though, were virtually non-existent. We saw some places that could have been dig sites, but we couldn't be positive. Regardless, we didn't see any bears. We camped up on the mountain as the wind howled and storms blew all around us.
The next day we decided to head down and try backpacking into somewhere. We ended up going to the Wood River at the old mining town of Kirwin, WY. We planned to hike up Mount Crosby, but once we got there and looked closely at the trail description, we decided it was steeper than we wanted to deal with. There were also a lot of cars at the trailhead, so we were a little concerned that it would be crowded. After sitting there a while, though, we realized that most everyone was exploring the mining town. So we packed up and headed up the Wood River along the the East Fork Trail towards Bear Creek Pass. Two people had written in the trail register two days earlier that they had seen a large grizzly on Mount Crosby, and our trail was running along the base of Mount Crosby, so we were keeping our hopes up.
After hiking several miles up to the base of Bear Creek Pass, we set up camp at one of the only sites we had found along the whole trail. The hike was really nice…pretty, flat, and pleasant. After getting camp set up (with the trusty bear fence), we made some dinner and then enjoyed the views above our camp, trying to find grizzly bears on the surrounding peaks. We didn't find any and we eventually turned in for the night. Before climbing into the tent, I started hearing elk. Looking on the hill beside our camp, I saw a large herd of elk just 50 yards from our camp. It was really cool watching them meander the hillside right at dusk just a few yards from our camp. After that, we had an uneventful night.
We got up the next morning, packed up, and headed back to the car. We had an uneventful hike back, and didn't see one, single bear. I went out specifically trying to find a grizzly bear in the backcountry, and we really didn't even see any signs of bears. We had the trail almost completely to ourselves. The only people we saw were near the trailhead looking at the mining ruins. It was interesting, though, because literally every person we saw was carrying a firearm. Most of them were carrying large revolvers, and some were carrying rifles. It was obvious that these people were antsy about grizzlies around the trailhead, and we had been looking for them in the backcountry and hadn't seen anything.
The Absarokas were much prettier than I had expected, though. I thought they were completely wooded, but there were pleasant meadows, grass covered mountains, and scree covered slopes. I didn't really want the range to be as pretty as it was…after all, it's a long drive from Salt Lake, and there are supposedly a lot of grizzlies out there! But it was really pretty, so I may have to do more hiking out there. I'm not sure if I want to go back to specifically look for bears again, though…maybe if I don't, that will mean I'll run into them all over the place…
Similar Posts: