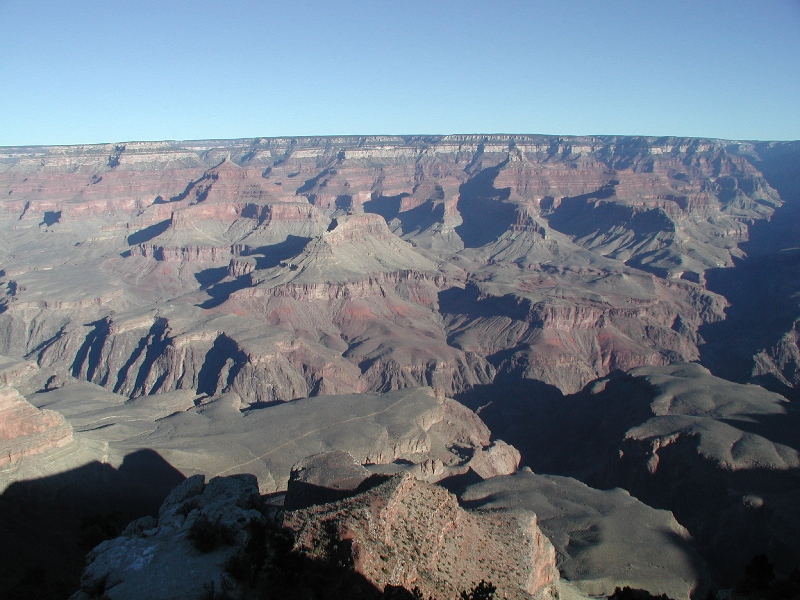 Over the 2006 New Year's weekend we took a road trip down to the Grand Canyon National Park and Zion National Park. We also made a stop over at the Glen Canyon National Recreation Area. This was the first time to the Grand Canyon for both of us. Well, in all honesty, Tracy had once circumnavigated the entire park (something like an 8 hour drive) with her friend Melissa, but they did it on a new moon night and couldn't see anything at all. So this time, I made sure that we were there for the sunlight.
The Grand Canyon was really cool, but we both agreed that we liked Canyonlands better. The Grand Canyon is an impressively large hole in the ground, but where the Colorado river cuts through Canyonlands a little further upstream is just more intricate and interesting. Also, the Grand Canyon was infested with tourist even over a winter weekend, and when we went to Canyonlands over a winter weekend, we only saw two other families. So, basically, we were impressed by the Grand Canyon, and it's definitely worth seeing, but Canyonlands is just more interesting.
After that we drove to Page, AZ, and hiked a little at Glen Canyon. That place is really nice, but the water being so far down is strange. My GPS continually showed us hiking out in the middle of the lake. We wanted to hike a couple of slot canyons on the Navajo side, but we couldn't make ourselves pay the $30 fee. Then we went to Zion, which was also still invested with tourists. Like the Grand Canyon, Zion was cool, but I just felt like it didn't have anything that you couldn't see in other parts of Utah…parts that didn't have crazy restrictions and swarms of tourists. Zion had lots of big walled canyons, but I've seen that on my drives throughout Utah, so I wasn't much impressed. I don't know…I think maybe I'm getting more upset with all the tourists in my old age. Anyway, it was a great trip and now we've pretty much checked out all the places in Utah, so now we can start focusing on hiking each of the places we've found…woo hoo!