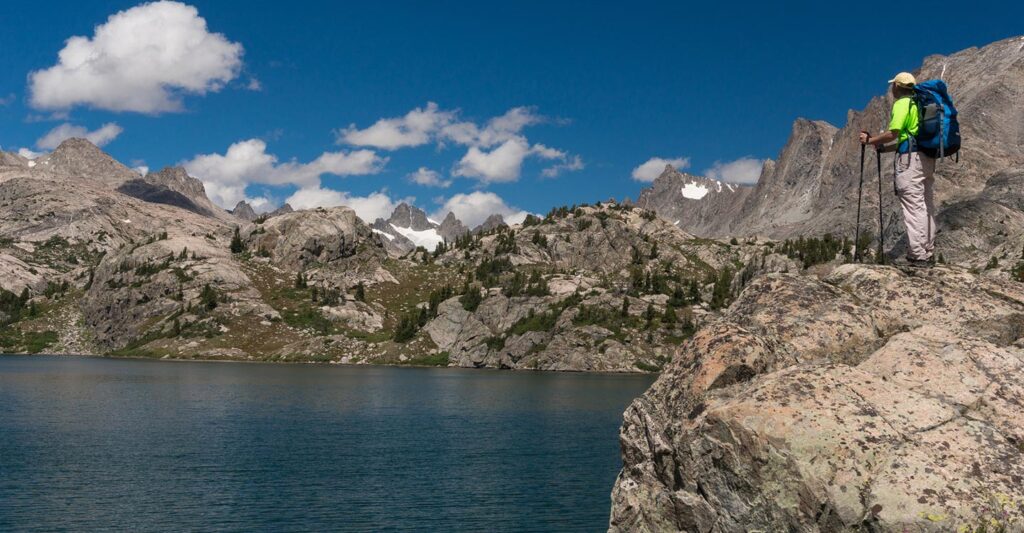 For our summer vacation in 2015 we decided to spend a week in August backpacking the Wind River Range in Wyoming.  I have done several backpacking trips in the Winds, but I had never started from Green River Lakes (GRL)…and Tracy had never been to Titcomb Basin.  So that was the basic plan: start from Green River Lakes and see Titcomb.  We were supposed to have other people come with us on this trip, which would have made it easier to exit at Elkhart Park with a car shuttle, but they backed out so we were left on our own.  Rather than adjust the plan, we left our car at Elkhart Park and paid $170 to the Great Outdoor Shop in Pinedale to drive us from the Elkhart Park trailhead to the GRL trailhead.
We got started a day later than planned because I came down with a pretty nasty cold.  But the cold cleared up enough for us to get started on Thursday, August 6th.  The beginning of the trail at GRL is just gorgeous.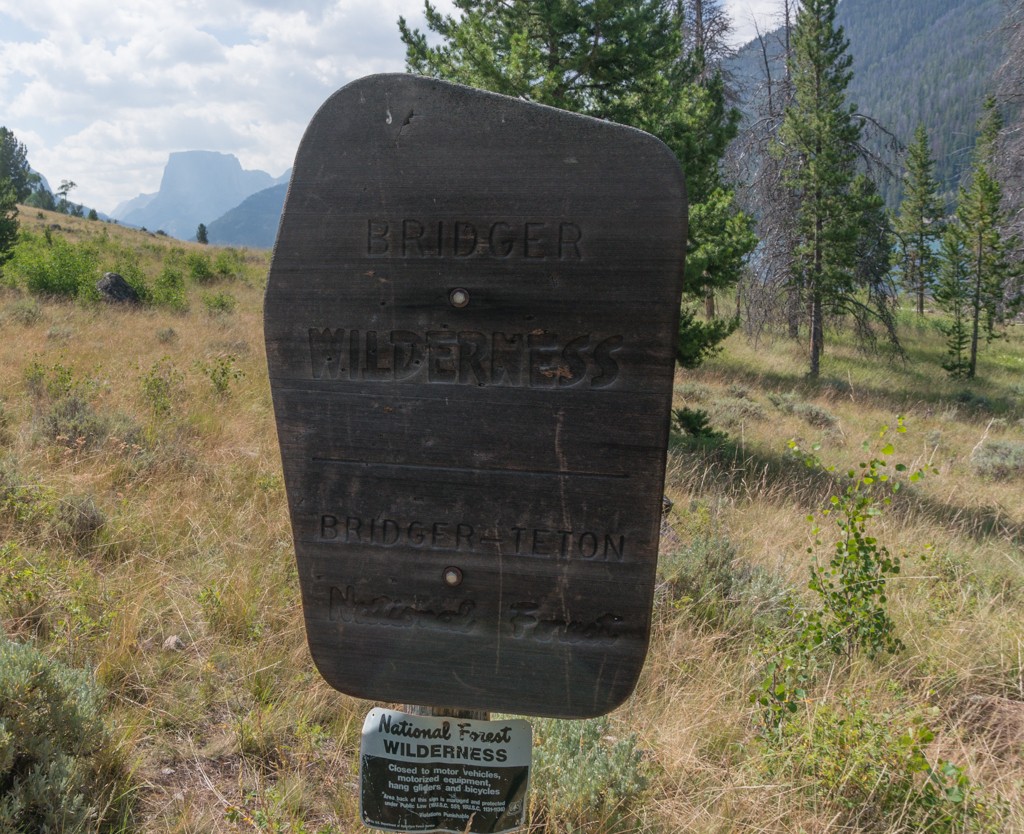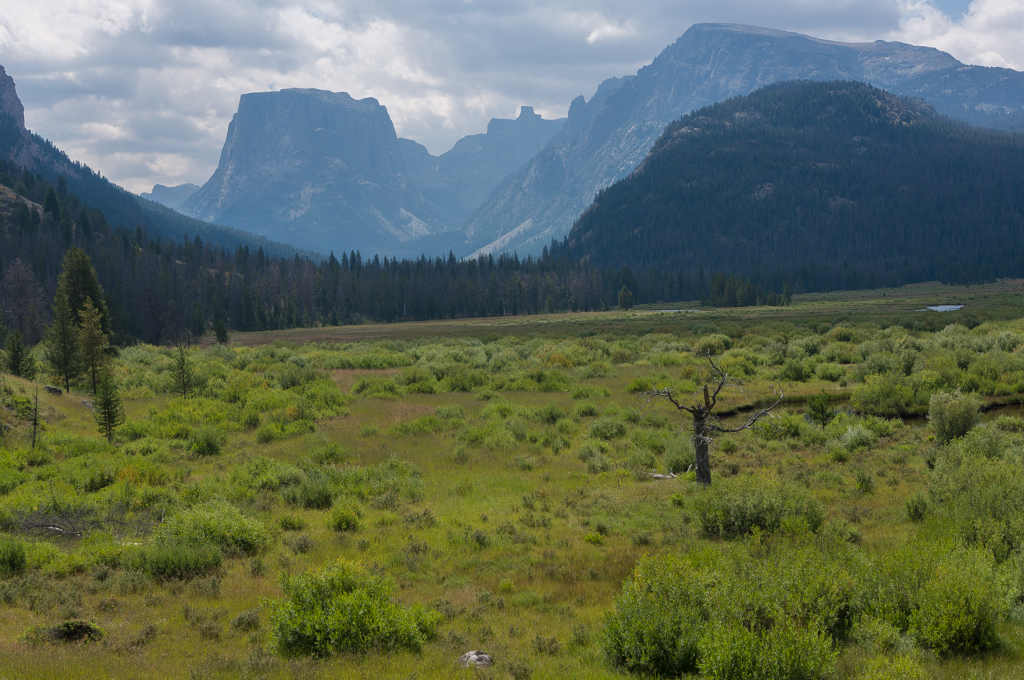 We did almost 11 miles on the first day, as the trail was really flat, making for some easy hiking.  We tried to camp in Beaver Park but we just couldn't find any good campsites that weren't near other campers.  So we pressed on and found a nice site by the river near Three Forks Park.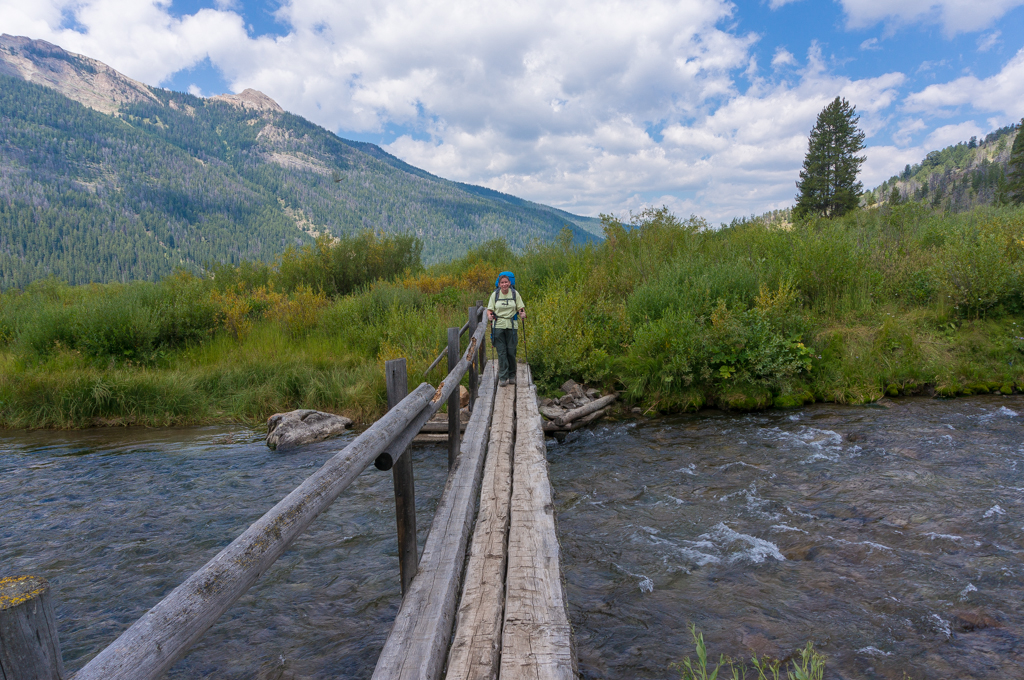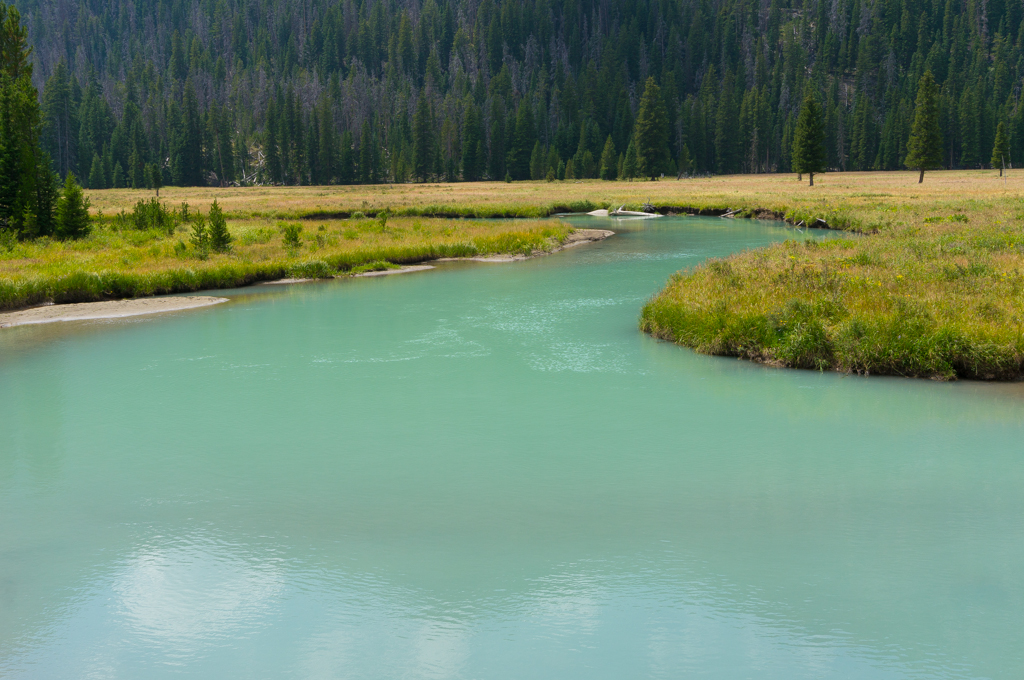 The next day was the climb up to the high country that I was dreading.  As it turned out, the trail was in good shape and had nice switchbacks, so the climb up was no problem at all.  We took our sweet time, eventually making it to Green River Pass.  I had planned to camp at Summit Lake, but it was rainy and windy when we reached the top, so we moved on just a quarter mile down the other side from Summit Lake and made camp.  The area around Green River Pass really made me want to explore around more.  There are a couple of trail intersections (including a couple of trails that appeared to head down into Pine Creek Canyon that weren't on the map) that just beckoned for further exploration.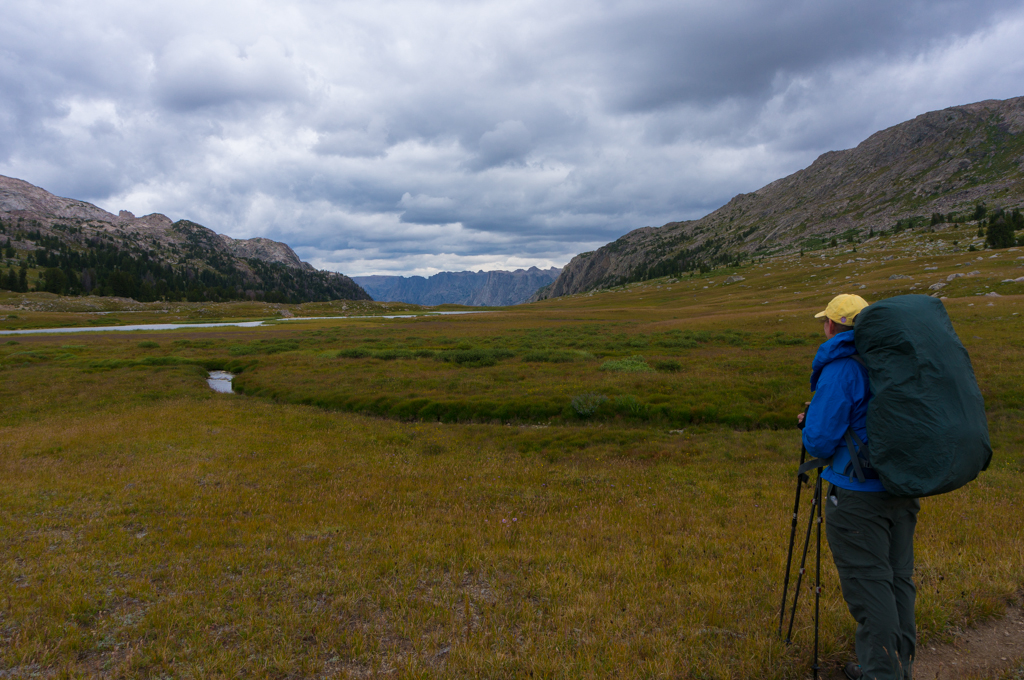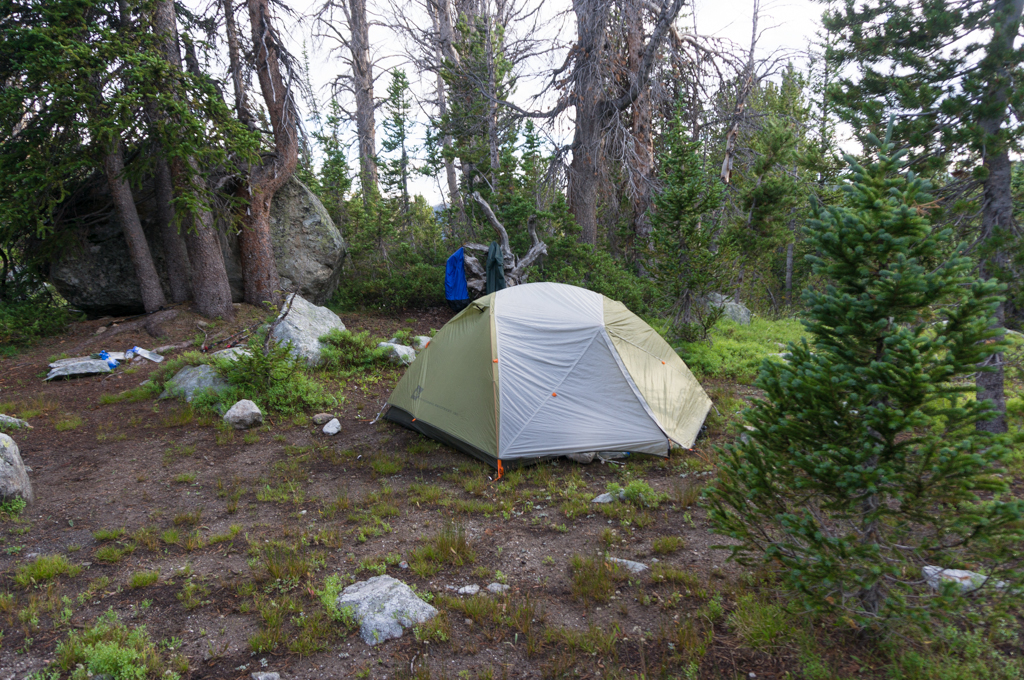 The next day was spent almost entirely above treeline.  The views around Twin Lakes and Elbow Lake were just incredible.  The area was like a giant bowl of granite that just felt wonderfully remote and isolated.  Somewhere near Pass Lake we were hit by the storms that we had been expecting.  Luckily, there were only a couple of close lightning strikes in the storm, but there was a lot of sleet, hail, snow, and wind.  We found shelter for about half an hour under the only trees we could find until the storm died down a little.  The temperature had easily dropped 20 degrees, so we hiked on, enjoying the new snow-trimmed mountains.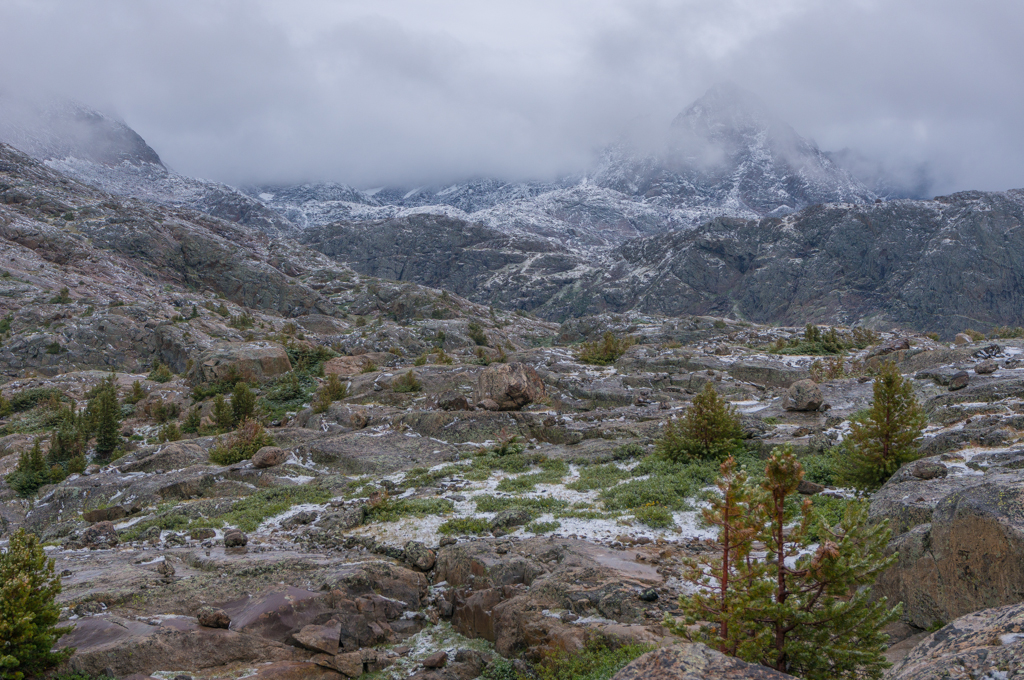 Another short storm moved through as we climbed above Elbow Lake to the intersection of the Shannon Pass Trail.  But the area above Elbow Lake was really pretty and we just hunkered down and enjoyed the views.  I had wanted to explore up towards Shannon Pass, but I didn't have the steam to climb up.  So we just enjoyed the views and then headed down towards Jean Lakes.  The plan was to camp at Lower Jean Lake.  But when we got down to it we realized that it was completely above treeline and it was still windy and chilly.  We spent about an hour combing around trying to find a good sheltered site, but we couldn't find anything that we were comfortable using.  We were pretty well spent by then but we decided to keep going and descend down to Fremont Crossing to find a better campsite.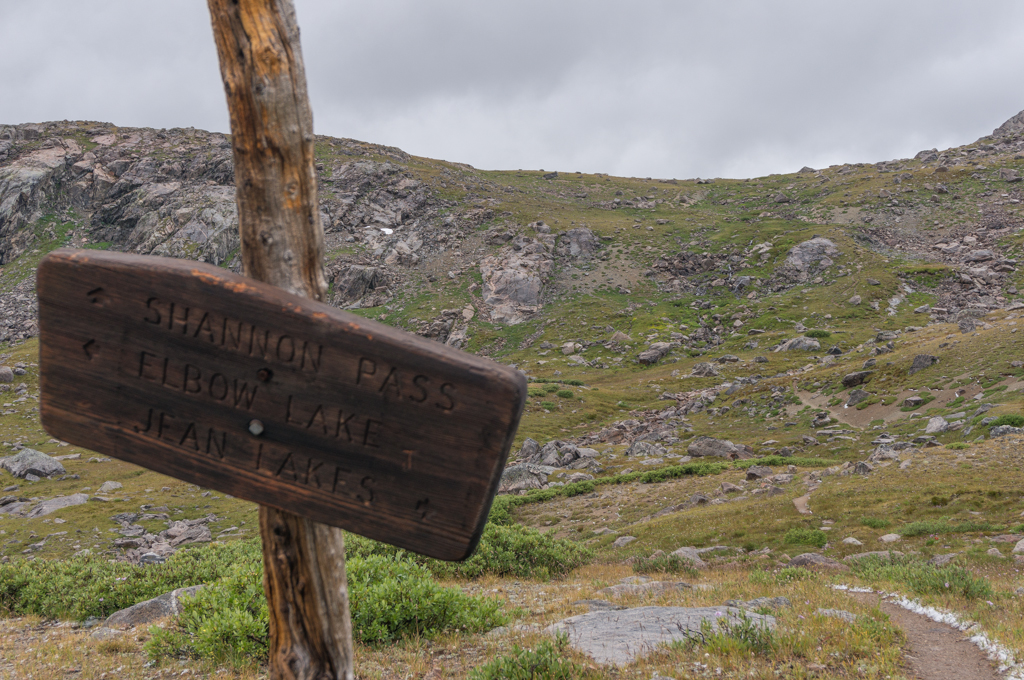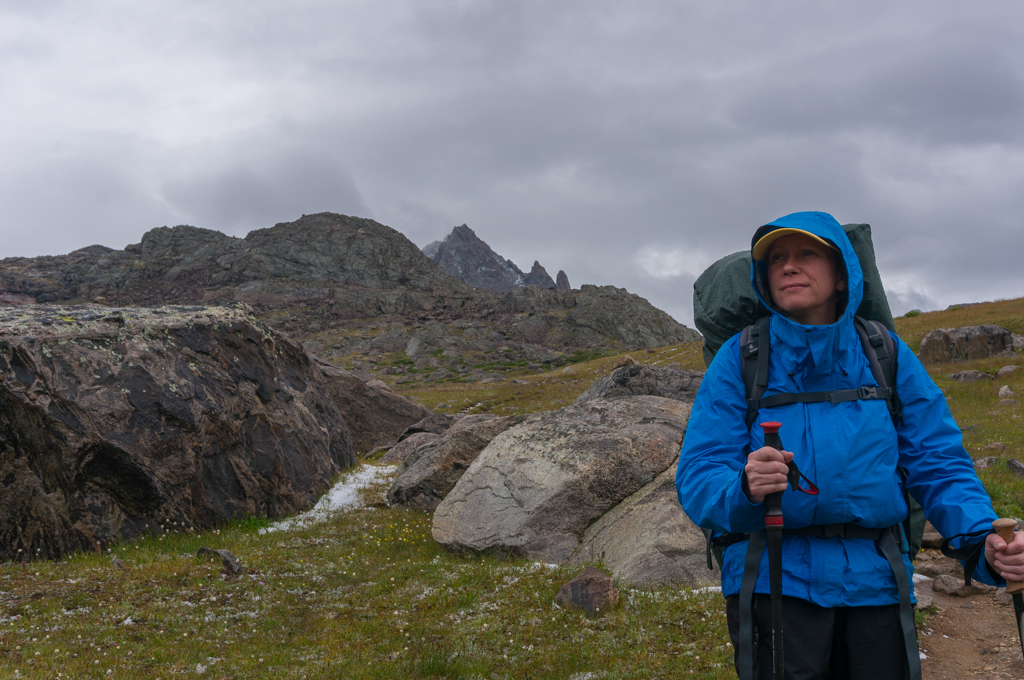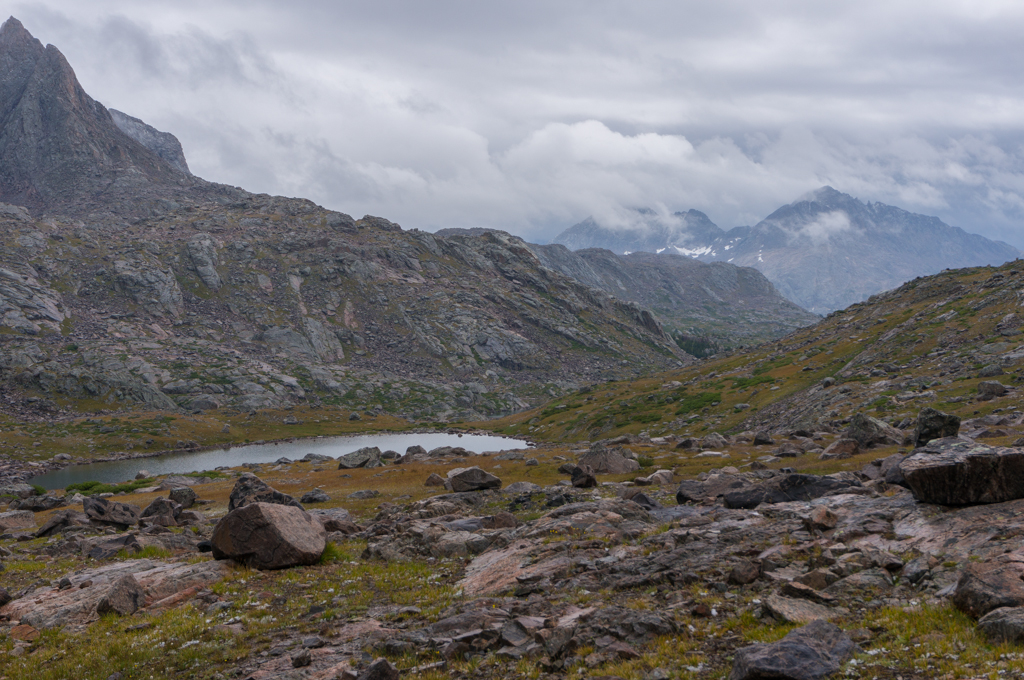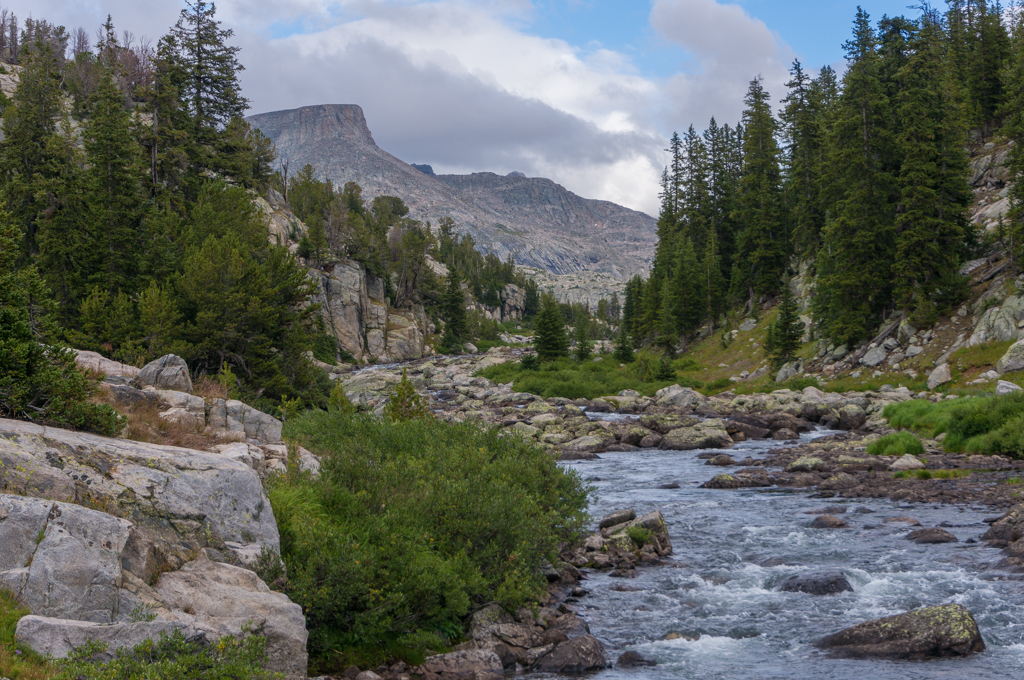 The trail descending from Lower Jean Lake to Fremont Crossing is an awful rocky, muddy, steep mess.  I was very glad that we were descending that stretch rather than ascending it…I really thought it was an awful stretch of trail.  There was a large horse group camping at Fremont Crossing, so we continued on a bit and found a nice site by a lake.  Unfortunately, we were exhausted and wet, so it was all we could do to set up camp and eat before crashing for the night.
The next morning was a very short backpack.  We packed up and hiked a mile and a half or so to the Indian Pass Trail intersection.  We found a nice site just a couple of hundred yards from the intersection and set up camp.  We then spent the day making a dayhike into the absolutely beautiful Titcomb Basin.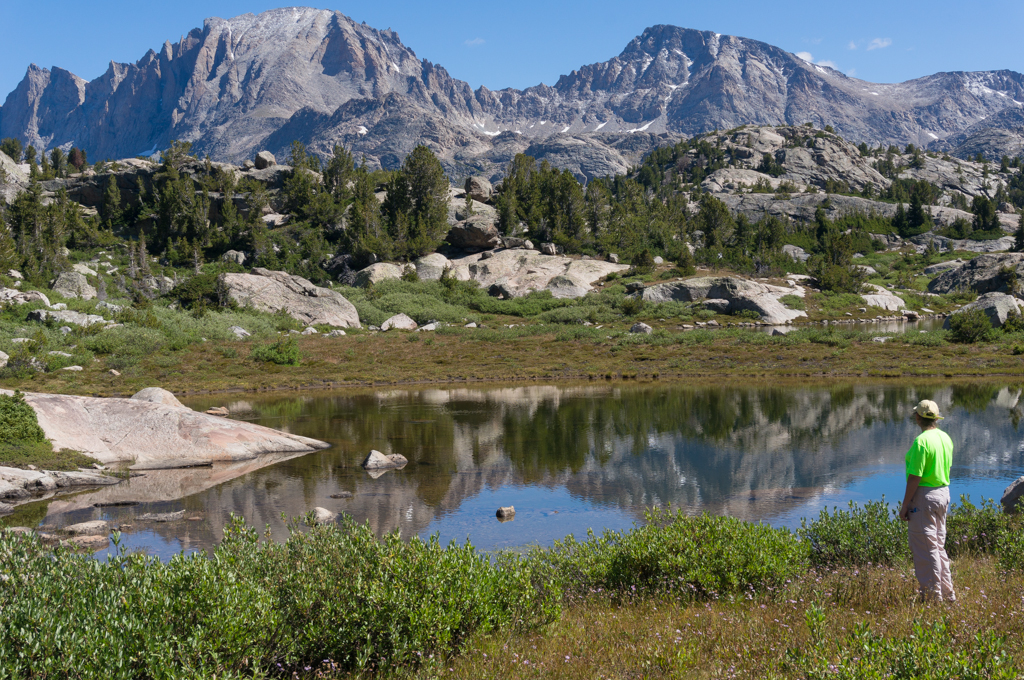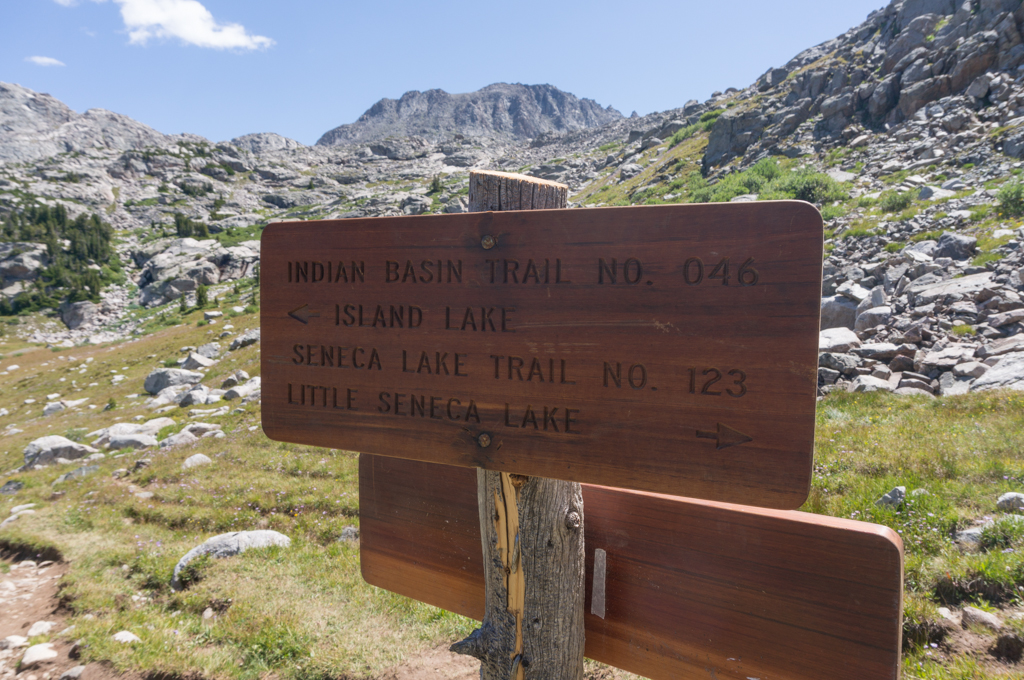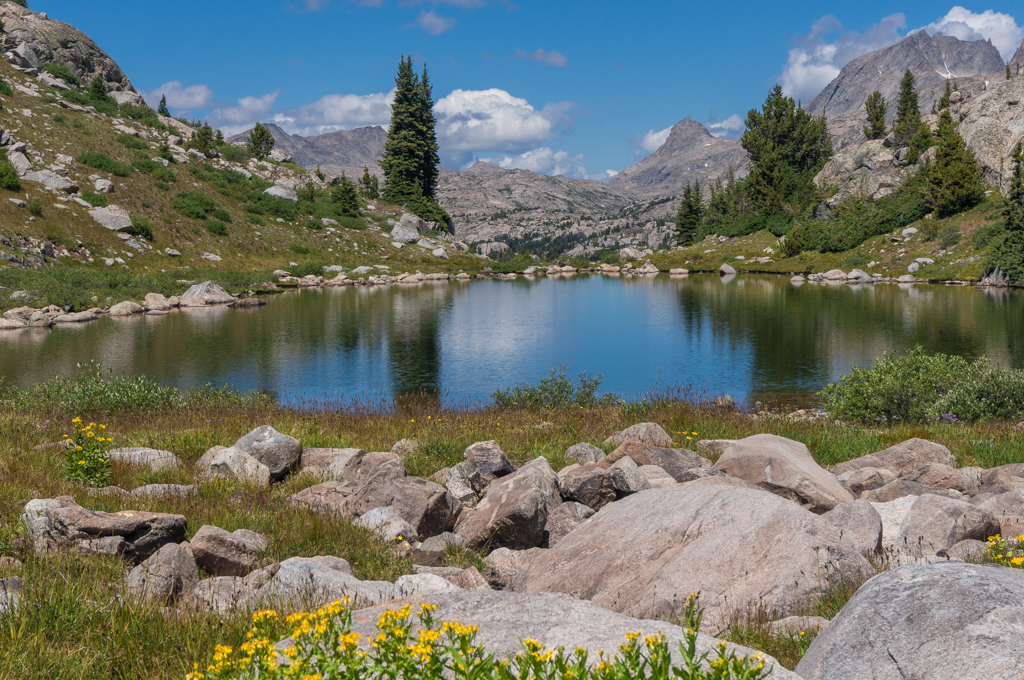 We definitely started seeing more people once we hit the trail to Island Lake.  Up to this point of the hike, we hadn't seen many people at all and easily 80% of the people we did see were through hiking the Continental Divide Trail.  The only bad thing about that was they were all ultra-lighters and it made me want to learn more about how to do a long trip with just 20 pounds on my back.  We did camp with a group of about 12 people from the Sierra Club near Summit Lake.  There weren't many good campsite options so we had to share the area with the group.  But they were quiet and apologetic about having to camp so close, so even that was fine.  But once we hit the main trail from Elkhart Park, the crowds picked up.  Having said that, though, Island Lake and Titcomb were not nearly as crowded as I expected them to be.  We did run into a lot of people the next day as we were hiking out who were coming in, so it seemed like it would be getting more crowded.  But on this Sunday it was pretty quiet back in there.  So our first stop was the great views at Island Lake.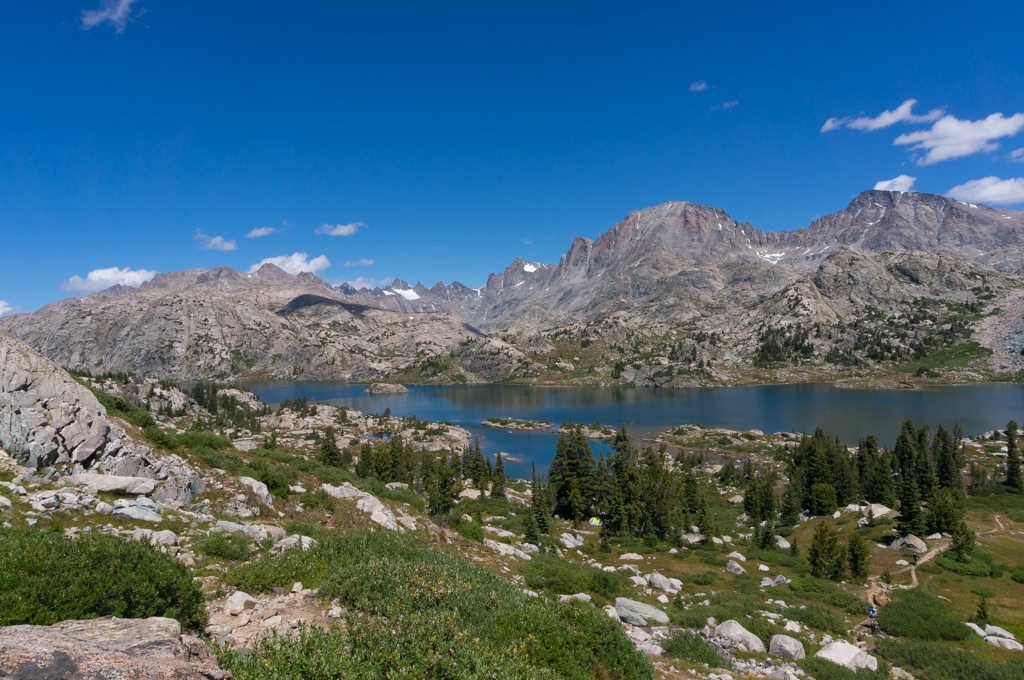 From there is was the ups and downs into Titcomb Basin.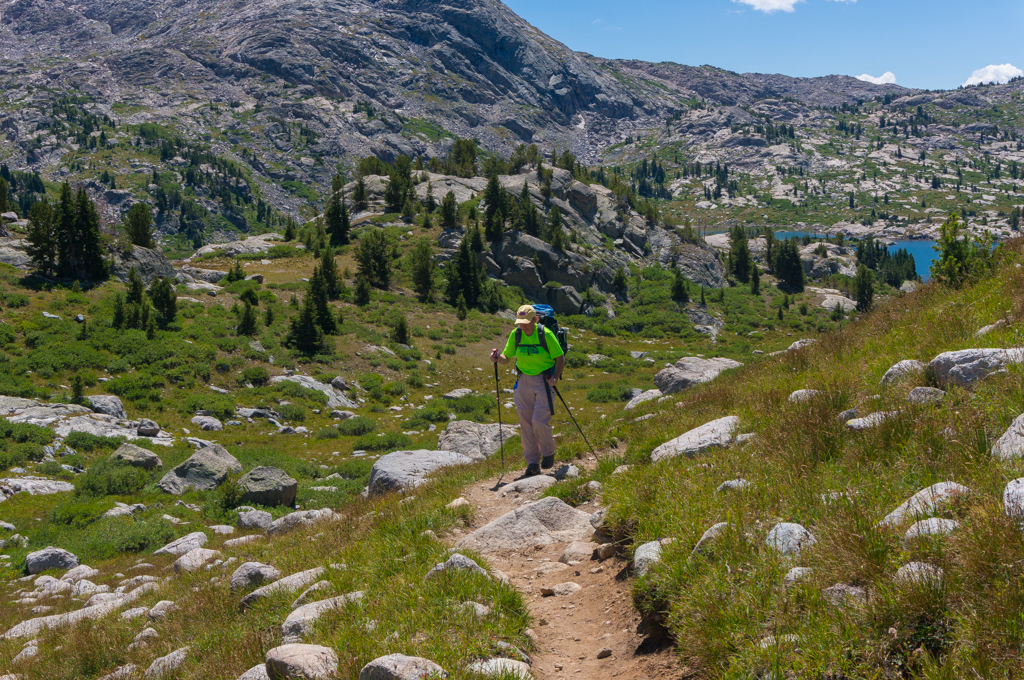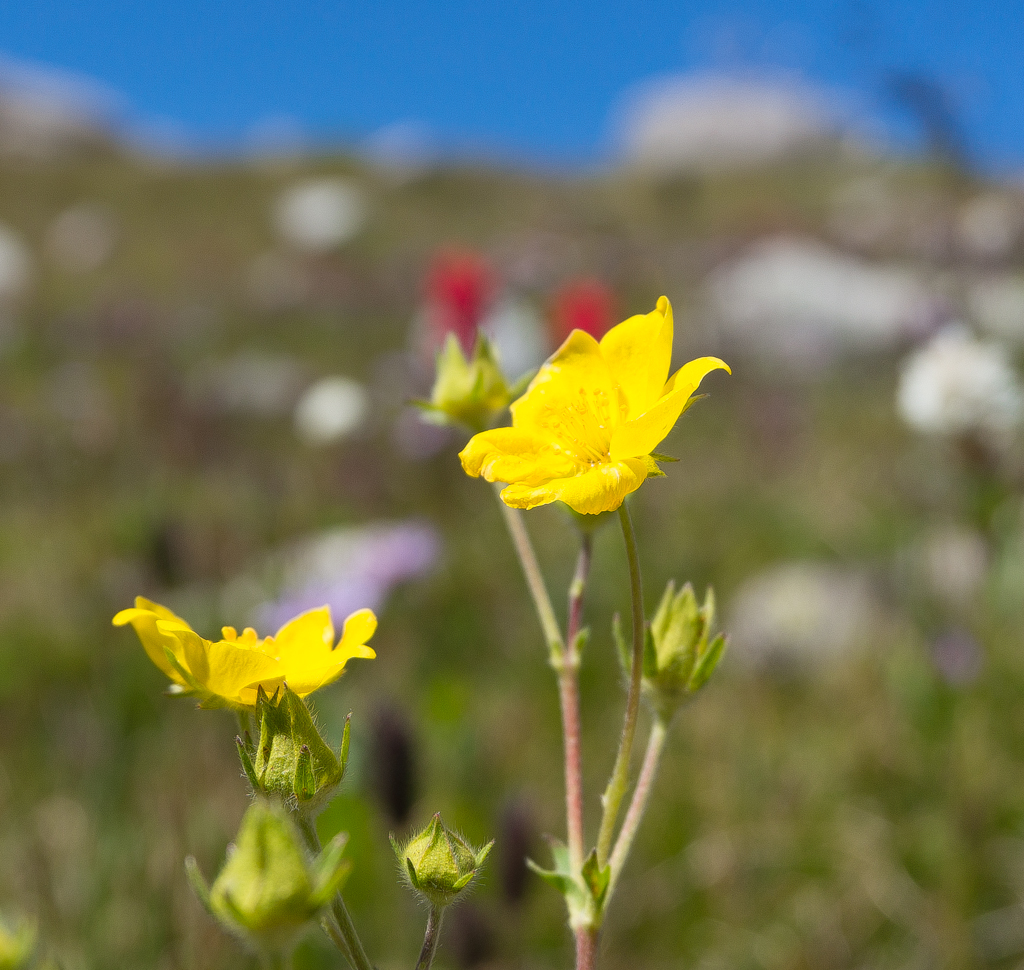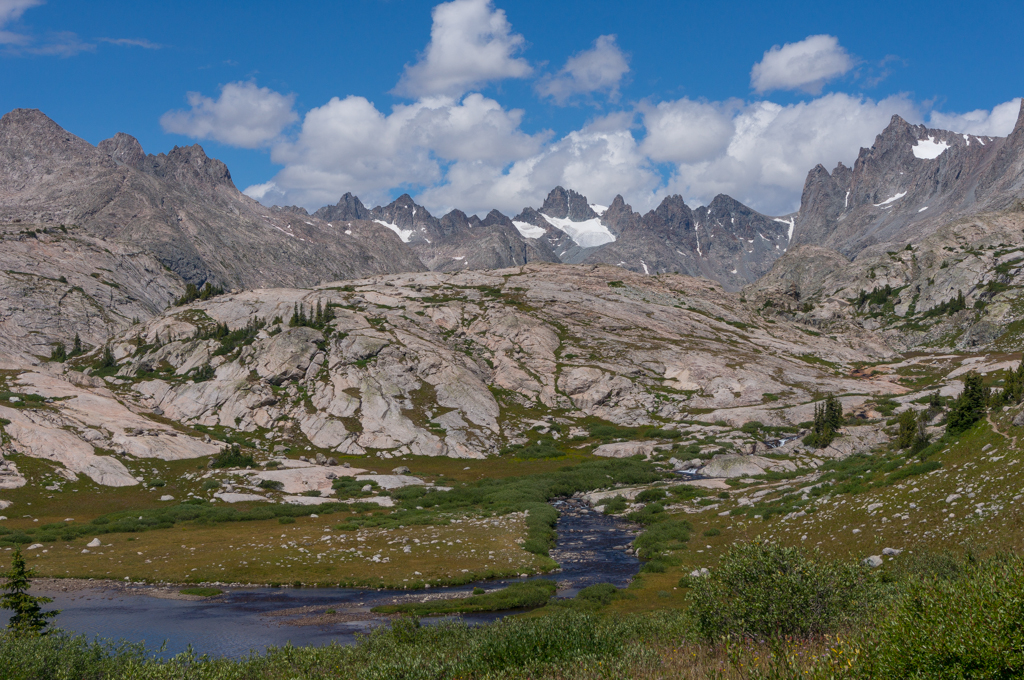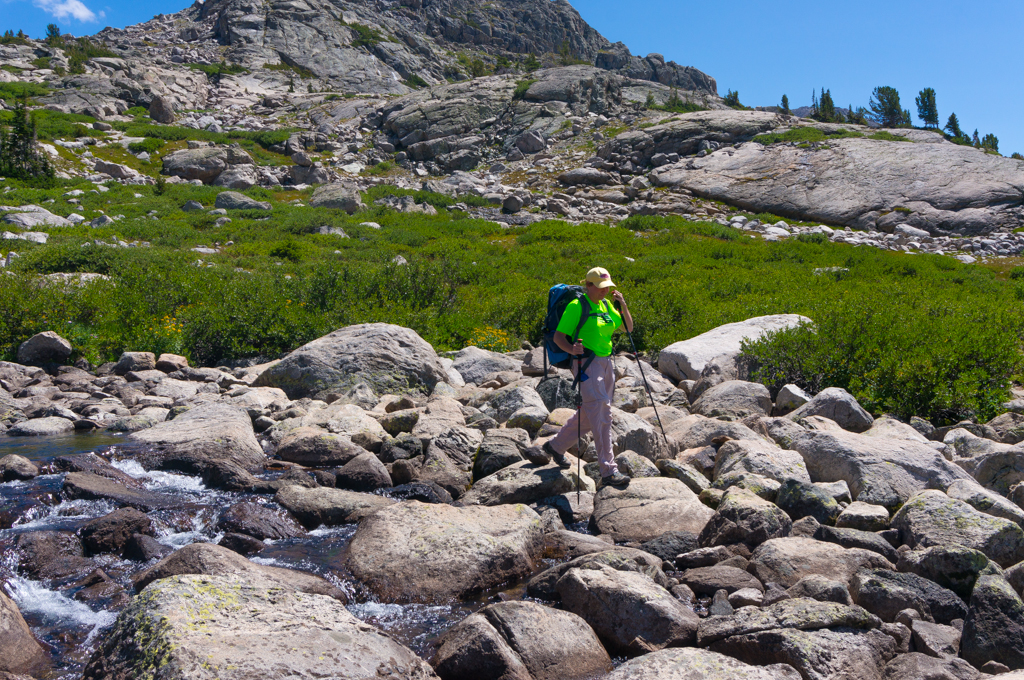 I'm always surprised how far it is from Island Lake into Titcomb.  It feels like it should just be right there, but it's a solid three miles past Island Lake to get into the heart of Titcomb.  Considering the distance from the intersection of the Highline Trail, it's a significant dayhike to get into Titcomb and back out.  If I ever go back, I'll probably try camping somewhere past the Indian Pass Trail.  But the rewards of Titcomb make all of the work worth every bit of the effort.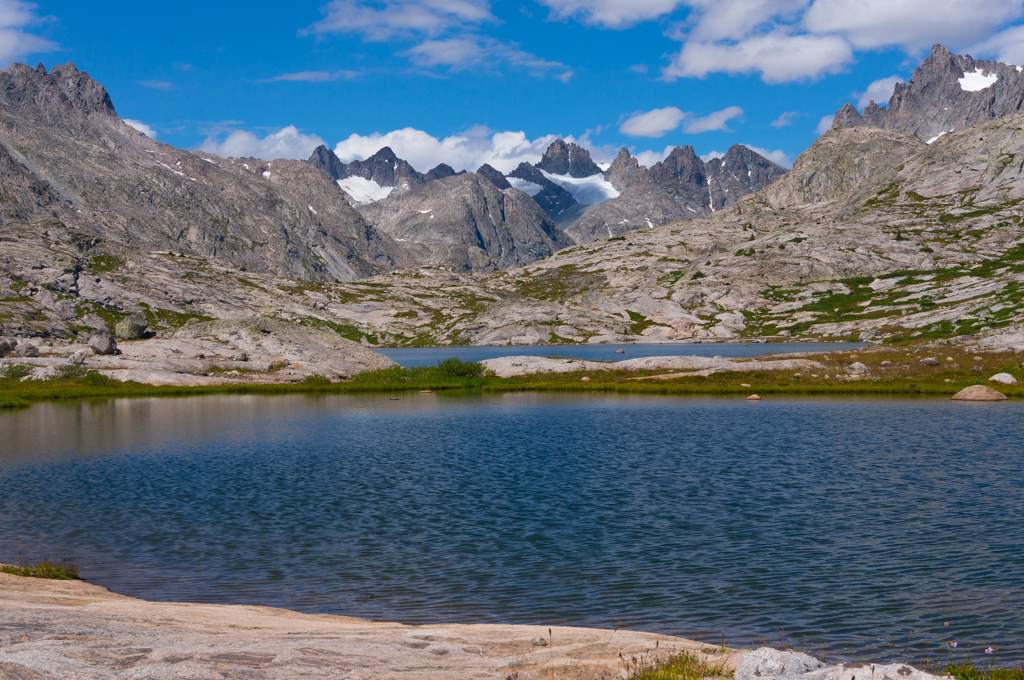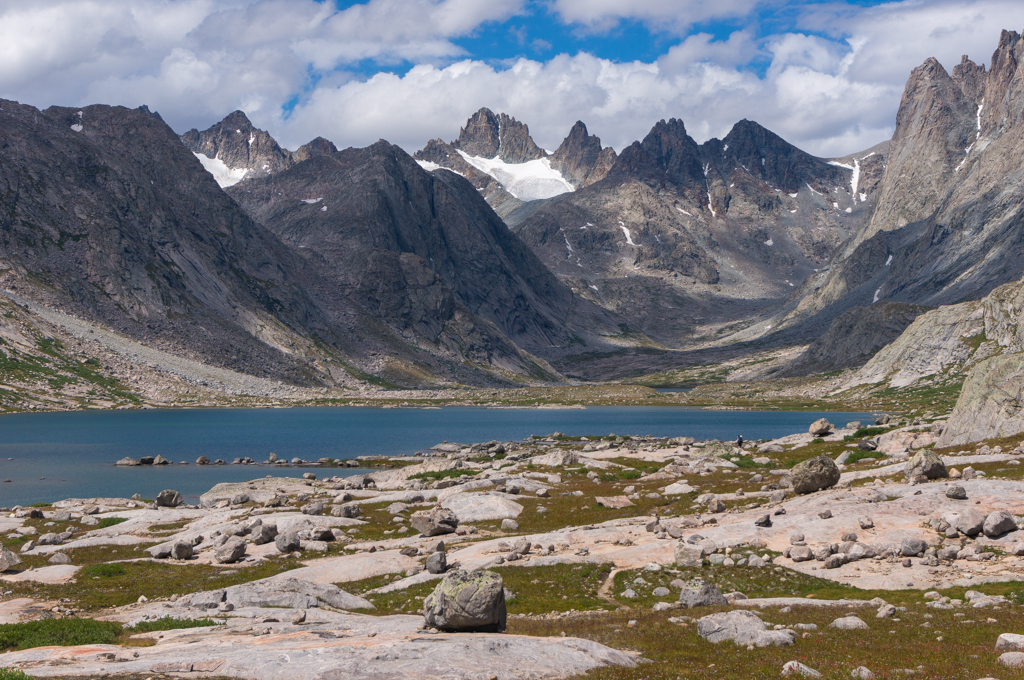 I still think that Titcomb Basin is one of the most, if not the most, iconic mountain landscape of anywhere we've seen.  Even compared with places like the Tetons, Banff, and Mt Cook, this place is simply amazing.  To me, this is the best way to explain how pretty it is: Tracy cried when she saw it.  Now, I think some other places we've seen have better mountains in general than the Winds, but I think Titcomb is the singular most iconic mountain basin that we've seen so far.  It simply embodies what you imagine when you think of great mountains.
After spending way too brief of a time at Titcomb, we headed back to camp because the weather was looking iffy.  It ended up sprinkling a little bit, but that was all.
The next day was simply a slog back down to Elkhart Park.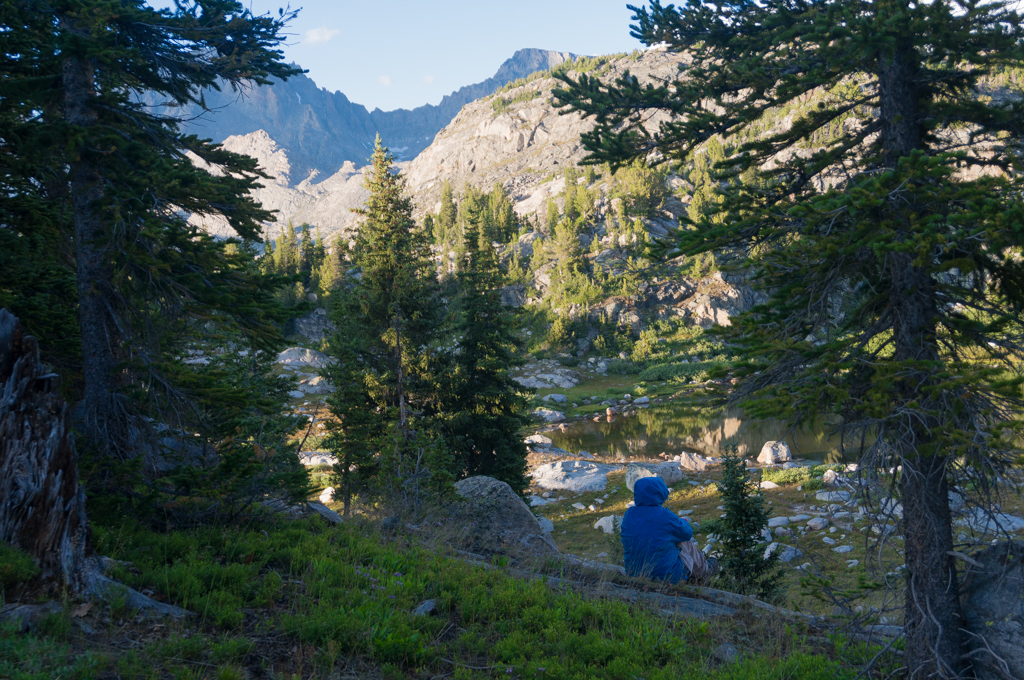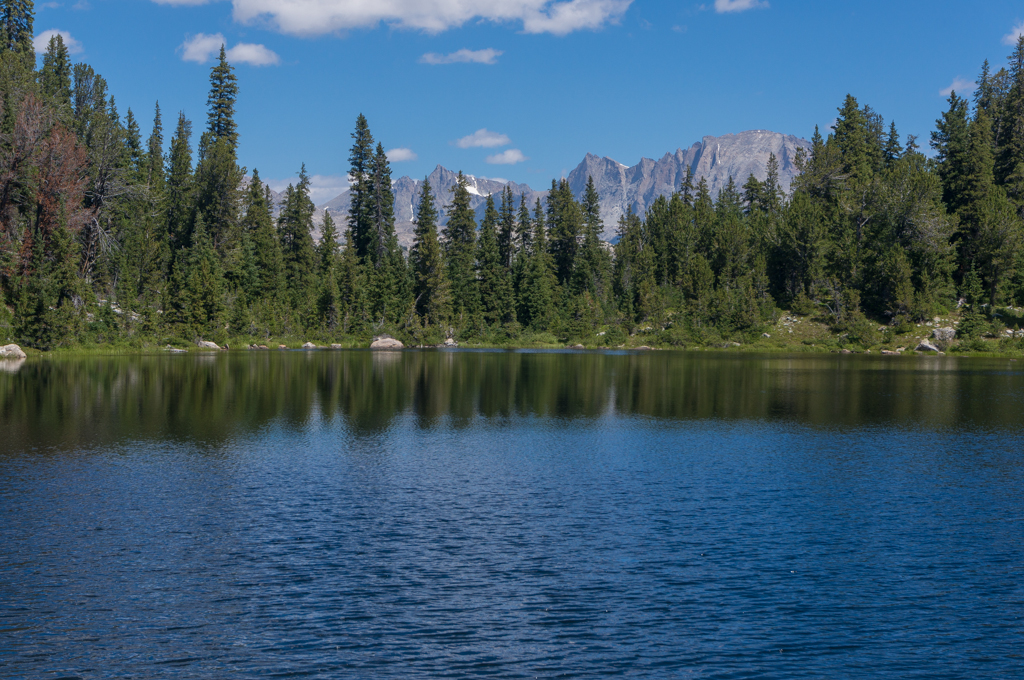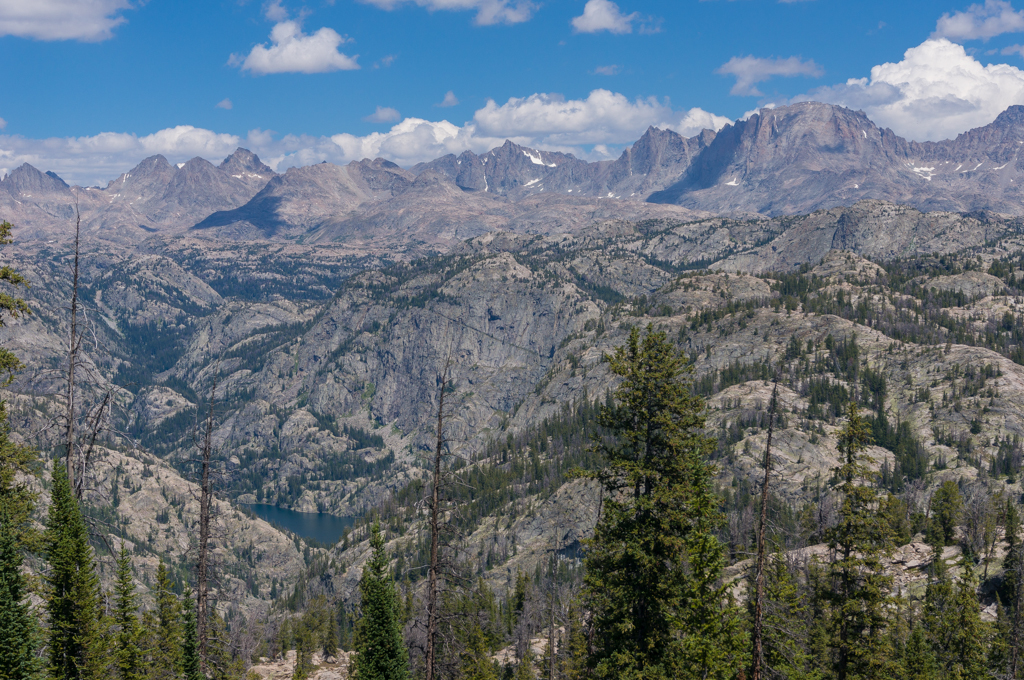 The trail out was pretty crowded, and we were surprised at how many people we saw who looked like they would never make it to the high country.  After only seeing ultralight CDT hikers for four days, it was weird to see people who were seriously out of shape carrying backpacks that were way, way too big.  We saw one guy whose pack looked like it was homemade with wood and canvas and it easily extended three feet over his head.  When we first saw him the pack was swinging around above him as he tried to negotiate rocks.  And then he told us that he was headed over the Divide to fish.  He was only an hour from the trailhead and neither of us could imagine him making it over the Divide.  There were other people who just looked like they were already struggling in the first mile of the trip.  Some of them I shook my head at and others I felt sorry for.  I'm not saying these people shouldn't be hiking out here…I'm saying the mountains here can be hard, and it's tough for me to imagine this being an enjoyable trip without some preparation and experience.
But the trail also didn't help.  I think the trail from Elkhart to Island Lake is one of the worst trails I've hiked.  It's rocky, steep in places, muddy, and just generally unpleasant.  It stinks that so many people with such little Rocky Mountain backcountry experience are coming to Titcomb Basin for this great backpacking experience and they're met with this awful trail that could have been laid out much better.  But, hey, maybe it keeps out the riff-raff.  Either way, I'm glad we came in from GRL.
We did meet a retired couple who were going to start the next day at GRL and spend 8 days hiking to Big Sandy.  On one hand they inspired us for what we hope to be doing when we near our 70s, but on the other hand they made us feel like pansies since we only spent 5 days out there!  I was upset that I didn't get their names and talk to them more about how they're living their retirement…we need to start learning more about this as it gets closer.
We then drove back into Pinedale, checked into a hotel, cleaned up, and went and ate a big hamburger.
Gear Thoughts
Our gear worked out well on this trip.  One problem I've had on big trips in the past is impact pain on my big toes and my arches.  This time I started the trip with thick molefoam in those areas and held it in place with Leukotape.  That worked great.  Tracy also used the tape to prevent blisters from her toes rubbing together.  I changed the molefoam out daily, and it helped a lot.  My feet still got a little sore, but not nearly as bad as they usually do.  I'm thinking about trying hiking shoes next time instead of my heavy Asolo boots to see if that helps my feet.  I also used my Vivobarefoot shoes for the first time on a long trip, and they worked great for river crossings and for letting my feet air out at night in camp.  They're expensive, but they're incredibly light and they do a great job.
Our Western Mountaineering sleeping bags did great.  We heated water to warm up our feet after the day of sleet and snow, but otherwise we stayed comfortable at night.  I still love my Osprey backpack.  That thing fits like a dream and I didn't have any shoulder or neck pain at all on this trip.  That's amazing to me after dealing with a Kelty pack for so many years.
Final Thoughts
This was an incredible trip.  It was nice to get back to Wyoming after moving from Utah to Alabama last year, and the Winds never disappoint.  I definitely found other stuff in the areas around Green River Pass and Elbow Lake that I would like to explore more, and I'd still like to see more on the east side of the range, but I'm very happy that I got to see some new things in the Winds.  The trail between Elkhart and Island Lake is crowded and crappy, but the trail from GRL to Jean Lakes was great.  The Winds should definitely be on your bucket list.