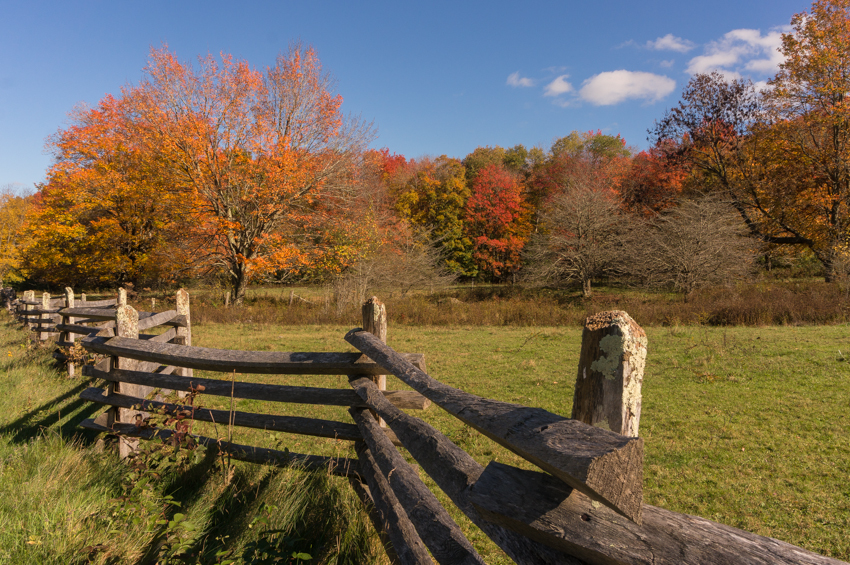 The weekend of October 10, 2015, we took a trip up to Virginia to hike around Grayson Highlands and to see some fall colors. Of course, like everything else we're learning since we moved back east, lots of other people had the same idea. We drove into Grayson Highlands and it was a madhouse. We didn't even stop the car…we just turned around and headed back out.
Oh well…so much for those backpacking plans.
So we spent the rest of the weekend just exploring around south-west Virginia. We explored along Beaverdam Creek south-west of Damascus, explored some on Whitetop Mountain, then we checked out the Iron Mountain Trail along Forest Road 84, and then we hiked some on the Lewis Fork Trail on the back side of Grayson Highlands. Then we spent the night in Abingdon. The next day we took a long, slow drive down back roads in Tennessee to get back home.
Even though the crowds at Grayson Highlands killed our backpacking plans, we still had a nice weekend. This area is really pretty, and the fall colors were really nice. I'd like to explore more of the Iron Mountain Trail in the fall or winter, I think. It just looks like a fairly long-distance trail without much traffic. And, as always, Abingdon is a nice town.