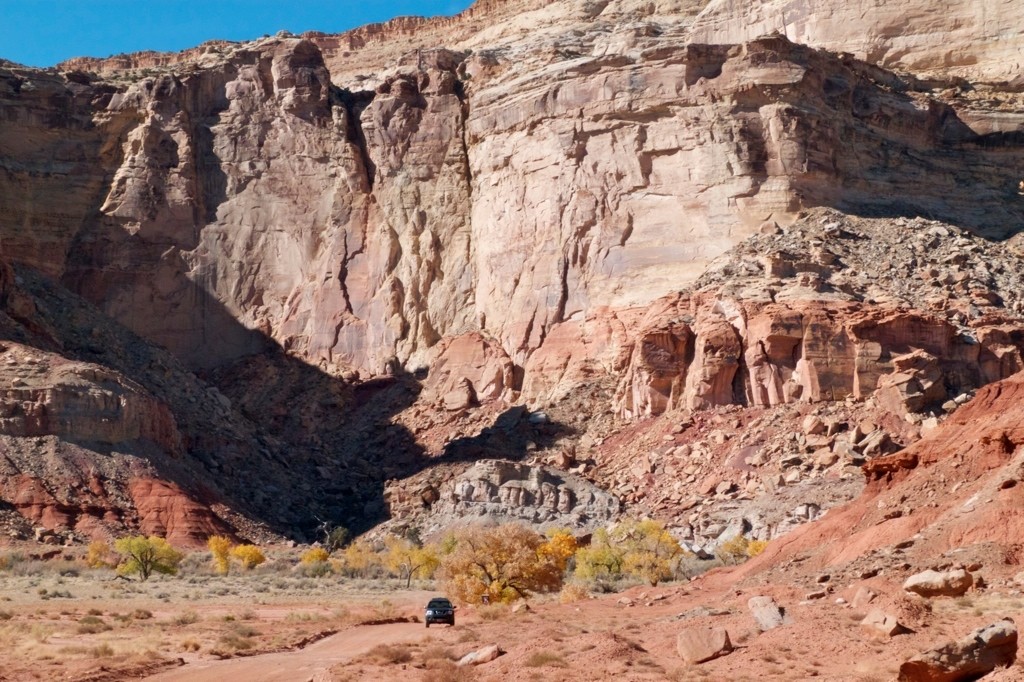 The weekend of 2 Nov 12, Tracy and I took a trip down to southern Utah.  We stayed in Green River on Friday night, and then headed down to Muddy Creek on Saturday, with our first stop at the Hidden Splendor Mine.  The road out to here wasn't bad at all, and it was really pretty.  We hiked along Muddy Creek for a mile or so, but the water level was pretty high up, so we ended up turning around.  From there, we headed up to Tomsich Butte to see the other end of the Chute of Muddy Creek.  This area had more obvious mining ruins, which was cool, and it also had a big arch and was just generally prettier than the Hidden Splendor area.  We walked around here for awhile, and then started the long drive through the Swell to get to the Goblin Valley side of the Swell.  There were some people from an outdoors forum who were camping that night near Horseshoe Canyon, so I thought it would be cool to try to meet up with them.  So we made the long drive through the San Rafael Swell and then the long drive out into the San Rafael Desert.  Some parts of the road had some surprisingly deep sand.  We've driven this road before, and the sand wasn't nearly as deep.  I'm not sure I could have done a couple of stretches without high clearance and four-wheel drive.  We found the group's campsite just before dark near Keg Knoll overlooking Horseshoe Canyon at a place we had actually explored before, and spent the night meeting new friends.
We got up on Sunday and headed to Moonshine Wash.  The people we camped with had done this canyon the day before, and they said it was a nice canyon, so we decided to check it out since it was nearby and on the way home.  The canyon really was nice.  It wasn't technical but it had several challenging downclimbs that made it interesting.  We also saw a midget rattlesnake, so that was cool.  We tried to find an exit out of the canyon to hike back to the truck, but we ended up hiking about a mile past the slot and couldn't find anything, so we just backtracked back up the canyon without any problems.  In fact, I kind of enjoyed the challenges of negotiating the climbs back up canyon, so I'm glad we did it that way.  We did see one possible way to climb out of the canyon just past the slot, but it seemed riskier than just backtracking, so we backtracked.
We then finished the long, dusty drive out of the desert and headed home.  This was a great trip.  We had never driven all the way down to Muddy Creek, so it was nice seeing that area.