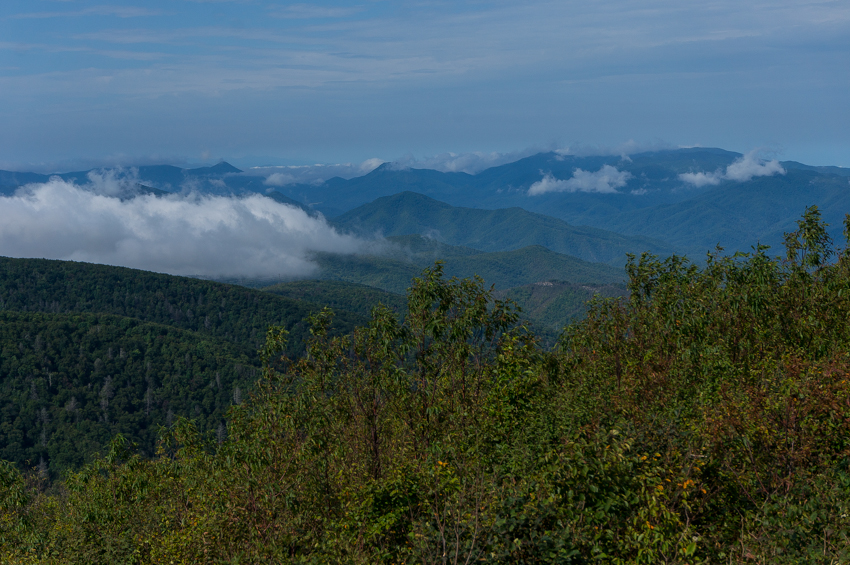 We tried to backpack the weekend of August 30, 2014, but it was a horrible failure. First, we drove the Blue Ridge Parkway towards Brevard, NC, with plans to backpack at Shining Rock Wilderness. When we reached the trailhead near Black Balsam Knob, however, it was a madhouse. I stopped counting cars at 186. So we drove to a different trailhead for the same area. When we got there, I counted 100 cars. It was insane.
I have no idea why people would park at a trailhead with nearly 200 other cars already there. Why would you want to hike a trail with well over 400 people already hiking it? Why would you park on the side of the road and walk a mile just to get to the trailhead because you can't park any closer? What enjoyment does that experience bring?
Maybe I'm just too introverted…I don't know. Not only could I not park, I was sick just seeing that many cars at the trailhead.
So we kept driving. We found another trail nearby along the Parkway that we thought we would try. It didn't really go anywhere interesting, but I thought we would try it. So we strapped on our backpacks and headed out. Unfortunately, the trail sucked so much that we did an 8-mile loop and ended up back at the car without even stopping for the night.
We decided just to keep driving the Blue Ridge Parkway to see what it was like. It was crowded. We ended up in Spruce Pine, and then we went on to Johnson City. We explored around our old stomping grounds in the mountains around Johnson City, and then headed back home.
This weekend taught us a couple of things: first, we really miss the Rockies. Next, the Appalachians can get insanely crowded and I can't stand it. Lastly, not all trails in the Appalachians are worth hiking…especially in the middle of the summer.
Oh well. At least we got to see where we went to college.