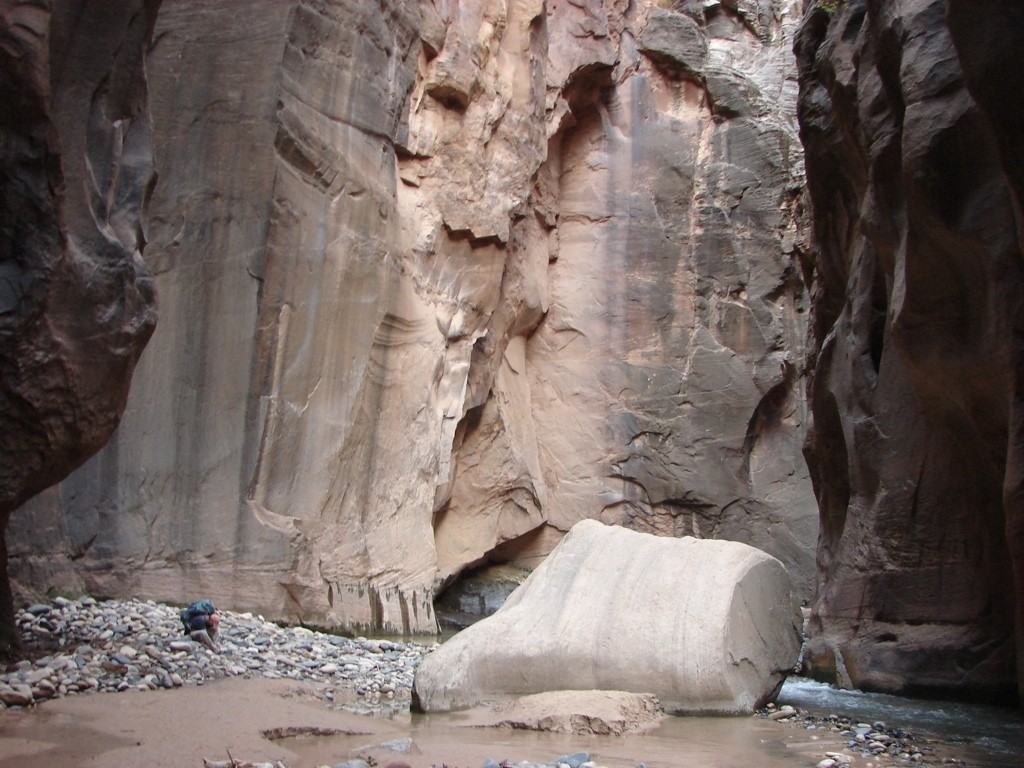 On 15 Oct 10, Tracy and I drove down to Zion National Park to hike the Narrows of the Virgin River.  We drove to Springdale on Friday night and then got up early in the morning to pick up our overnight permit.  We had reserved a permit for campsite 6, but we still had to pick up the actual permit.  I had read that the backcountry desk could have long lines, but there were no lines at all when we got there.  So we milled around for an hour waiting on our shuttle.  The shuttle picked us up from the Visitor's Center at 9:30 and took us up to Chamberlin Ranch.  The drive took about an hour and a half, but we finally got there.  We shared the shuttle with 8 other people, and there was a group of about 6 that was also starting at the same time we got there.
We headed down the canyon and just enjoyed the hike.  The first couple of hours were easy walking on a road and trail.  Eventually, the path led into the canyon itself, and we started having to walk more in the water.  The hike the first day was uneventful.  The water was never much more than calf deep, and only occasionally getting knee deep.  The only issue was that it took MUCH longer than we expected.  The Park's website said that it would take about 6 hours to hike the 8 miles to our camp, but I figured that was a conservative estimate.  But the day kept stretching on, and we weren't seeing anything we hoped to see.  I thought we would make it to camp by 3 or 3:30, but by 3:30 we still hadn't found camp 1.  So I was starting to get worried that we weren't moving nearly fast enough.  Actually, I expected to be at camp 1 by 2 pm or so, so I had been worried for some time by 3:30.  But by 4 pm we came across camp 2, which meant we had just missed camp 1.  So, at least we weren't as far behind as we thought, although we were still going slower than I had planned, and we now knew that it was possible to miss the campsites, so we had to pay close attention to the canyon.  But we saw all of the remaining sites, and we made it to camp right at 5:15…6 hours after we had started.
Tracy had worn her wetsuit the first day, but I hadn't because it wasn't that cold, and the water wasn't that deep.  We changed out of our wet clothes, set up camp, had dinner, and then turned in for the night.  I planned to get up by 5:30 or 6, and hit the trail early, because there was a threat of some rain on Sunday, and I didn't want to risk being in the 2 hour stretch of the Narrows during a rain storm.  I now expected the hike to take as long as the Park Service estimated, which meant we still had 6 more hours to go before reaching the end of the hike.
So we got up at 5:30 on Sunday and got ready to head out.  The night had been pleasant, but I expected more water on Sunday, so I put on my wetsuit.  It didn't take long until I got hot, so I just kept the bottom half of the wetsuit on.  We started about 7, and we hiked for about 30 minutes in the dark.  Tracy wasn't at all happy about hiking in the dark, because she had fallen several times the day before, and she figured it would be worse in the dark.  We didn't have nay problems, though, and soon it was daylight.
The rest of the day was cool.  We simply hiked down canyon and made our way back.  We spent more time in the water than we did the day before, and the water was soon getting deeper than the day before.  We never got in above our waists, but we did have to work hard to find shallow water in several places.  The Narrows were cool, and it took us about an hour and half or so to make it through the Narrows.  Just after passing Orderville Canyon, we started running into people hiking up canyon from inside the Park.  By the time we got to the end, we had passed over 50 or 60 people…even though we had only seen 10 or so before hitting Orderville.
All in all, this was a great trip.  It was long, and it was pretty hard, but it was well worth it.  I think Buckskin Gulch and Davis Gulch might be prettier and more interesting, but this one was definitely worth doing.  I'm glad we did it in October, because it wasn't terribly crowded, it wasn't too hot, and it wasn't too cold.  It didn't rain on us at all, but we did hit rain just 30 minutes after leaving the park.  If I had done a canyon like this on my own without getting a permit from the Park, I might not have done it with the 30% chance of rain.  However, I learned two things: first, the Park won't keep you from going even if there's a chance you could die…just read this story.  Also, the permit said, all over it, that safety was our responsibility.  So, after getting out there, I wondered why I had placed so much trust in the Park letting us go, when I probably wouldn't have gone if I had been outside the park.  However, after doing the hike, I think the second thing I learned was that a 30% chance of showers in a canyon is not as dangerous as I thought it would be.  I hope I'm not becoming complacent, but I have learned in the mountains here that a 30% chance of snow is not enough risk to avoid going into the mountains, so now I think that a 30% chance of showers is probably not enough reason to avoid a canyon.  Of course, it would depend on the canyon and the actual weather, but I will assess the risk based more on actual weather rather than being scared off just because there is a small chance of short rain showers.
Anyway, this was a great hike, and Tracy agreed that she was really glad we hiked it…even though she fell quite a bit, and was pretty bruised by the end of the hike.  But that just means you had a good hike!