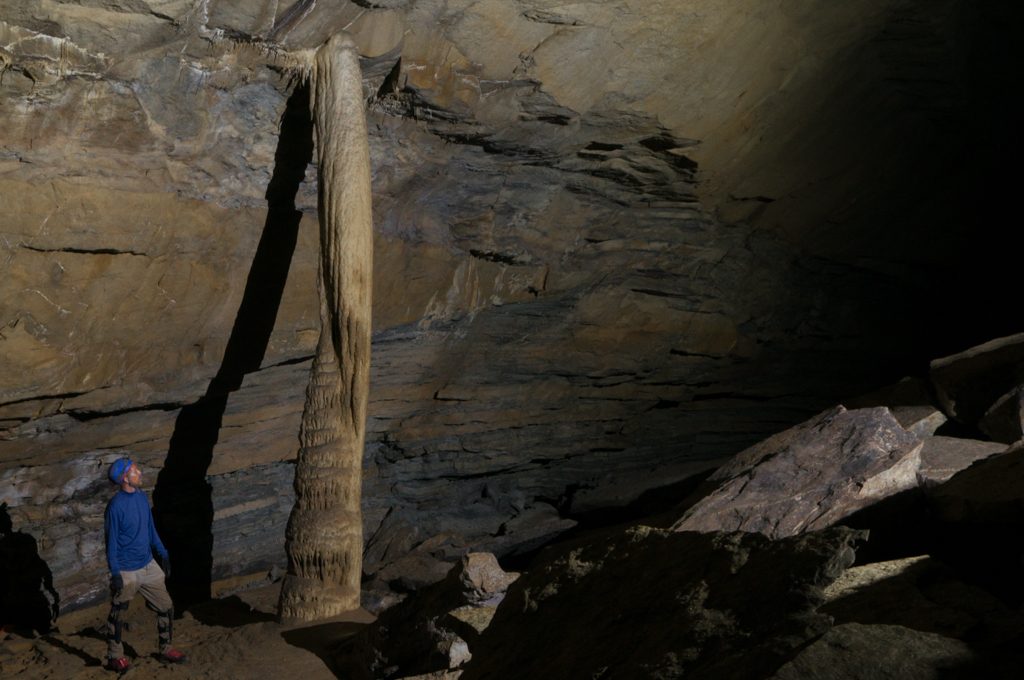 Bluff River Cave in northern Alabama was a surprise: it was much nicer than we expected. Which was even funnier because we had actually been here before but couldn't remember much about it. So, on September 25, 2016, we took a trip up to Bluff River to escape the 99 degree day that refused to let Fall weather come. The cave was very dry compared to what we remembered about it from a year and a half earlier, and the mud slide at the entrance wasn't even very muddy. But the cave was very pretty, and we all enjoyed the trip. On the way out, we found the tunnel into the upper levels that is near the entrance to the cave. With some partner assists and the help of a piece of webbing hanging from a bolt, we were able to get into the upper passages. The first part of the passage required crawling, but it soon opened up and we were able to stand up. We then explored a maze of twisting and turning old, dry tunnels that eventually dumped us out high above the lower level. These passages were narrow compared to the lower level, but they weren't tight. It was fun finding and exploring new passages.
All in all, Bluff River is a nice cave. The lower level is filled with big, open passages and some really pretty formations. The walking is pretty easy, and it was just a fun cave.
Note: this is not the actual location of the cave.