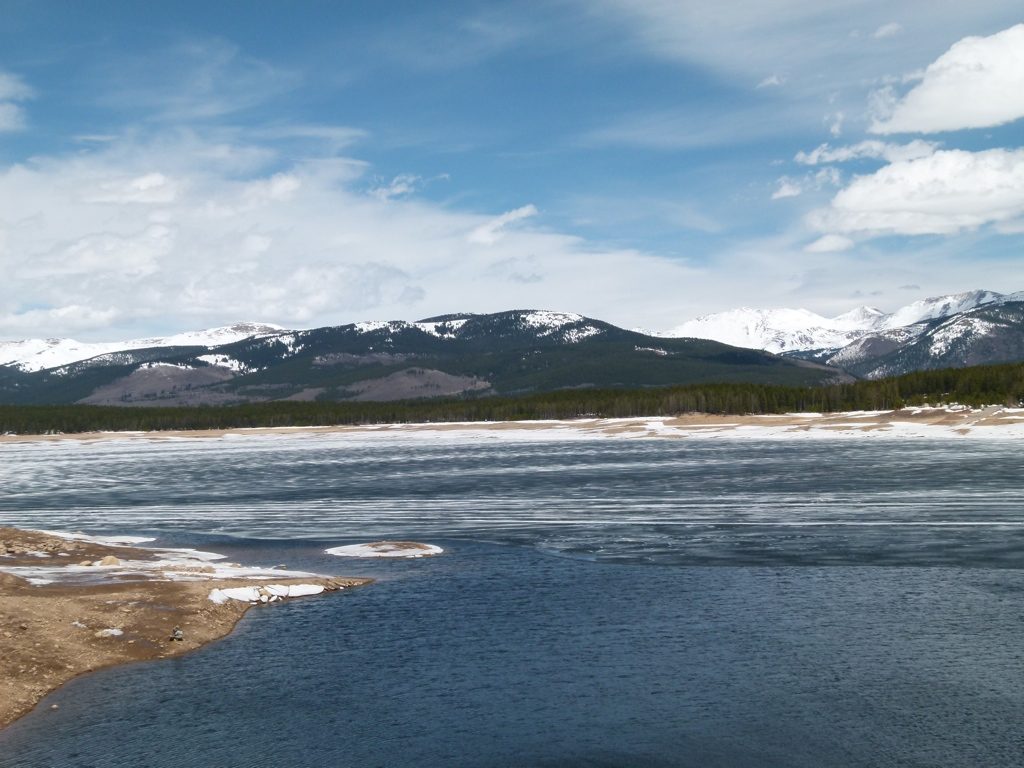 Over the long Memorial Day weekend of 27 May 11, we took a road trip over to Colorado. We had planned on going back to Montana like we did last year, but there was still too much snow, and the weather looked iffy. So we headed to the Leadville area in Colorado to explore the mountains out there. We left work early on Friday, and drove to Avon, CO, after having dinner with some friends in Rifle. We walked around a park in Avon that night, and that was actually pretty nice. It got us started on a long weekend of missing Colorado!
On Saturday, we got up and drove towards Leadville. We started out exploring around Homestake Creek and the Mount of the Holy Cross Wilderness. We then drove into Leadville for lunch, and then explored around Halfmoon Creek. We saw virtually no one while walking the Homestake Creek and Halfmoon Creek roads for several hours…that was nice. We ended up getting a hotel in Leadville on Saturday night…we should have camped out.
On Sunday we drove towards Buena Vista. Once we got to Buena Vista we found all the people. We had managed to avoid the Memorial Day crowds so far, but from Beuna Vista and up 285, we found them. We then checked out some trails around the Buffalo Peaks area. Once we got back into that area, we got away from the people again. Then we drove into Fairplay, and once we turned off 285, we lost the people again. The bottom line: don't go around Hwy 285 on Memorial Day weekend. Otherwise, you should be fine. We tried some roads off Hwy 9, but they were all snowed in. We made it into Breckenridge, which was very crowded, and much bigger than I remembered it. From there we headed up Hwy 9 north of Silverthorne. We hiked a little around Rock Creek, and then headed on up the road. We then hiked around Lower Cataract Lake and into the Eagles Nest Wilderness. We then continued north to Kremmling, and considered getting a hotel. But I wanted to camp, so we kept driving into the Routt National Forest…only to find that every, single road in the Routt National Forest was closed. Every road that we drove up to get us into the forest was closed at the forest boundary. All of them. We saw a couple of small signs saying that every road in the forest was closed due to "snowpack." We figured "every" MUST be an exaggeration. It wasn't. I have never seen anything like that. The roads we saw did not have snow on them at the closure points. It was extremely frustrating. We had driven into forests all weekend long that had roads that were impassable at higher elevations due to snow…but the lower elevation sections of the roads weren't closed. Oh, but the Routt roads were. It was crazy. We literally checked out about 5 roads over 50 miles apart, but they were all closed…every one of them. Enough of my soapbox, but I do think there are some serious management problems with the Routt. We drove into Yampa, and started to get a room, but the hotel staff was a little rude, so we kept going to Silverthorne.
The next day we tried to drive up Route 129 north of Silverthorne…but, of course, after 40 minutes, the road entered the forest, and was closed. So we turned around, headed to Craig, and then turned north to Wyoming. From there, the drive was long and uneventful back home. The weather for the weekend was great, which was nice, since it snowed in Salt Lake all weekend. As always, the trip made us miss Colorado.