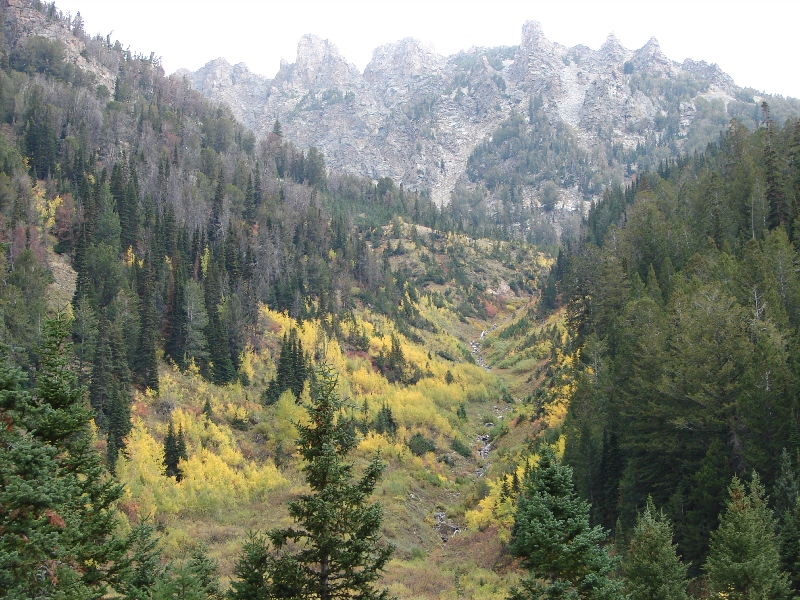 The weekend of September 21, 2007, Tracy and I decided to head up to the Tetons. I wanted to hear bugling elk, and I figured the crowds would all be gone. I was wrong. We got to Jackson and the city was packed. We got to the Tetons, and the park was packed. I was confused. It seemed late enough in the year that all the people should be gone. Oh well. I figured the crowds made it a good opportunity to check out the surrounding wilderness areas that we had never seen. So we headed up to the Gros Ventre Wilderness on the east side of the park. Ahhh…that was much better. We hiked the Crystal Creek Trail and we had it all to ourselves. It's always amazing that you can be in a crowded national park, drive 20 minutes up a dirt road, and have outstanding scenery all to yourself. But we had to cross Crystal Creek, so we got good and wet right from the start. We then hiked a few miles into a really pretty valley, and just sat and enjoyed the day for a while. Then it looked like a storm was moving in, so we headed back.
We then headed to Pacific Creek in the Teton Wilderness. This trail made me happy because there were grizzly bear warnings all over the place. The trail was nice, but it started raining pretty good on us about 4 miles in, and the trail became bizarrely slippery. It was strange. There was some kind of weird dirt on that trail. We didn't see anybody else, nor did we see any grizzlies. We did hear an elk bugling, so that was nice. We hiked back in the pouring rain, and then we went back to the Tetons. Since it had started drizzling, and it was getting dark, the park was pretty empty. We headed to Lupine Meadows in the park, and found a trustworthy elk herd that we had watched the year before. The bulls were bugling wonderfully, and I was happy. It was cold, dark, and rainy by now, but we headed out into the meadow to listen to the elk. That was cool. Two males got in a good fight, and one chased the other right to us at full speed. It was almost pitch dark, so we mostly just heard them banging antlers and running…but then they got close and we could see they were only about 50 yards from us and coming at us. Luckily we were in a stand of trees, and they stopped before they got to us. But it spooked Tracy pretty good.
The next day we hiked up Death Canyon in the park, and that was cool. The park was much less crowded because it was cold and rainy. We saw several moose in the backcountry, as well as a black bear. We were happy. It snowed on us a little up high, and the canyon was really pretty with the clouds moving in and out of it. This was our first hike in the Teton Range itself, and it really is pretty back in there. We also saw more moose on this trip than we have probably seen in our entire lives. I mean, we probably saw at least 20 moose in two days. It was weird. Anyway, it was a great trip (except for the absolute worst hotel experiences we have EVER had), but mid-September is a little early to get away from the crowds in the Tetons, I guess.