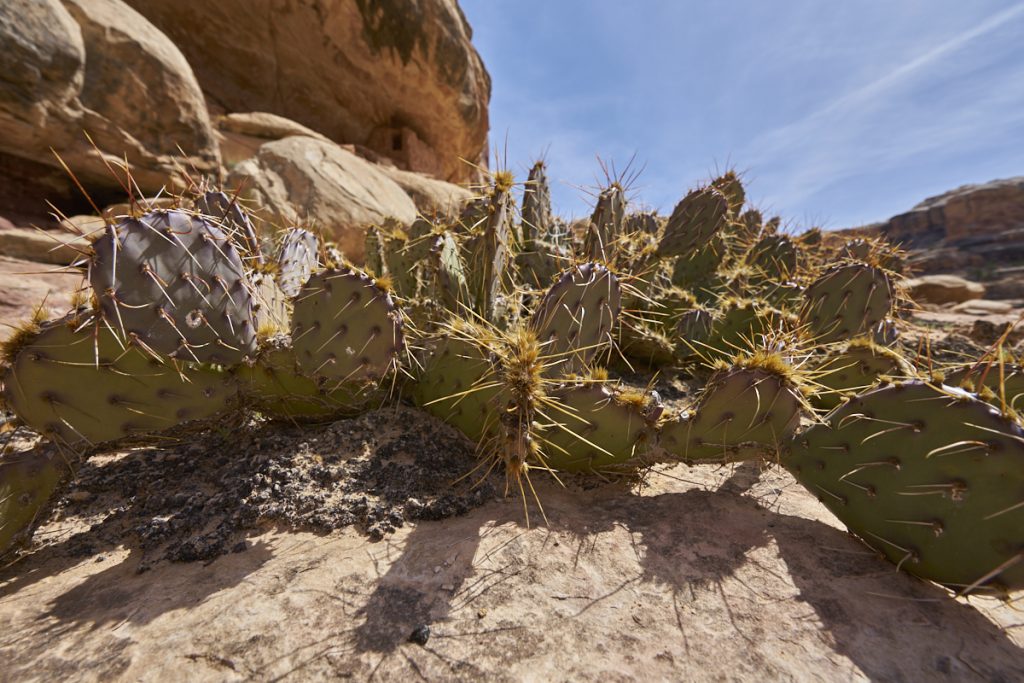 Cabin fever was about to kill me, and I desperately needed to get into the backcountry. Luckily, I had some extra vacation time sitting around, so I bought a plane ticket and headed to Utah on March 29, 2019. I flew to Grand Junction, CO, after work on Friday, and then headed to Utah on Saturday. I took my time on the drive, and just enjoyed seeing all of the old stomping grounds in southern Utah. I planned to camp on Saturday night, but it was cold, windy, and snowing up on Cedar Mesa, so I headed into Blanding for the night.
On Sunday, I started the five day trip from the Bullet Canyon Trailhead. I had originally planned to start from the Government Trailhead, but earlier in the week, BLM told me that the road was too rough out to that trail, so I changed my permit to Bullet Canyon. Of course, I drove the road to Government on Saturday with absolutely no problems. But, no big deal…Bullet is a beautiful canyon.
The hike down Bullet was uneventful but pretty. Due to the very high snow year they've had in southern Utah this year, there was plenty of water in most of Bullet. There were stretches that were dry, but there was water throughout most of the canyon. This was a good sign, because it suggested water wouldn't be an issue on this trip. I passed about five or six groups hiking out as I was hiking in, and I talked to a few of them.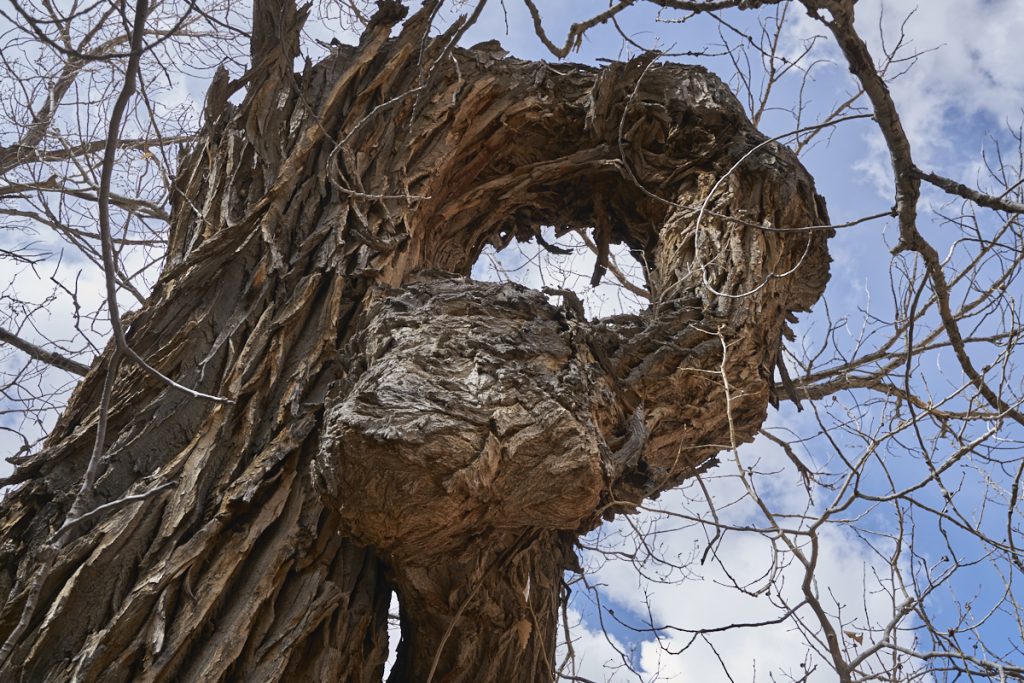 Once I reached the confluence of Bullet and Grand Gulch, I poked around trying to find a way across the stream in Grand Gulch so I could continue down canyon. I had been on a trip between Kane Gulch and Bullet Canyon, but this was my first time heading down canyon from Bullet. The route below Bullet is not very popular, so it took some time to find a way down canyon. Eventually, I crossed right at the confluence of the Bullet and Grand Gulch streams, and became amazed at the flood debris in the trees that was well over 15 feet above the stream.
The route down canyon was immediately tough. The trail was not easy to follow, and it was clogged with flood debris and undergrowth…it was definitely what Tracy calls "full-contact hiking." In addition to the challenge of hiking through the thick undergrowth, the trail also crossed the stream every few hundred yards. The water wasn't usually very deep, but the banks of the stream were typically about 15 feet above the stream bed and very steep. This meant having to find a route down the bank, sliding 15 feet down the bank, finding a route back up the bank, then climbing, usually on all fours, back up the other side. This was slow and even harder with a full pack. I often felt like it would be pretty easy to slip and break an ankle or a leg or an arm or a neck. But, of course, none of those things happened, and I would often just chuckle as I struggled to pull myself up the steep banks.
I hiked about 9 miles total for the day, and eventually settled in at a nice campsite. It was pretty chilly throughout the day, so I stopped while there was still sun shining down into the canyon. I set up camp and let my sleeping bag and tent warm up from the sun. And then the sun went behind the canyon wall about 5 pm, and it quickly got colder. The rest of the night was uneventful.
The next day I continued down canyon. The hike continued to be tough, but today I got to explore Totem Pole Ruin and Two Story Ruin. These ruins were great, and I remembered how thought-provoking it can be to explore these Anasazi ruins and think about how these ancient people lived.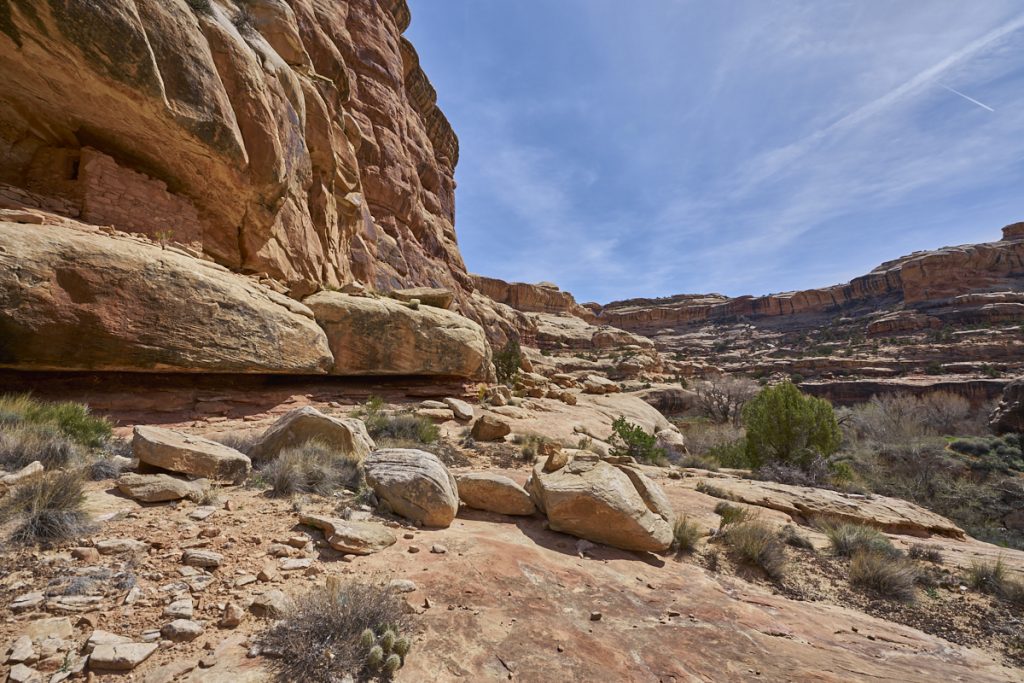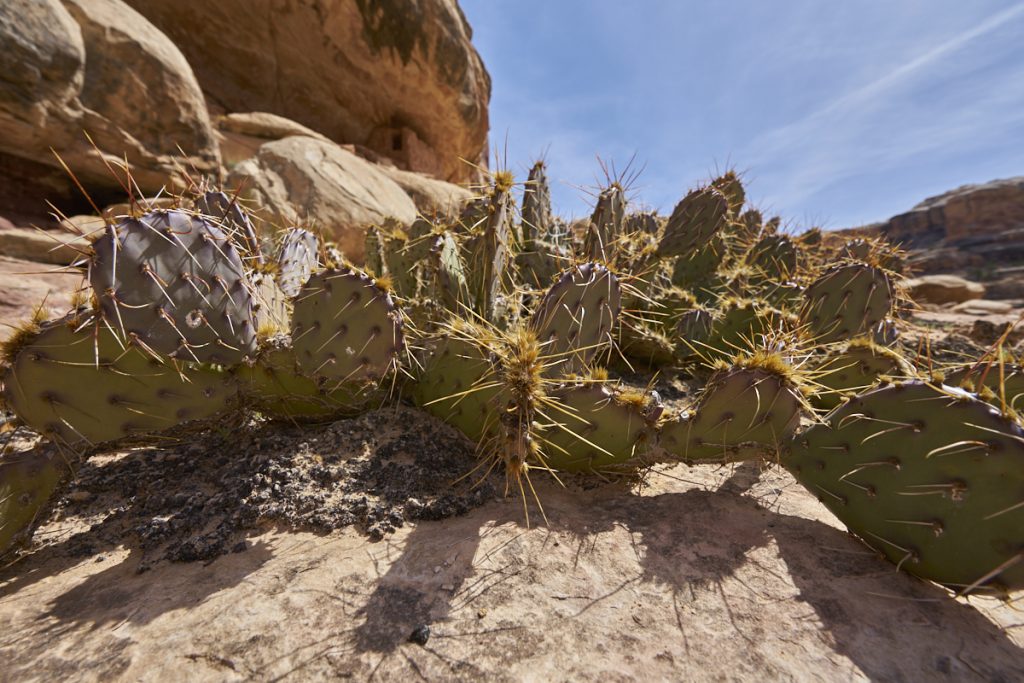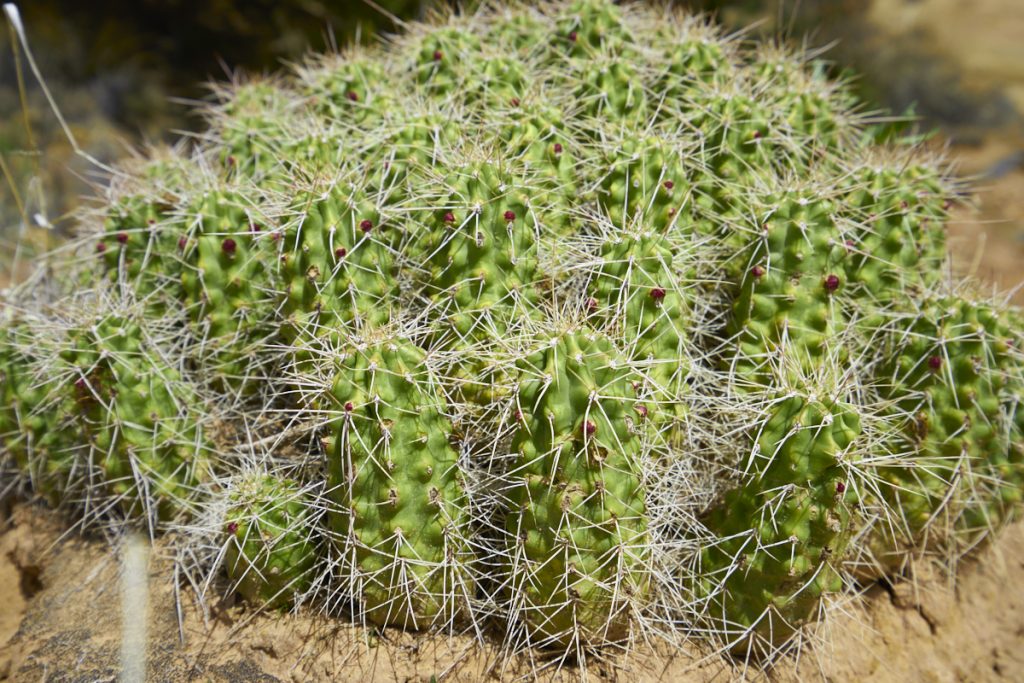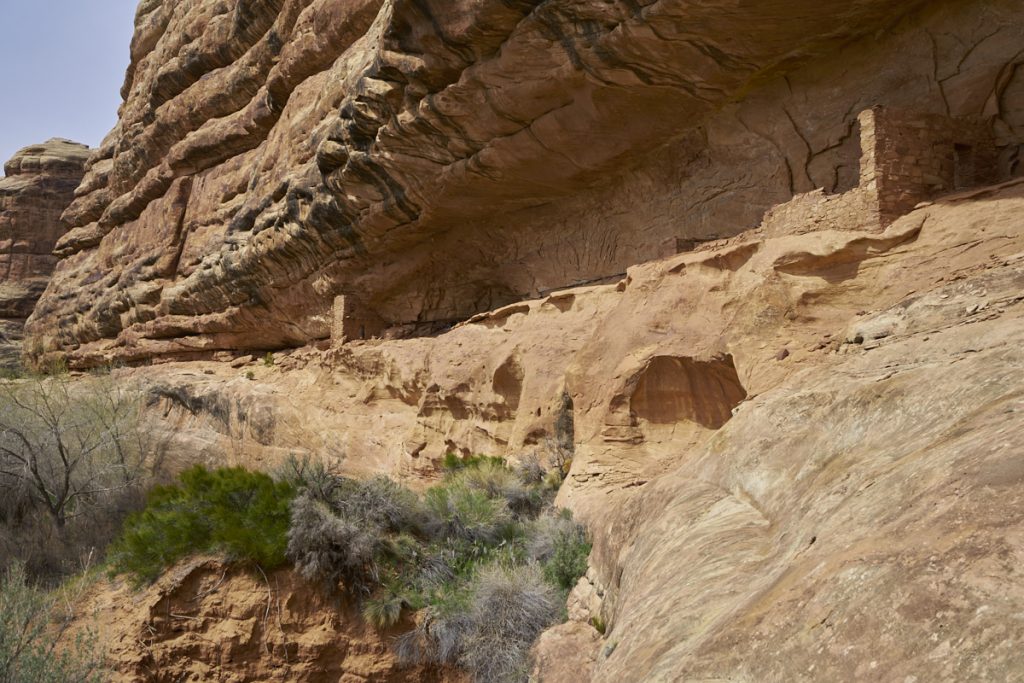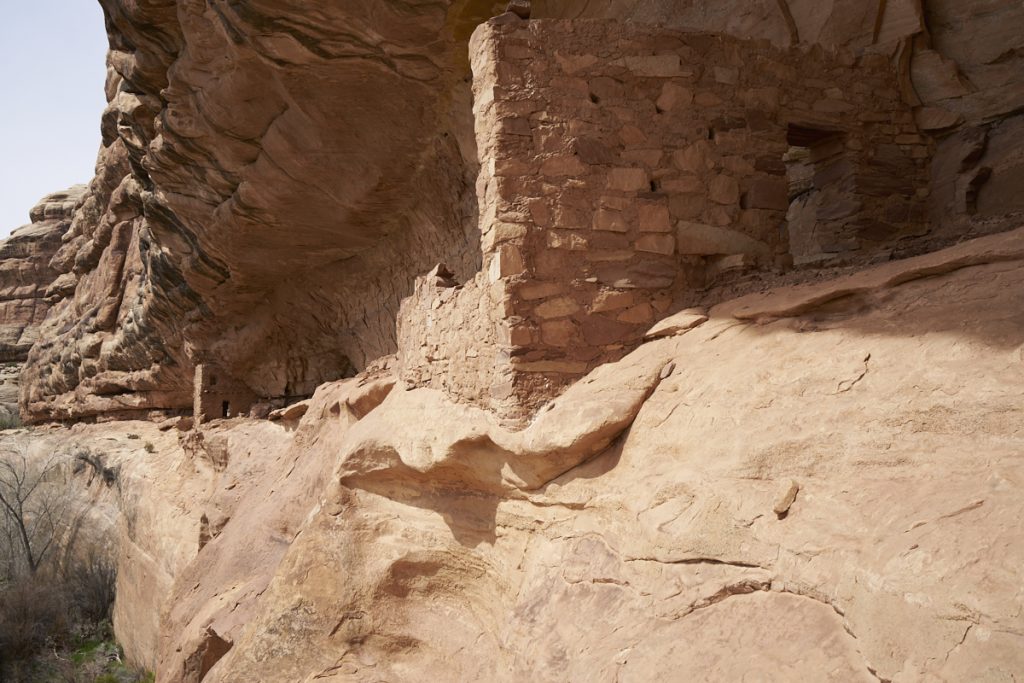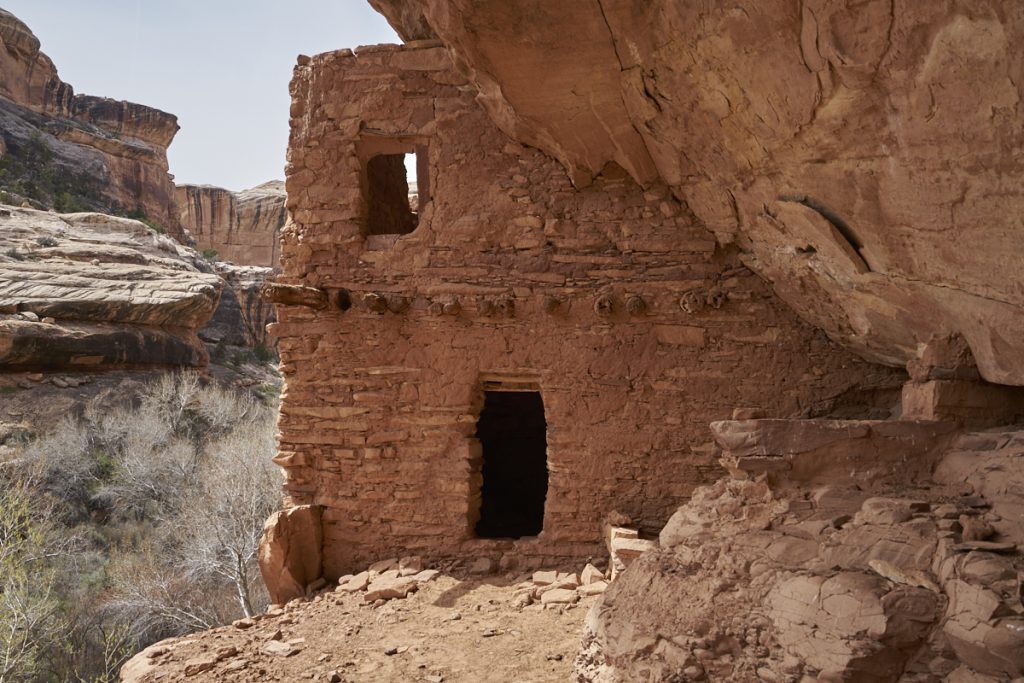 In addition to the ruins, I also saw some rock art and some food debris. It really is amazing how well-preserved these ruins and everything are. I assume many things are so well-preserved because of the overhangs where they're located, as well as the low humidity in the area.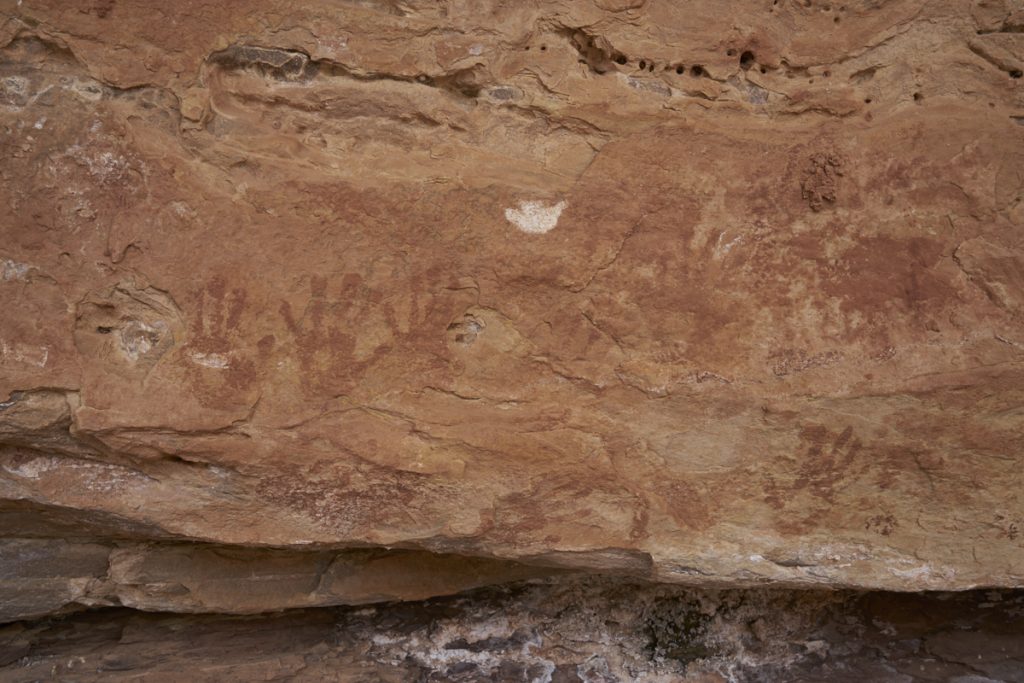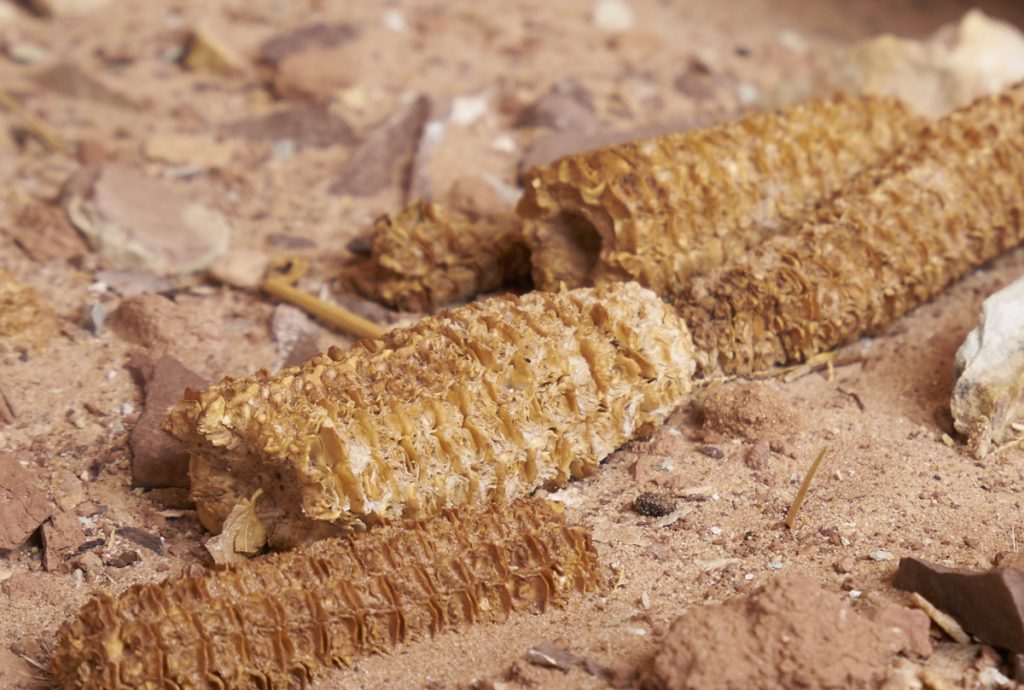 Due to the fact I was spending four nights out here, I planned to camp at the same site on Monday and Tuesday nights, and just dayhike around on Tuesday. However, late in the afternoon on Monday, I began looking for a campsite, I hiked for over an hour, and couldn't find anything that was even remotely a good campsite. This area of the canyon was particularly thick with tamarisk and other growth, so there were just no good sites. And as I continued, the water that had been in the canyon for two days just dried up.
I couldn't believe how much water had been in the canyon, and it just completely dried up…I mean, the canyon bottom was bone dry. Of course, I had springs further down canyon mapped in my GPS, and it was possible that the stream would return further down canyon, but considering the next day was only supposed to be a half day of day hiking, and I hadn't found a campsite in over an hour, I decided to return back up canyon to the water and find a campsite. I hiked back for about 45 minutes and found a spot that passed as a campsite. I pitched the tent and settled in for the night.
The site was crappy, though, so the next morning I decided to pack up and continue up canyon, exploring side canyons as I went. As I headed up canyon, my tracks in the sand were the only tracks going down canyon. In fact, I had only seen about six pairs of tracks in the sand since I had started down Grand Gulch…and I hadn't seen a single other person. But as I headed up canyon, I sort of got into a trance of following my own footprints that went the opposite direction.
And this would explain what happened next: I headed up one of the side canyons I had wanted to explore…but I didn't know it. In my trance of following footprints that went the opposite direction, I followed tracks that looked like my shoe prints that were headed down canyon. While following those tracks, I found a phenomenal rock art panel (I later learned it is called the Quail Panel). This panel was at least a hundred yards long, and it was very pretty.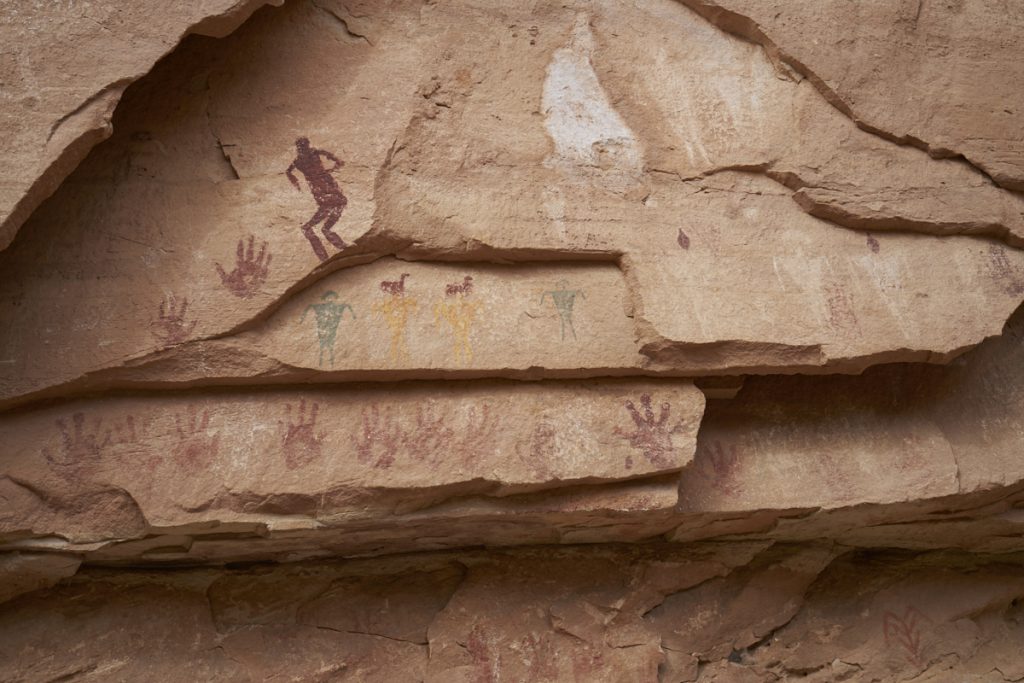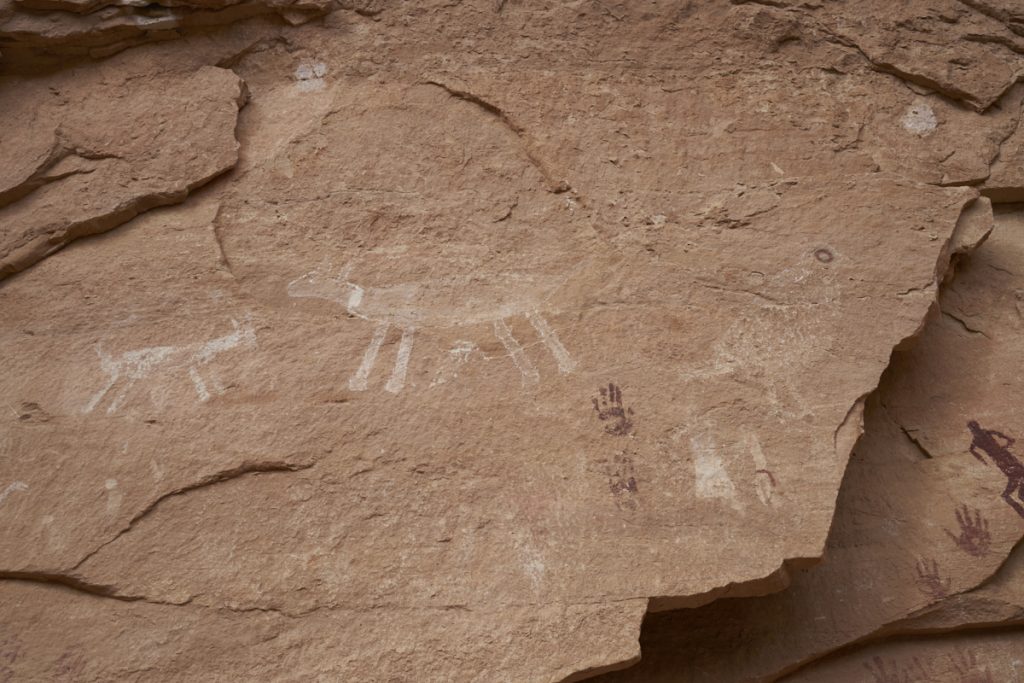 Since I had not seen the panel on the way down canyon, I assumed I had just missed it because I hadn't been paying attention. So I continued up the canyon, following one set of footprints that went down canyon. After about 30 minutes, I noticed that the footprints went both up canyon and down canyon. But how could that be? They were my footprints, and I had only gone down canyon. Then I turned around and looked at the prints I had just made, and I noticed that my shoe prints were triangular, while the ones in front of me were rectangular. They looked similar, but they weren't the same prints. What?
So I pulled out my GPS and, sure enough, I was in the wrong canyon. I had turned up Step Canyon by accident and hiked for nearly a mile in the wrong canyon. Of course, this wasn't a problem since I had wanted to explore the side canyons, anyway…it was just surprising that I had done it by accident.
I continued up Step Canyon, and found that it was absolutely beautiful. In fact, I think it was my favorite part of the trip. As soon as I figured out which canyon I was in, the trail became obscure, and there were no other tracks at all…other than a single set of deer tracks. It was great. About a mile and a half up canyon, I found a great campsite and decided to stay there for the night. I had left my backpack further down canyon, so I headed back and decided to hike back to Grand Gulch to see where I had taken the wrong turn. Back at Grand Gulch, it was easy to see how I had just zoned out and followed the wrong tracks up Step Canyon instead of my own tracks up Grand Gulch. I also saw that the rock art panel I had seen was actually in Step Canyon.
But I headed back, set up camp in Step Canyon, and had a great night in the very remote and outrageously quiet Step Canyon.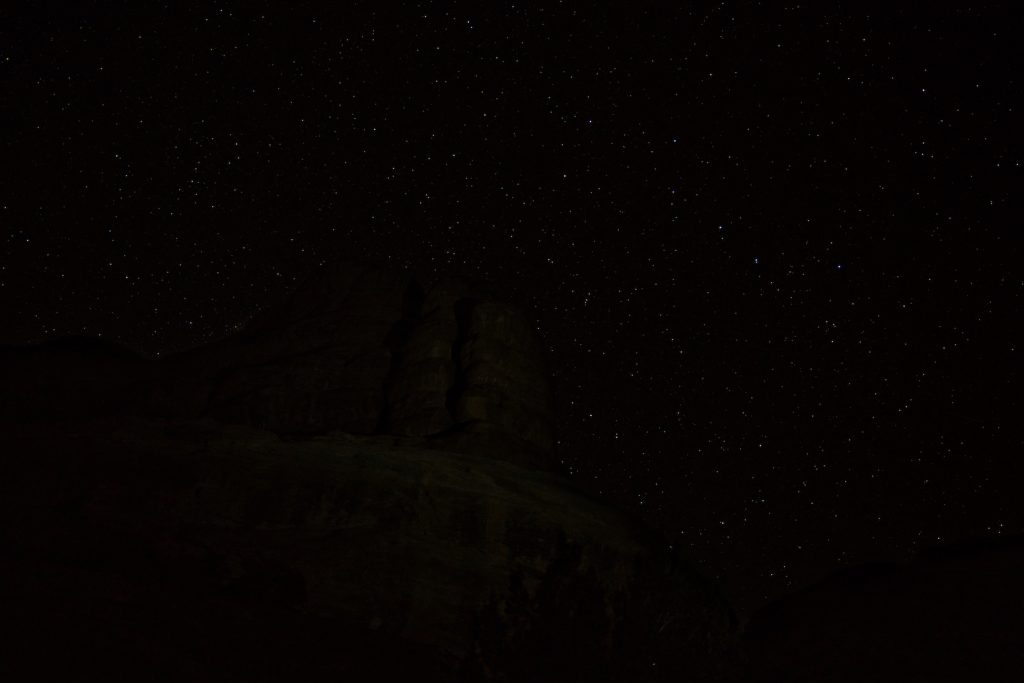 The next morning, I reluctantly headed out of Step Canyon and back into Grand Gulch. I soon reached Green House Canyon and I dropped my pack and explored this side canyon. After half an hour or so, I saw a ruin a couple of hundred feet up the canyon wall. I didn't know this ruin was here, but it had green paint on it, so I assumed it was the Green House ruin. I poked around and managed to find a way to scramble up to the ruin. This was very fun to explore because it was so high up and so exposed to the cliff of the canyon wall. It was probably a little stupid to climb up there by myself, but the ruins were wonderfully preserved.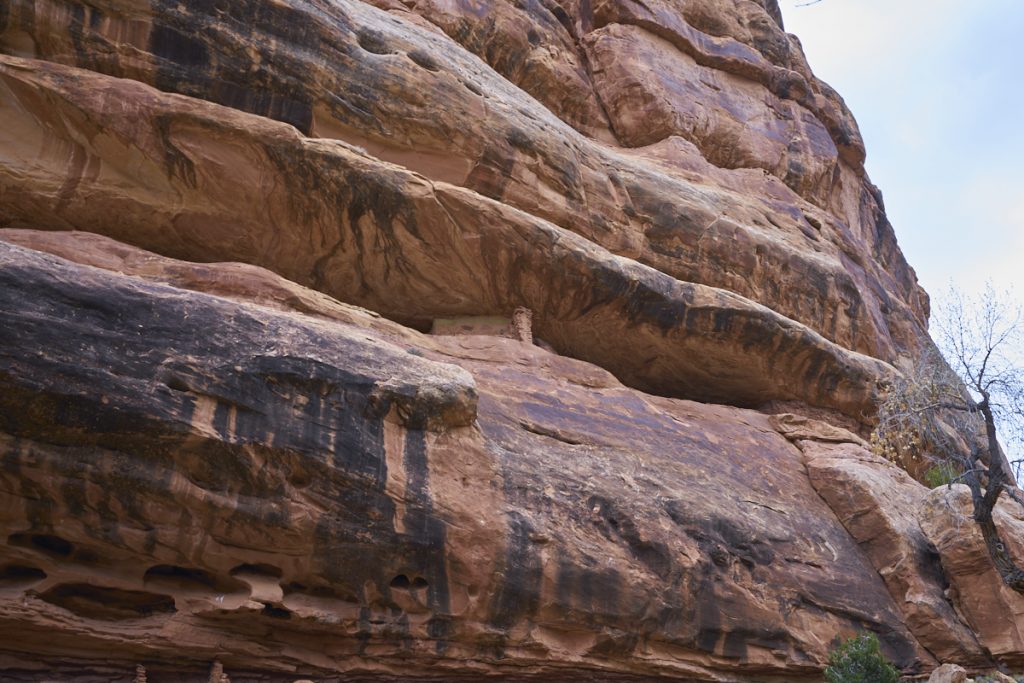 After exploring this ruin, I headed back to Grand Gulch. As I was putting on my pack, I heard rustling in the brush. I turned around and saw the first person I had seen in three full days. Dang it…my solitude was busted.
But I talked to the guy and he was nice. I continued up canyon and saw his friend who had stopped by a rock art panel. And then an hour or so later, I passed a family heading down canyon. I had planned to camp this night before I reached Bullet Canyon, because it was my last night on the trail, and I wanted to prolong the illusion of solitude for as long as I could…and I didn't expect to see anyone before I got back to Bullet. But now I had seen two different groups already. So I continued up canyon, hoping that would be the last of the people I would see. And then I saw two more groups of people.
Well, now the illusion was completely destroyed, so I decided to head up Bullet and find a campsite. I hiked all the way to Jailhouse Ruin before I found a site that also had water. The first water I found, though, smelled like sulfur and had stained the ground red. That kind of scared me. So I found the spring at Jailhouse Ruin, and filled up in a pool there.
There was a large group of loud teenagers camped 500 yards away…I figured this was my payment for getting three days of total solitude, so I dealt with it. And they quieted down after dark, so it wasn't too bad.
I got up early on Thursday and began the hike out. I leap-frogged with two other pairs of guys all the way up the canyon. The climb out of the canyon was a little more challenging in the rocky sections than it was going down canyon. But I made it back to the trailhead by 11 am.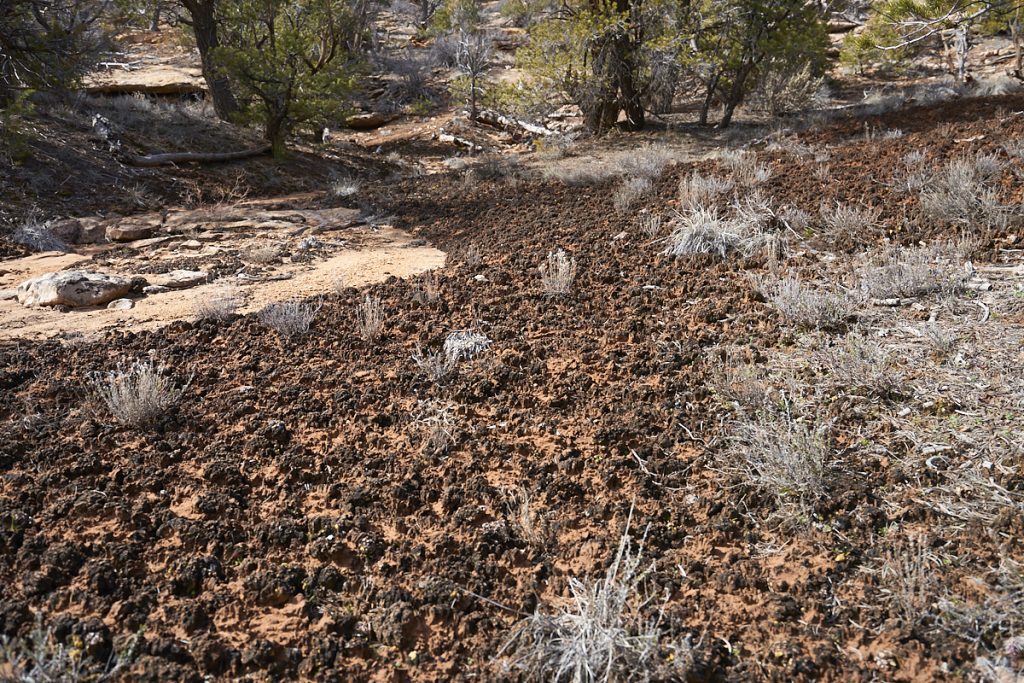 From there, I drove to Hanksville for the night, to get a milkshake from Stan's and to clean up at the hotel. The next day, I got up at 2:45 am and headed into the desert to get some photos of the Milky Way. I had a new fast prime lens, and I wanted to start learning how to use it. The situation was also perfect: new moon, the center of the galaxy rising before dawn, Jupiter was right in the center of the galaxy, and desert buttes for the foreground. The weather was cloudy starting out, but eventually it cleared up and I got some decent pictures.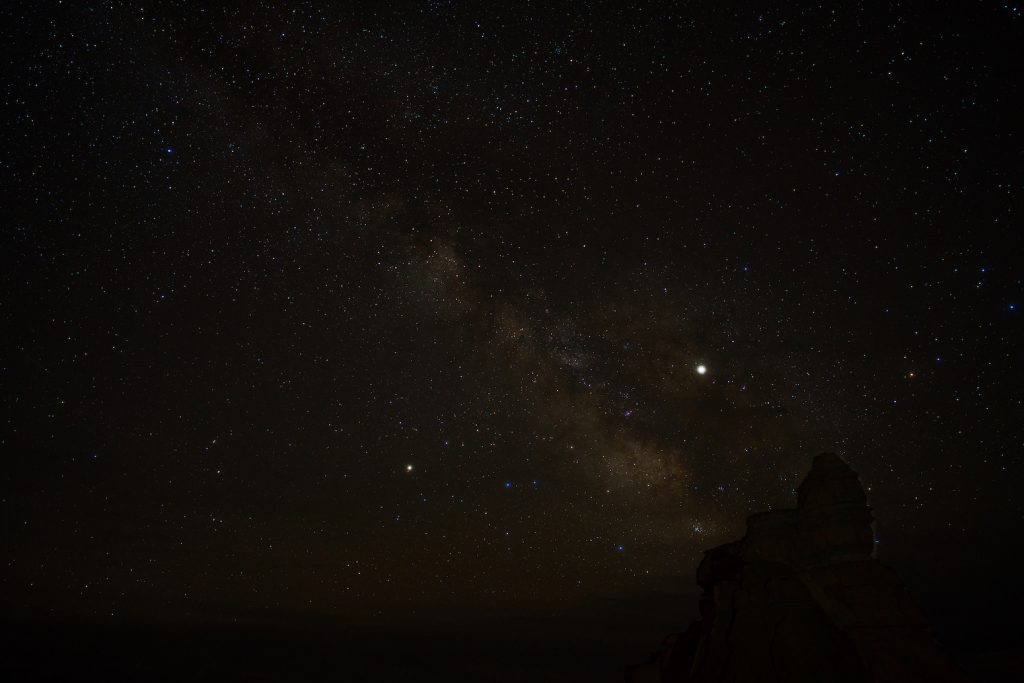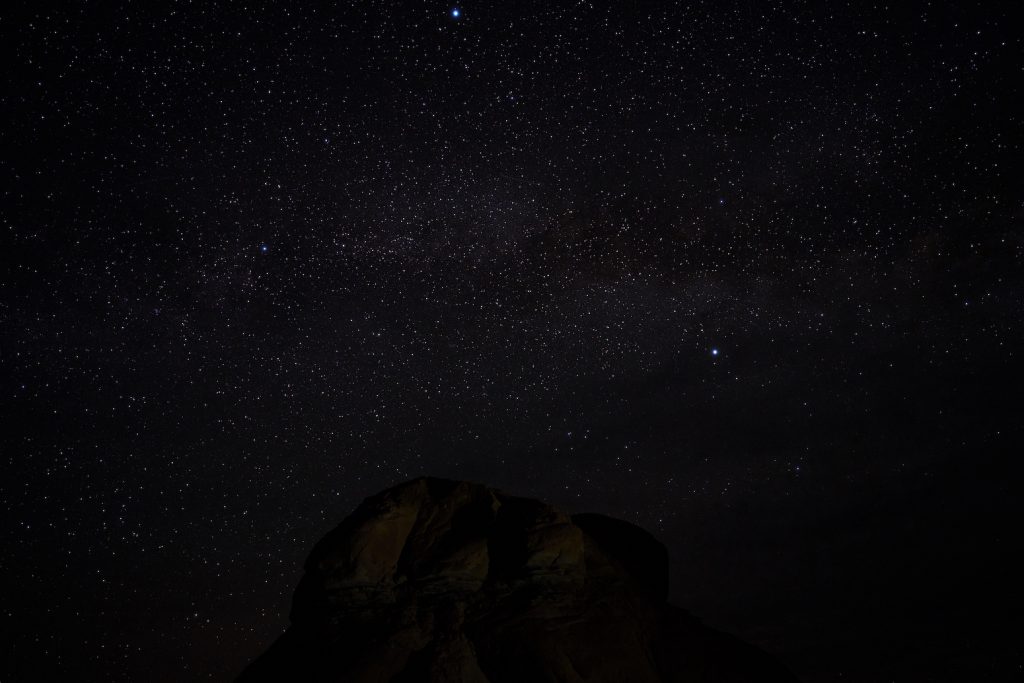 I went back to the room, got a nap, and then drove around and walked around at the beautiful Burr Point. I just love the view from here, looking over the Dirty Devil and Robber's Roost.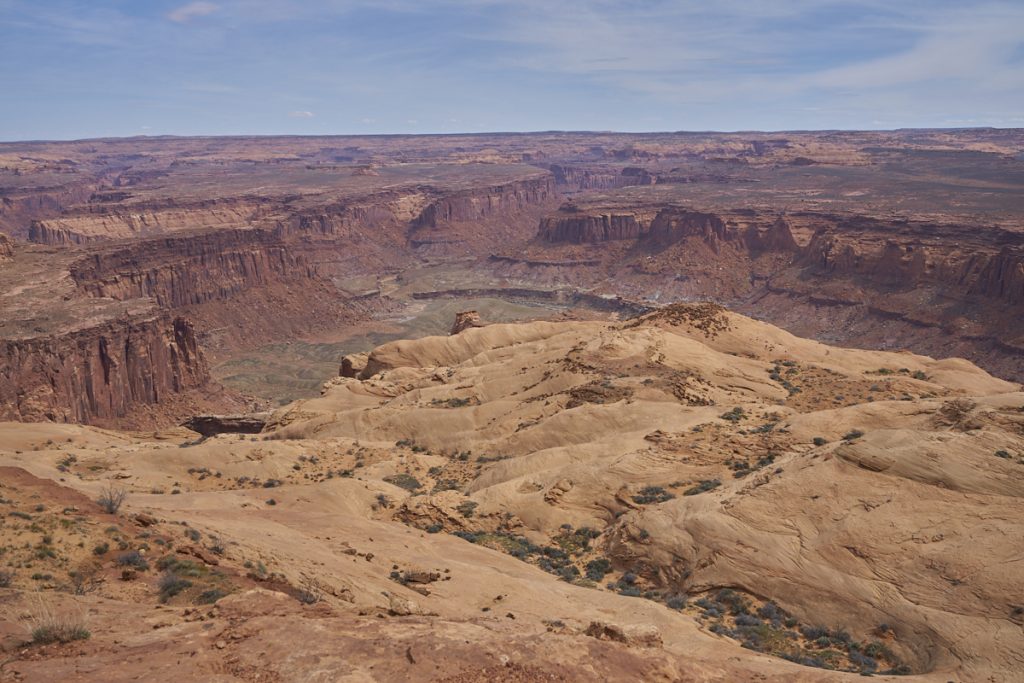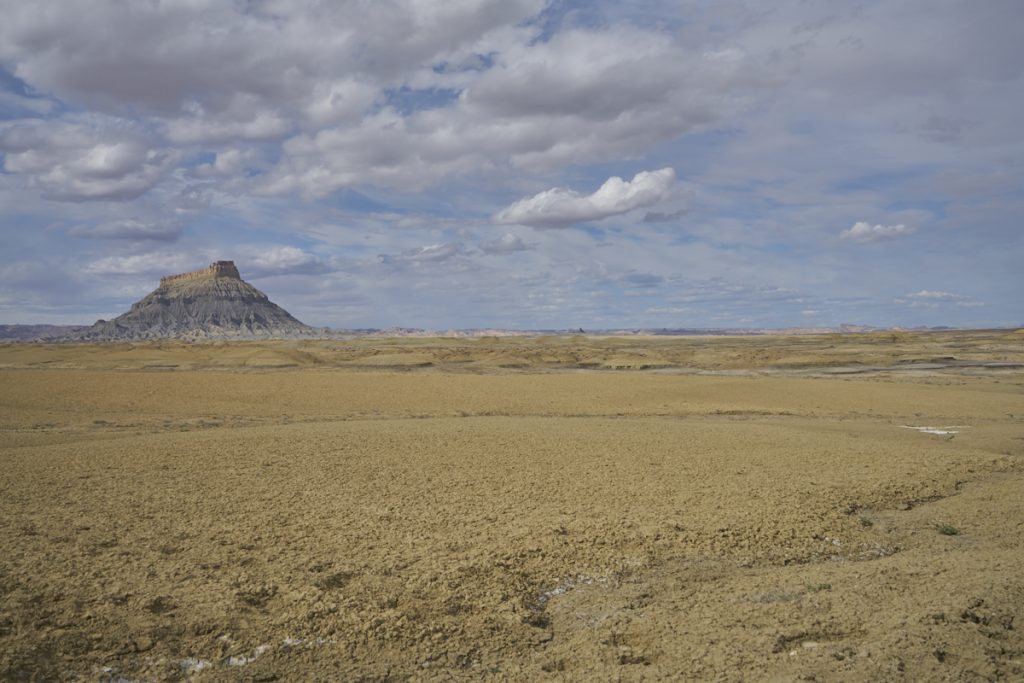 The next day, I met Joey for breakfast. I have been watching Joey's YouTube videos for years, and it was great to meet him. I look forward to hiking with him in the future. Then I drove back to Parachute and met Megan and Jason for dinner, and then called it a night in Grand Junction. The next morning was an early flight back home.
This was a great trip…it really hit the spot. The trail was tougher than I expected, but the solitude was outstanding. The weather was great, and you just cannot beat an early Spring trip into Cedar Mesa of southern Utah.
If you're interested, here's my first attempt at a video trip report:
Similar Posts: