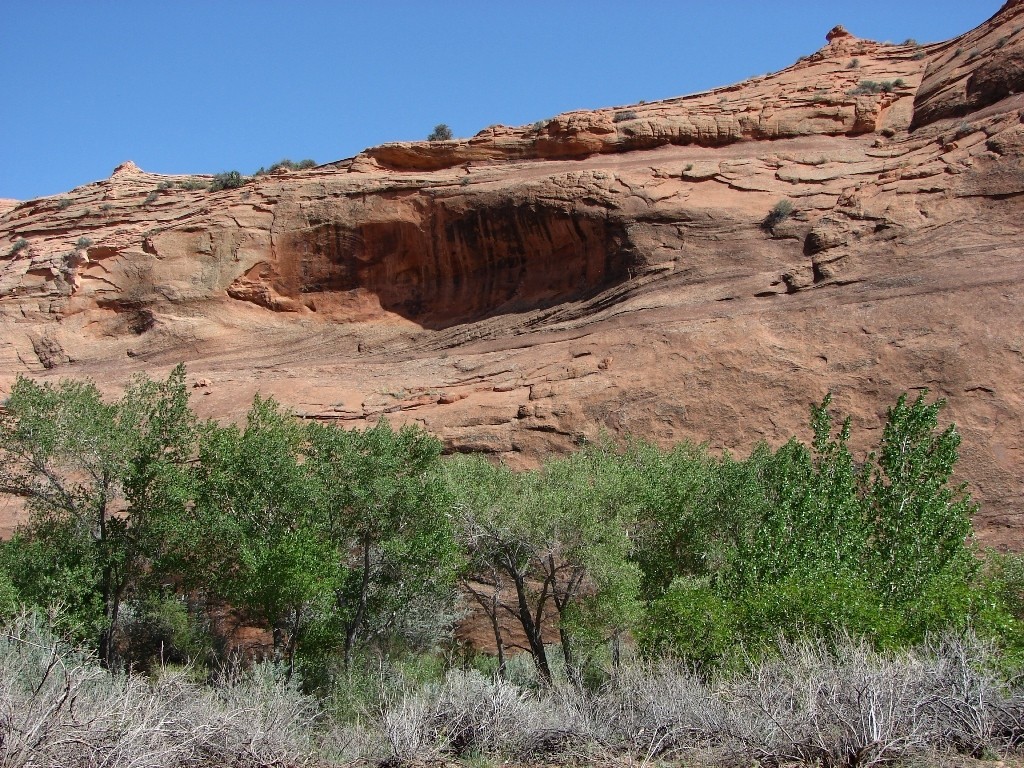 The weekend of May 8, 2009, we headed to Escalante. I had been out of town for most of the winter, and I really wanted to get into a canyon. Well, I planned to hike Hurricane Wash down into Coyote Gulch. We had done this hike a couple of years ago, but it was a nice canyon, and we didn't hike Coyote Gulch at all. So I wanted to head back and try to make it to the Escalante. We stayed in Torrey on Friday night and then headed to the trail.
On the way there, though, Tracy figured out we were going somewhere we had already been, and she decided she wanted to go somewhere new. So I scoured the map and picked Harris Wash. Well, we headed down Harris Wash, and it wasn't anything like Hurricane Wash. It was really rocky and the creek was completely skanked out with cow crap…there was even one dead cow right in the water. But we kept hiking. Really, the canyon wasn't very pretty at all. But we kept hiking. We went in about 6.5 miles and found a nice alcove to pitch the tent…after clearing out piles of cow crap. We took a short nap then I emptied my pack and continued down-canyon for another mile and a half to see if the canyon got prettier. It didn't.
I went back to camp to find Tracy had set up camp. She asked how I was doing on water, so I checked my Camelback, only to find I had about 3 sips left. Not good. We were just a week away from a trip to France and there was no way I wanted to drink that skanky dead cow crap water. So we debated and finally decided to pack everything up and head back to the truck. We figured it would be too hot to hike back during the day, not to mention the extra time of staying overnight, to be able to make it out the next day without purifying water. I just really didn't even want to purify or boil that water. So we packed up and headed back about 7:45. About half of the hike back was in the dark and we made it back to the trailhead about 10:30 pm. We set up camp at the trailhead where I had more water in the truck, and we had an uneventful night. Good times.
Bottom line: Harris Wash sucked. Unless BLM gets rid of the cows, don't bother with it. Of course, I love hiking in the dark, but I don't enjoy doing 16 miles in one day with my pack on only to camp where I started. So I'm not going back to Harris Wash.