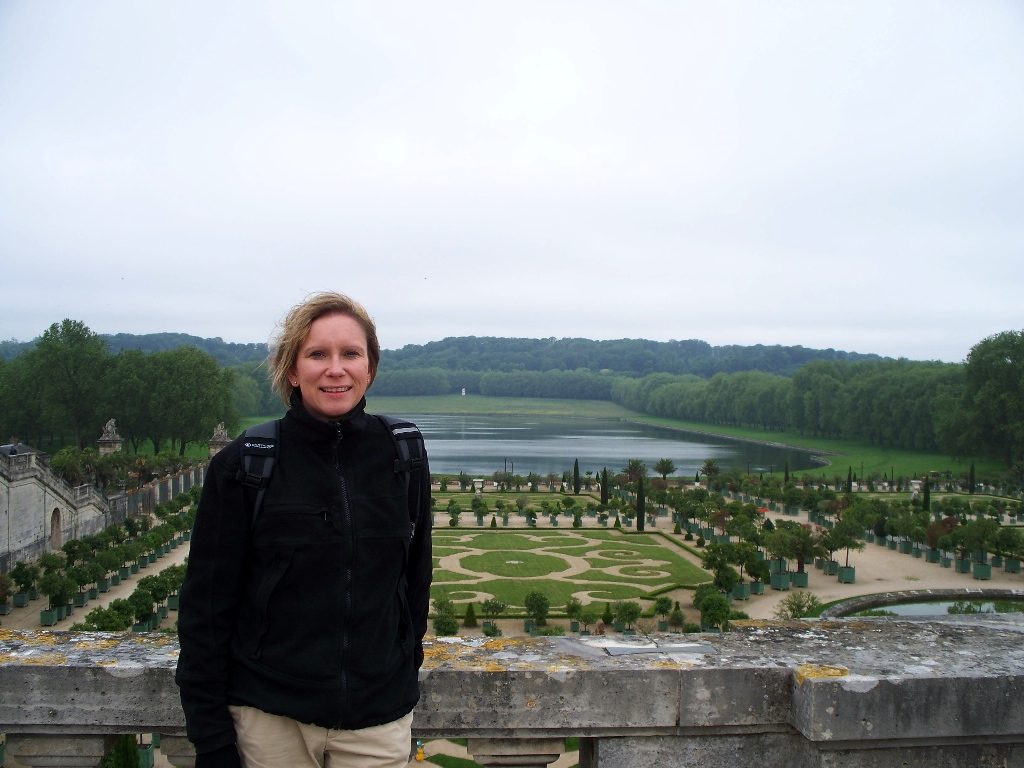 After making it to all 50 states last year, we decided it was time to start exploring outside the country. We usually only take one major trip every other year, but Chris and Stacia said they wanted to go to Europe this year because they might not get to go for a while. I got the hint about what was coming, so we decided to go with them to France. We decided on France since I could provide some level of translation services. So we planned a big trip to Paris.
We left Salt Lake on Friday, May 22, 2009. I had been in Denver for work that week, so I flew back in to Salt Lake at midnight on Thursday and we headed out at 8 am on Friday…good times. We met Chris and Stacia in Dallas, and then headed on to Paris. We arrived in Paris around 10 am on Saturday. We had reserved a shuttle to take us from the airport to our first night hotel…it was much cheaper for the four of us than a taxi. I elected not to take the RER since we had our luggage, but we took the train back to the airport later in the week with our luggage, and it was no problem. If we ever do it again, it's far cheaper and just as easy to take the RER into town.. But it took us almost two hours to get our shuttle pick-up, but we eventually made it to our hotel. Chris and Stacia were staying at a different hotel, so I bought them some metro tickets and they rode the metro up to their hotel. Tracy and I left our bags in the lobby of our hotel, and then walked around the Seine for an hour. We then checked into our hotel, took showers, rested a bit, then headed back out. We walked down the Seine and made our way to the Louvre. We walked around the Louvre, up through the Tuileries, to the Place de la Concorde, and then back to the hotel via Rue de Rivoli. We were scheduled to meet Chris and Stacia at 7…they arrived sometime later than that We couldn't decide on where to eat and we were exhausted, so we just went to a Pizza Hut next to the hotel. Afterwards we walked down to Notre Dame and walked around, and then went back to the hotel and crashed.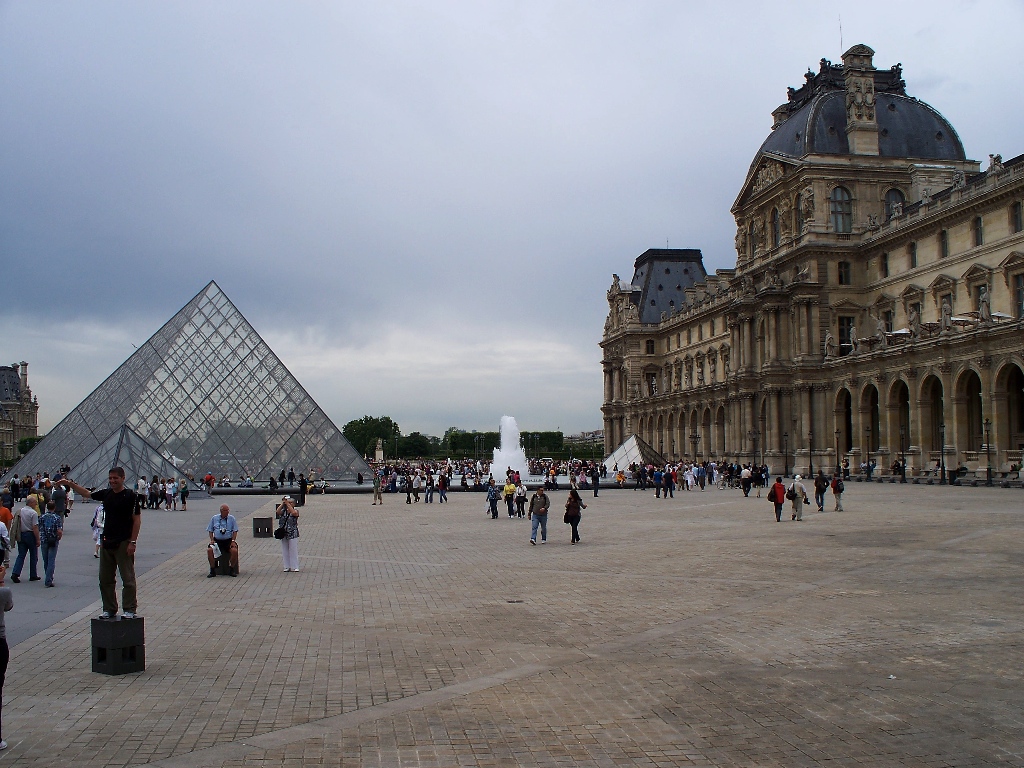 On Sunday we checked out of the hotel and went to the apartment we had rented for the week. We were supposed to meet Chris and Stacia at noon…they arrived sometime later than that. We met the landlady, paid the rent, left our bags, met Chris and Stacia, then headed out. We first took the metro up to the Catacombes, but the line was too long for my tastes. So we split up from Chris and Stacia, and Tracy and I walked up to Cite Universitaire, which was where I went to school in college. We found my dorm and the campus, but it was kind of weird, because I really didn't remember much of anything about the area. I was there for 6 weeks, so it's weird that I don't remember much about it. We then took the metro back towards the Champs Elysees. We got off the train on the opposite side of the river and walked by the Grand Palais. We then found the American Embassy and next headed up the Champs Elysees. I had forgotten how crowded that road could get. Then we went up to the Arc de Triomphe where we were supposed to meet Chris and Stacia around 4…they got there sometime later than that. We decided to alter the plan because they were calling for rain the next couple of days. We decided to go ahead and hit the museums while it was raining, but we needed to go ahead and buy our two-day museum passes. Since it was getting late, we decided to buy them from the FNAC on the Champs Elysees. Chris and Stacia wanted to take more pictures of the Arc, so Tracy and I headed to the FNAC and bought our passes. Chris and Stacia were supposed to meet us there, but never made it, so we walked on over to the Eiffel Tower. We found Chris and Stacia at Trocadero and went on down to the Tower. We went up to the second level of the tower, got some good views of the city, then went back down. We split up again, and Tracy and I walked through the Champs de Mars to the Ecole Militaire, and then headed back to the apartment, where we crashed for the night.
On Monday we hit some museums. Our first stop was the Louvre. Since we had the museum pass, we were able to enter from Rivoli, and we didn't have to stand in line at all. We spent half the day there, and had a good time. Tracy decided she didn't like plates and bowls… I also remembered how crowded that place could be. Afterwards, we walked to the Musee de Cluny up by the Sorbonne. This museum was hard to find the entrance, and it wasn't what I had expected. I wanted suits of armor and stuff, but this museum of medieval stuff didn't have any of that. So we left there and walked back to the Tuilleries and went to the Orangerie museum. This museum didn't have as many Monet paintings as I remembered, but it was still nice. We then went back to the apartment, rested a bit, then headed out to see the Luxembourg Gardens. On our way there, I got a call from my friend Andrew who lives in Paris. He was at an outdoor event not far from Luxembourg, so we took a quick walk through the gardens and then went to meet him. We had a good time hanging out with him until almost 11, and then we walked back to the apartment for the night.
On Tuesday we went to the other museums we wanted to see. We first went to Musee d'Orsay. We had to stand in a line, but it wasn't nearly as long as the line we would have had to stand in if we didn't have the museum passes. I still really like d'Orsay. After leaving d'Orsay, we went to the Rodin museum. I had never been there, so this was a different place for me, and I like some of Rodin's sculptures. Next we headed over to Hotel des Invalides, where we saw Napoleon's tomb as well as the Musee de l'Armee. The tomb was kind of weird. It just seemed like something you would read about in The Lord of the Rings. There were huge statues "guarding" the entrance to the tomb, and his coffin was huge. And the Musee de l'Armee was nice, because it actually had the suits of armor…lots and lots and lots of them…that I had been looking for. We then went back to the apartment and took naps before meeting Andrew for dinner. We met Andrew a little later and went to a Polish restaurant he knew that was in the basement of an old church. It was really nice, and the food was good. We had a good time with Andrew, then walked over to the Place de la Concorde and took the metro back to the apartment for the night.
On Wednesday we went back to the Catacombes. This was the place I had done a project on when I was going to school here, and I couldn't remember anything about it. I must have blocked out a couple of years somewhere in there! Next we went to Jardin des Plantes, walked around, and had lunch. The garden wasn't as much as I had hoped it would be, but it was nice. Tracy had seen Sacre Coeur from the Eiffel Tower and had decided she wanted to go there. I tried to convince her that it wasn't all that and it was in a bad part of town, but she still wanted to go. So after leaving the garden we headed to Sacre Coeur. Well, it really was worse than I remembered it. That's a dirty, rough part of town. Tracy agreed that she didn't like the area, but she liked Sacre Coeur. There was an American playing a guitar and singing on the steps, and she really liked him. Next we went to Notre Dame and toured inside. After leaving there we went to the FNAC at Les Halles, and I bought the Versailles passes for the next day. We then went to the apartment, rested a bit, then we all four walked up to the Pantheon. We enjoyed walking around in the Latin Quarter, and had a picnic in the Cluny gardens, then we headed back for the night.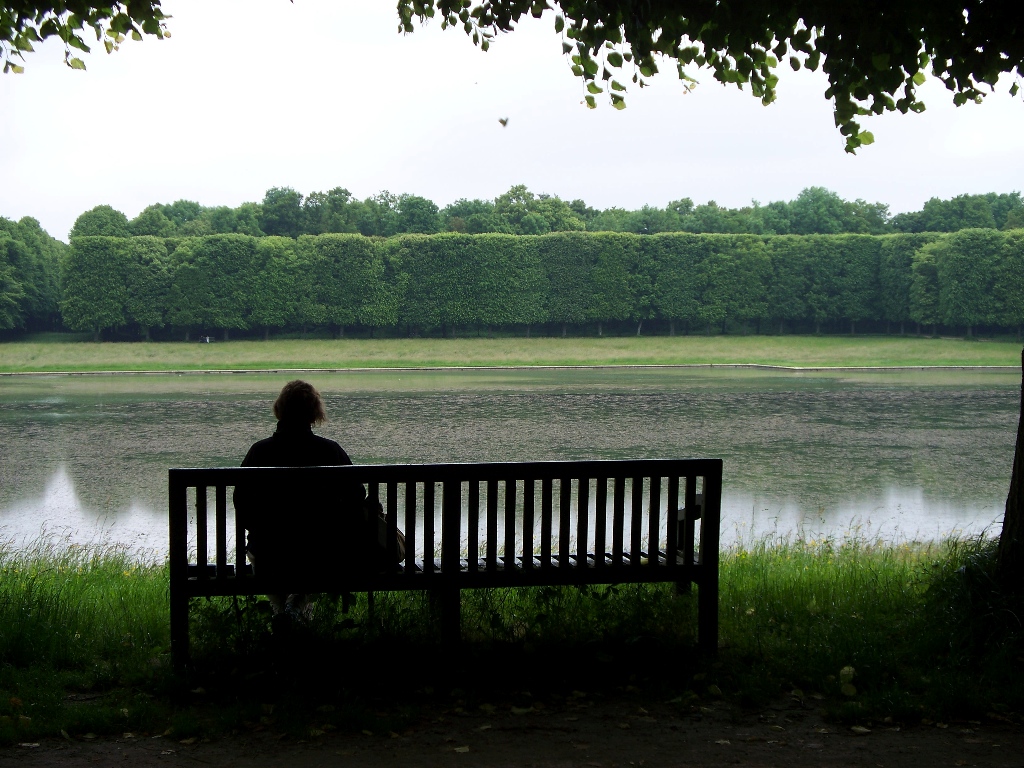 On Thursday we hopped on the train and went to Versailles. I still really like this place. The chateau was horribly crowded, but we spent all day out in the gardens. We completely circumnavigated the canal, which was several miles. I still really liked Marie Antoinette's hamlet. But we spent all day there, and then headed back to the apartment in the evening.
On Friday Tracy decided she wanted to go to Pere Lachaisse cemetery. I tried to talk her out of that, too, but she wanted to go, so we went. She saw Jim Morrison's grave, then we walked around looking for some other graves. We then hopped the metro and went to Chateau de Vincennes. This chateau was older than the others Tracy had seen, so it was nice to show it to her. We also walked around the Bois de Vincennes, which was also nice. There was a nice garden that we enjoyed walking around. We then headed back to town, where Tracy did some souvenir shopping near Notre Dame. Then we went looking for the Shakespeare and Company bookstore, since I had been reading Hemingway's A Moveable Feast, and I wanted to find places he talked about. We found it and then walked around the Latin Quarter for awhile before heading back to the apartment. I like the Latin Quarter and wish I had spent more time there when I was in Paris on earlier trips. After resting at the apartment for awhile, we walked all around town for a few hours at night to get some good night pictures and to enjoy the Latin Quarter some more. We walked along the Seine in the evening, and that was really nice.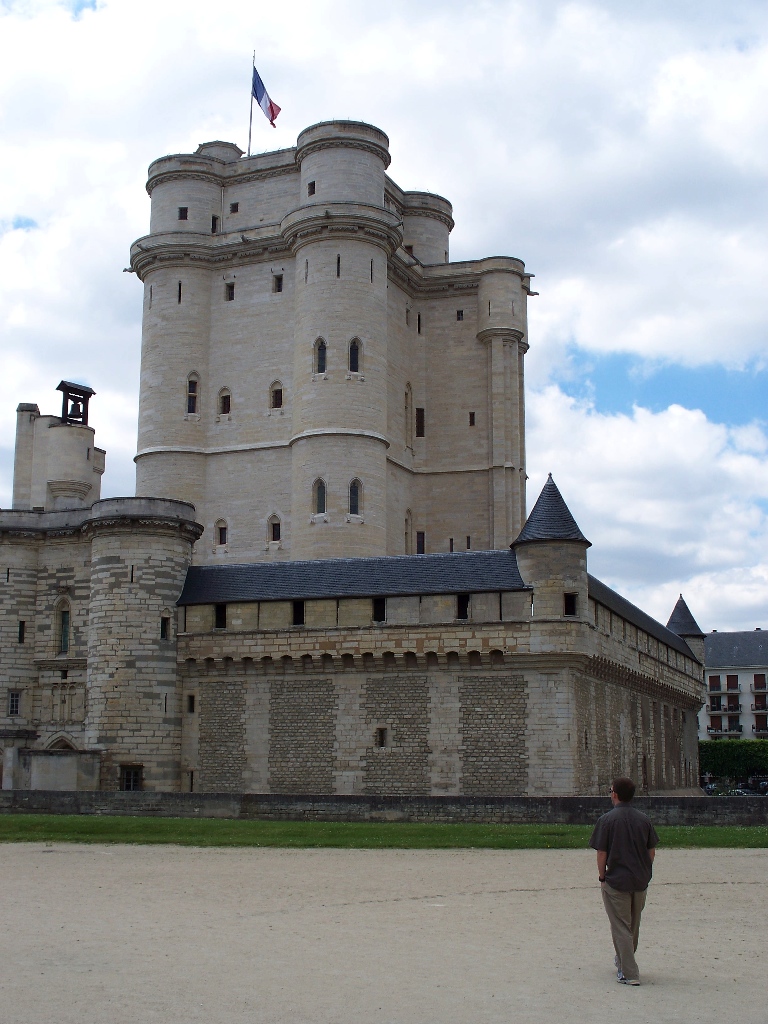 On Saturday our first stop was to the Monet Museum way on the west side of town. We got there before they opened, so we just walked around the neighborhood. Tracy really likes the edges of town because it's much quieter. The Monet museum was really nice. I definitely think Monet is one of my favorite painters. After leaving the museum, way out by Bois de Bologne, Tracy said she wanted to walk some. So we just started walking…and walking…and walking. By the time we were done, we were past the Eiffel Tower and at the Ecole Militaire. Yeah, that was a long walk. We then hopped on the metro and went to St. Michel. We tried to buy a friend's wine, but they didn't have it at the wine shop. We then walked up to where Hemingway used to live and got a picture of his apartment. Man, I'm a nerd! We then went back to the apartment, rested a bit, then went to meet Andrew at his apartment for dinner. We ate with him at a good Italian place near his apartment, and had a good time hanging out with him. We then walked a little down the Champs Elysees for our last night in Paris, and then headed back to the apartment to pack to leave.
On Sunday we got up and checked out of the apartment. We took our bags on the RER at the Chatelet stop and headed to the airport to rent a car. I was a little stressed about driving in a foreign country since I had never done any significant driving overseas, but at least we had changed the plan about going to Normandy on Saturday, which would have necessitated driving back into Paris on Saturday night. I really did not want to drive in town…that would have been crazy. But we made it to the airport uneventfully and rented the car with no problems. We had fun packing the luggage, and then headed to the Loire Valley. It took us a few hours to get to the valley, through lots of toll booths, and we made our first stop at Chenonceau. This was a really pretty chateau that I had really wanted to see. It goes over a river, which is cool. Like all chateaux, though, I enjoy looking at the outside and exploring the gardens…the inside of the chateaux really don't do anything for me. So we spent some time there and then headed out to Chinon. I picked the wrong town on the GPS, though, and we wasted about 30 minutes before someone noticed the arrival time was like 4 hours later, meaning we were going to the wrong place. So we re-adjusted and headed to Chambord, instead. Chambord was really cool, and I'm glad we ended up there. It was just a really pretty chateau, and we spent some time walking around the gardens. I also finally found a 4 leaf clover, so I was happy! We then drove through some of the forests and towns, and went to our hotel.
On Monday we got up and drove to Normandy. It was a long drive to Normandy, but when we got there we went to the American Cemetery and Utah Beach. I had never been here, either, so it was really amazing. It's amazing how many people died there and what they had to do. It was just really incredible. We also went to a Ranger memorial down the road. After visiting around the cemetery and memorials for several hours, we headed back to Paris. We had a long drive and had to deal with some traffic, but we made it back to our hotel near the airport.
We got up early on Tuesday, returned the car, and then checked in for our flight. The flight back was uneventful. We split up with Chris and Stacia in Dallas, and then headed back to Salt Lake.
This was really a great trip. It was wonderful to be back in Paris and to show it to Tracy. When Tracy arrived in Paris she was really freaked out by the size, the people, the language, and pretty much everything. She didn't like it very much the first couple of days. Towards the end, though, she really liked it, and she didn't want to leave. She even talked about wanting to live there. It was nice to see that my French is still decent. Of course, I need to practice more, but I really didn't have any problems. I want to spend more time there so that I can use my French more. I don't know if we'll ever go back to Paris, but we'll probably go to eastern or southern France.
We walked what felt like a hundred miles. We estimate that we hiked around 50 miles over the course of the trip…it was probably more than that. We also had a good time with Chris and Stacia. International travel is definitely harder than domestic travel, but it's worth it every once in a while. Tracy wants to do New Zealand next. It was strange for me coming back, because I realized I didn't feel the same as I used to feel when I traveled internationally. I used to feel like everything was surreal when I came back. Now, however, it just felt like any other trip. I guess that means all my trips to the Middle East made the international travel more normal. As always, we had a great time, and I will always enjoy going to France.
Similar Posts: