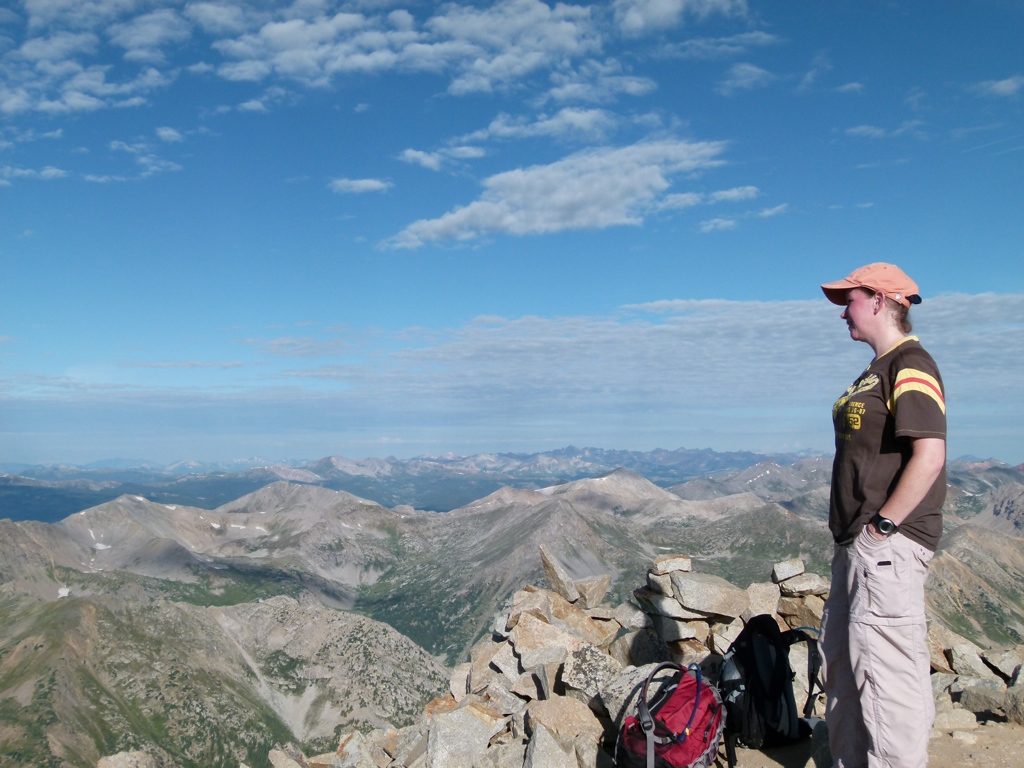 The weekend of 19 Aug 11, Tracy and I drove to Leadville, CO, to hike the 14,421 foot Mt. Massive. We stopped in Rifle, CO, on Friday night, and then drove over Hagerman Pass to take the scenic route to Leadville. Hagerman Pass was really pretty. The road wasn't too bad, but it was rocky and really slow driving. Once we got into Leadville we drove up the road to the Mt. Massive trailhead. We had been up here earlier in the year, but we weren't able to drive all the way up at that time because of snow. The plan was to camp at the trailhead and get an early start on Sunday. The trail I planned to hike was 8 miles roundtrip with 4,000 feet of elevation gain. After hiking the trail, we were going to have to drive 7 hours back to Salt Lake. After thinking about it, I began to get worried that we really didn't have enough time on Sunday to do all that. The hike would wear us out, and then we would have to make the 7 hour drive. So I started re-thinking the plan. Tracy really wanted to hike Mt. Massive, but I insisted that the plan wasn't really a good one. We couldn't have made it to the trailhead early enough to start on Saturday, and the hike and drive were just too long to do both on Sunday. So we decided that we would need to save Mt. Massive for a three day weekend, and we would need to pick another trail to hike for this trip.

So, we decided to do Huron Peak. We had tried this 14,003 foot mountain once before, but this time we actually wanted to summit the mountain. So, we started at the traditional trailhead this time in order to avoid the crazy scree slopes we had hiked before. We camped a couple of miles down the road from the trailhead, and we got a 5 am start on the day. The hike was great, and we didn't pass a single person on the way up. We saw two groups below us on the mountain as we hiked up, but they weren't able to catch up, and we were the first to summit for the day. The hike was fairly easy until the last mile or so, when it got steep. The last quarter mile was particularly steep, and, as always, it was amazing how much we slowed down. The last quarter mile took over 30 minutes to hike. And, as always, Tracy summited before I did. At the shoulder of the mountain we were able to see the "more rugged alternative" we had hiked the first time, and we were glad we were on the good trail this time. On the way down, we passed the crowds. There really weren't that many people, but they were all grouped together within about half a mile of each other. They all kind of bunched up where the trail started the steep ascents, and it seemed like they all started within a half hour of each other. Again, it wasn't too awfully crowded, and we had it all to ourselves with our early start.

This was our fourth 14er, and I'm glad we were finally able to summit the first mountain we had tried to hike. I'm also glad we didn't try to hike Mt. Massive on a regular weekend. We'll try it again next year on a three day weekend.