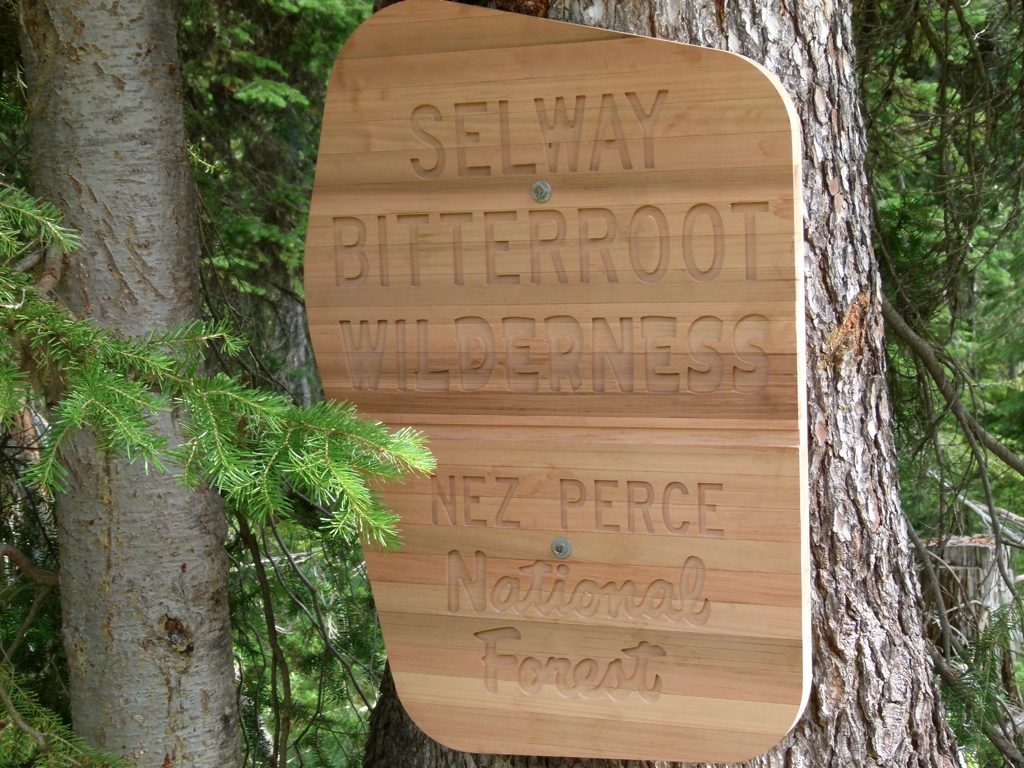 The weekend of August 12, 2011, Tracy and I headed up to Idaho and Montana to check out the Selway-Bitterroot Wilderness. We stayed Friday night in Idaho Falls; I wanted to drive further, but there were no hotels any closer to Salmon, ID, and I didn't know any places to camp. On Saturday we started driving…and driving, and driving. Our first stop, after several hours of driving, was a trailhead along the Nez Perce Forest Service Road. This remote dirt road is the only break between the 2.3 million acre Frank Church River of No Return Wilderness and the 1.3 million acre Selway-Bitterroot Wilderness. So the road marks the northern-most boundary of the Frank Church and the southern-most boundary of the Selway-Bitterroot. Well, not only was it a long drive to get to the boundaries, but the area had been burned out, and it was really dry and hot. We hiked a little way, but there was no wilderness boundary sign, and it was just uncomfortably dry and hot, so we decided to try another trail.
So we drove all the way back to the highway and headed to Bear Creek Trail to backpack. After more driving, we finally made it to the trailhead…where we were accosted by hordes of mosquitoes. Undaunted, we headed out. After a couple of miles, though, we were thoroughly unimpressed by the area. The bugs were bad, the undergrowth was thick, and it was hot and humid. It felt more like a bad day in the south than a day in the Rockies. Not only that, we discovered that Tracy's water bladder had leaked out, and she didn't have much water. And then it also looked like it was going to storm on us. So, we became daunted. We turned around and headed back to the car. We drove back down the road some and found a campsite for the night. The next day we checked out a couple of places further south near the Frank Church, and it was much nicer. The road by the Salmon River was pretty. But we decided to call it a weekend, and we headed back home.
This weekend taught me a couple of things: it's a LONG drive up to the Bitterroots, and they're not really worth it. They're at a lower elevation than most other Rocky Mountain ranges, which makes them hotter and drier. I'm not a big fan of the Sawtooths, either, but the Salmon River Range between the two seems to be pretty nice. It's also a long drive, so I'm not sure it's worth going up there much, but their remoteness definitely makes them enjoyable.