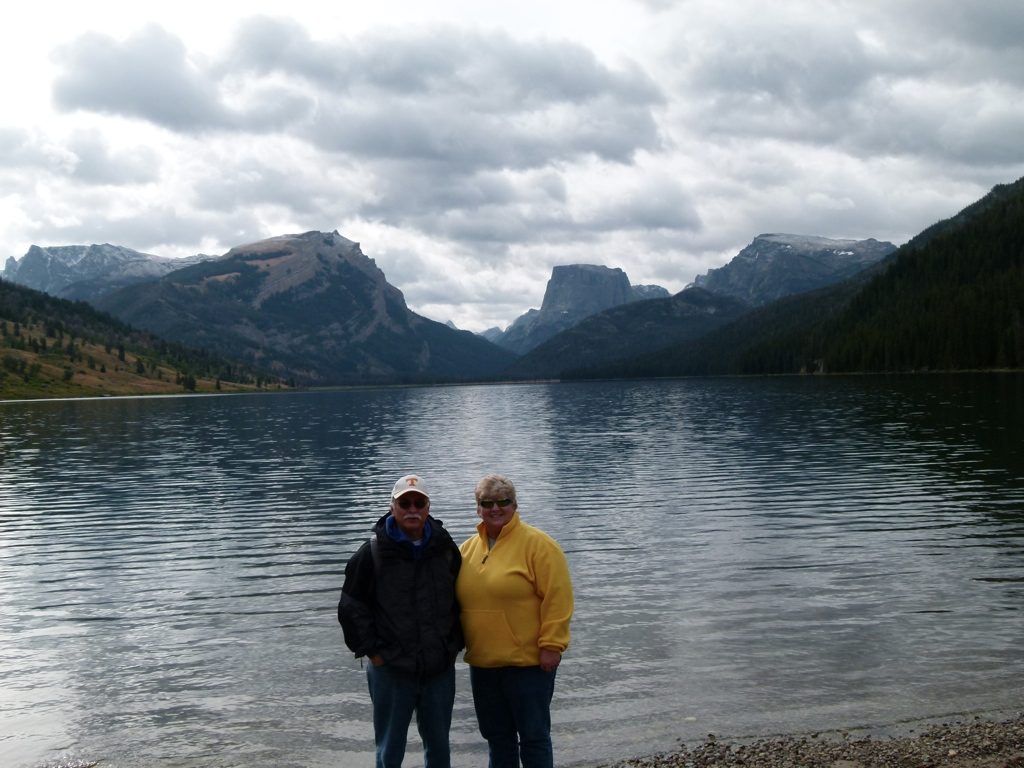 The weekend of September 16, 2011, my parents came out west for their first-ever trip to the Rocky Mountains. Knowing they had never been here, Tracy and I had worked on what we hoped would be a really good trip. After work on Friday, we took the long way to Pinedale, WY, over Monte Cristo, in order to give them an early taste of the mountains. We got to Pinedale late on Friday, and then got up early on Saturday to head to Green River Lakes in the Wind River Range. My parents were first amazed by the hot spring on the road to the lakes, and then they just loved the Winds once they got a good look at them. We hiked around a little at the lakes and then headed out toward the Tetons. Once in the Tetons, we hiked around at Mormon Row, and then we hiked out to Leigh Lake. After enjoying Leigh Lake, we drove around more looking for wildlife, and coming up strangely empty-handed. Then we headed back into Jackson for dinner, and then drove to Colter Bay for a night in one of the cabins. The cabin was pretty nice, even though it was a crowded area.
On Sunday we got up and drove into Yellowstone. We checked out Hayden Valley, Yellowstone Falls, and the Lamar Valley. Once again, we didn't see much wildlife. We continued out of the park to Cooke City, MT, and then drove up over the Beartooth Highway. As I've always said, this road is one of the most beautiful in the country, and I think they enjoyed it. Afterwards, we drove back to Cooke City for the night. On Monday we drove back into the park and checked out Old Faithful and the Upper Geyser Basin. After finishing up there, we headed back out to West Yellowstone and on back home.
We had a great time showing my parents the Rockies. They said they enjoyed it, so I hope to convince them to come back so we can show them Colorado!