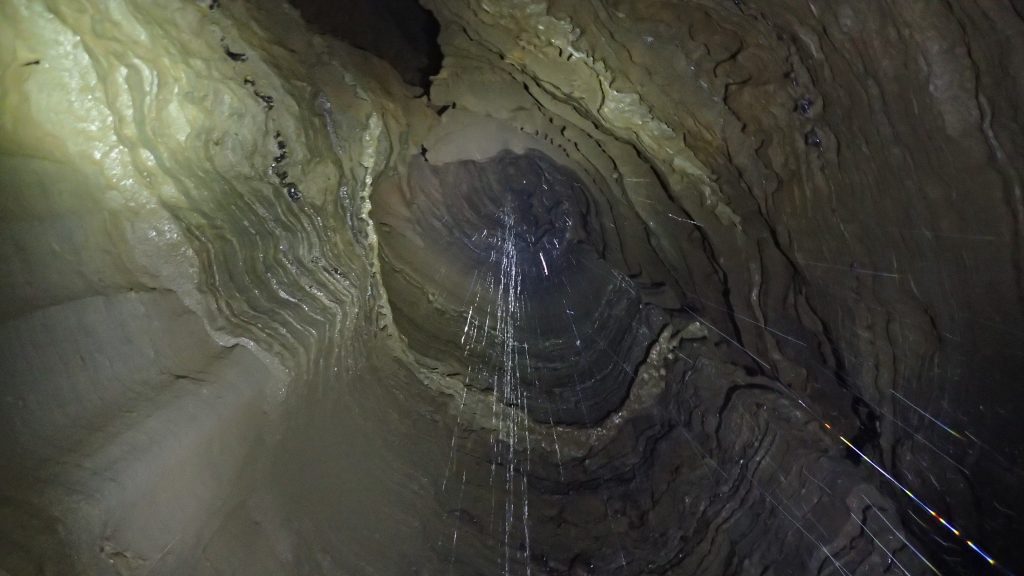 On January 21, 2018, Tracy, Jenny, and I took another trip to Kennamer to try find my way for a through trip.  Since the week before we had been turned back at the first climb while entering from the bottom entrance, we decided this week to start from the upper dug entrance and see what happened.  After the initial crawls, we found a gigantic cave crayfish.  It was easily the largest crayfish I have ever seen.  Then we continued down cave until we reached a large boulder blocking the passage.  We spent a while trying to find away around the boulder.  Once we found a way on the left side of the passage, Jenny decided she didn't want to continue, so Tracy and I continued down the cave.
After a few minutes we came to a 15 foot drop in the passage.  We found a side tunnel that also led to a drop, and Tracy decided she didn't want to continue, so we turned around.  On the way back, I found another way around the large boulder that crawled around the opposite side we had taken on the way in.  We met back up with Jenny and then started back out.  On the way out, we continued past the dug entrance passage and went to the natural upper entrance.  There was a large
rfall coming in across from the entrance, which was cool.
The natural entrance requires climbing, so we backtracked to the dug entrance and exited the cave.
Once again, I wasn't able to continue far past the entrance at Kennamer, but I really enjoy exploring.  It's fun just to poke around in caves even if you don't make it to where you want to go.