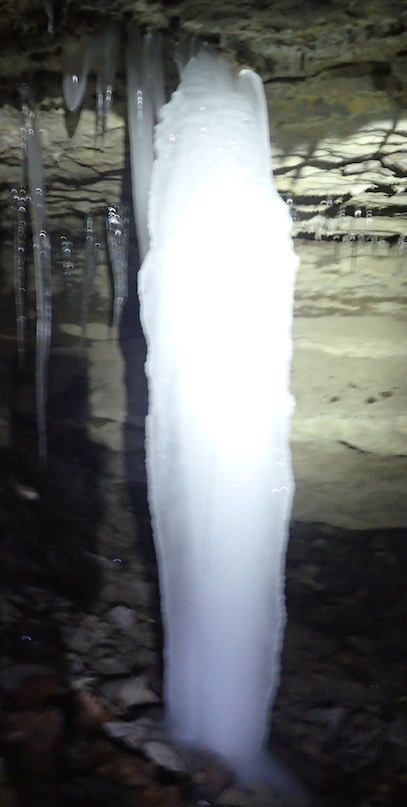 On January 15, 2018, Tracy, Layne, and I went to Kennamer Cave in Jackson County, AL. This was my third trip into Kennamer, but the first trip was led by someone else, and the second trip was a surveying trip that did not go very far into the cave. So this was a trip that I wanted to lead from the lower entrance and out the upper dug entrance. I had only been in the lower entrance once, and I remembered it involving a lot of crawling and some confusing intersections, including a climb up to an upper level. I was worried that I would not be able to find the upper level.
Well, we did a lot of crawling, and then we spent a lot of time trying to find the climb to the upper level. I had an old map of the cave, but I truly believe that map is completely wrong. We spent a solid hour poking holes trying to find the climb, but we eventually gave up and started back out. That's when we found one of the climbs…and it appeared to be somewhere completely different than what was marked on the map. This climb also looked way too exposed for me and my little legs. But now I thought I knew where to find the other climb that we used the first time we came in this entrance.
So we backtracked some more and found the other climb. By this time, though, we had been in the cave nearly three hours, and Tracy was worn out. So we just looked at the climb and decided to head back out.
This is a great cave, and it was fun to spend the day exploring, but we didn't get to show Tracy the prettiest parts this day. But that just means we get to take her back.