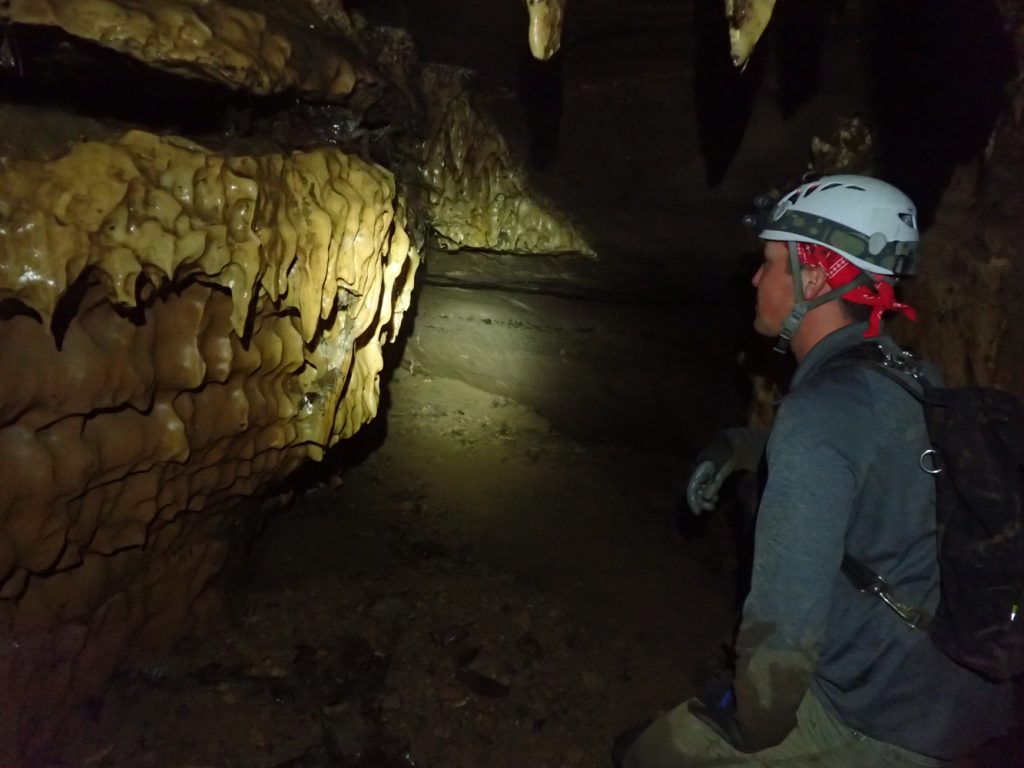 On February 25, 2017, I took a trip with the Huntsville Grotto to Kennamer Cave in Jackson County, AL. This cave is just a few minutes from my house, but this was my first time going to the cave. Actually, I guess we tried to go to it once before, but there are multiple entrances to the cave and we weren't sure about the correct entrance to use, so we mostly just hiked around the ridges looking for entrances. We did eventually figure out where the entrances were, but by then we had spent most of the day walking the ridges, and we were pretty worn out. So this was my first trip into the cave.
With Tommy's guidance, we entered at the lower entrance and began the long crawls. There is a notoriously nasty pool that must be negotiated, but it wasn't too bad. Shorter people are certainly able to avoid totally crawling through the stagnant pool. Then we found the climb up to an upper level. Layne and Joe took the more exposed option, while Tommy, Jenny, and I backtracked and took a somewhat less exposed option. We caught up to Layne and Joe and continued into the cave.
This cave is absolutely beautiful. It has great canyons, high ceilings, interesting formations, waterfalls, and great passages. Honestly, this is a great cave.
After about four hours we made it to the climb up to the Dug entrance and exited, completing a through trip in the cave. From there it was a 30 minute hike down the ridge back to the car.
I really enjoyed this cave, and I look forward to returning to explore it more.