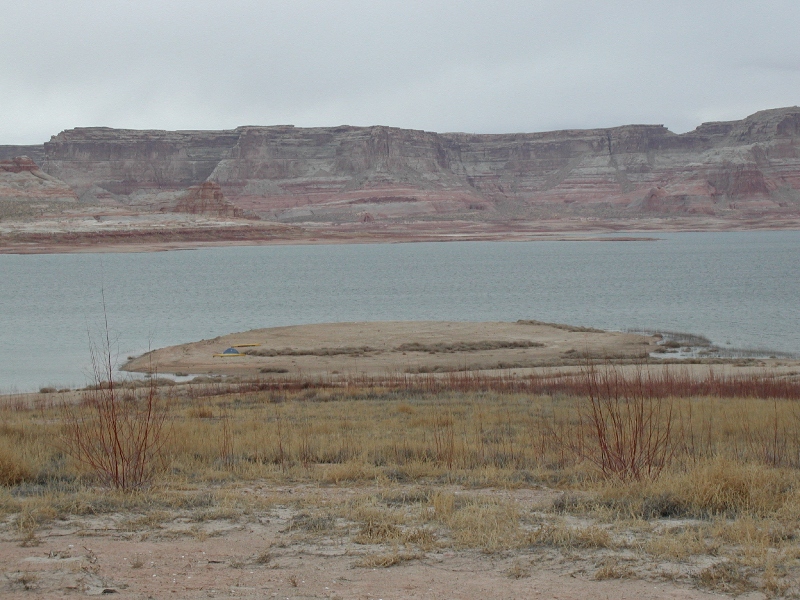 During the week of March 20, 2006, Chris and I took a kayaking trip to Lake Powell in the Glen Canyon National Recreation Area near Page, AZ. We rented two sea kayaks on Monday in Page and then headed out to the lake. We ended up putting in at Wahweap Bay because I had heard there were problems with car break-ins at Antelope Point. I asked the guy we rented the kayak from about the break-ins, and he said it wasn't a big problem, because he only knew of one client who had been broken in to. Well, that seemed like enough to me, so we put in at Wahweap.
Unfortunately, the weather was calling for winds to pick up by 2 pm in the afternoon, and it was calling for some bad winds and rain on Tuesday. And we wouldn't be on the water until 11 am on Monday. So we were faced with trying to get to my goal at Labyrinth Canyon which was about a 5 hour paddle, or stopping somewhere closer. I opted to go to Warm Creek Bay since we didn't have much paddle time on Monday before the wind got bad. But since we were putting in at Wahweap, that would still have required at least a 6 hour paddle. So I decided we should try to portage the boats across what used to be Antelope Island, but what is now really Antelope Peninsula since the lake water levels have dropped about 90 feet. This was a lot of fun. We paddled across Wahweap Bay and carried our gear and kayaks the .68 miles across Antelope. It took one scouting trip, one gear trip and two kayak trips. In all, we hiked about 4.5 miles for this portage…and, believe me, it was not easy carrying those sea kayaks. But we had to do it, because the wind kicked up at about noon, and we would have never been able to paddle very far around Antelope Point.
We then tried to paddle across the other side of Warm Creek Bay, but the waves were coming over the bows of the boats, and it was taking us forever to paddle the mile and a half across the bay, so we turned around and camped on Antelope on the Warm Creek Bay side. The next day the wind was worse with gusts up to 25 miles per hour, so we hiked about a mile and a half out to a geocache. We found the cache and hiked back to camp. Chris left a glove at the cache, however, so he hiked back and got the glove. Then we hiked along the bay some, until the rain came at about 2 pm. From then it poured rain non-stop until about 5 am on Wednesday. Which was great, because my relatively new tent decided this would be a good time to start leaking. So that was a lot of fun. To add to the fun, my water filter also decided it was a good time to stop working. I don't know what was wrong with all my gear on this trip. So we spent a wet, sandy day and night in the tent on Tuesday.
Then we got up by 6 am on Wednesday and paddled back to Wahweap. It was a 16 mile paddle that took us about 7.5 hours altogether. But the weather was outstanding and the lake was perfectly calm, so it was a lot of fun. The lake was really pretty with the towering canyon walls and the sandstone side canyons. There weren't many other boats on the lake at all, so that was nice. At the camp we saw lots of coyote tracks and some tracks that I really believe were mountain lion, but I wasn't positive. We only saw two people the whole time we were out there before we got back to the main channel of the river on Wednesday. One was on a boat in Wahweap Bay as we were beginning to try our portage, and he asked us if we were okay or needed help. The other was in a small plane that flew over us while we were hiking out to the cache on Tuesday, and he banked his plane to check on us. It was nice to know that people out there would look out for you if you needed help.
But this was a great trip. Because of the weather we didn't get to go to Labyrinth Canyon, but I'll save that for another trip. Lessons I learned from my first kayaking trip: I only average about 2.5 miles an hour on calm water; it's better for my back if I slouch a little in the seat; the rudder really helped a lot; I need waterproof gloves; I need to keep my sunscreen, food, and water close by (I did this, I just need to be sure I don't forget it!); and lastly, weather is a major factor when you're paddling a boat. I've experienced that problem in Okefenokee, Boundary Waters, and Alaska…and now I've experienced it in Arizona. So I'm batting .1000 on encountering bad weather on the water. But I think I'll try to keep at it. This is a great trip, though, and highly recommended. Just be sure not to go in the really busy summer months, because all the boats would be irritating and maybe dangerous.
We also did some hiking along the Paria River in the Grand Staircase-Escalante National Monument on Sunday before we went out on the lake. We hiked about 5 miles up the canyon to Kitchen Canyon and then turned around after the weather started to get questionable. Also, you can check out our track log of the paddle from the camp back to Wahweap on Wednesday.
Similar Posts: