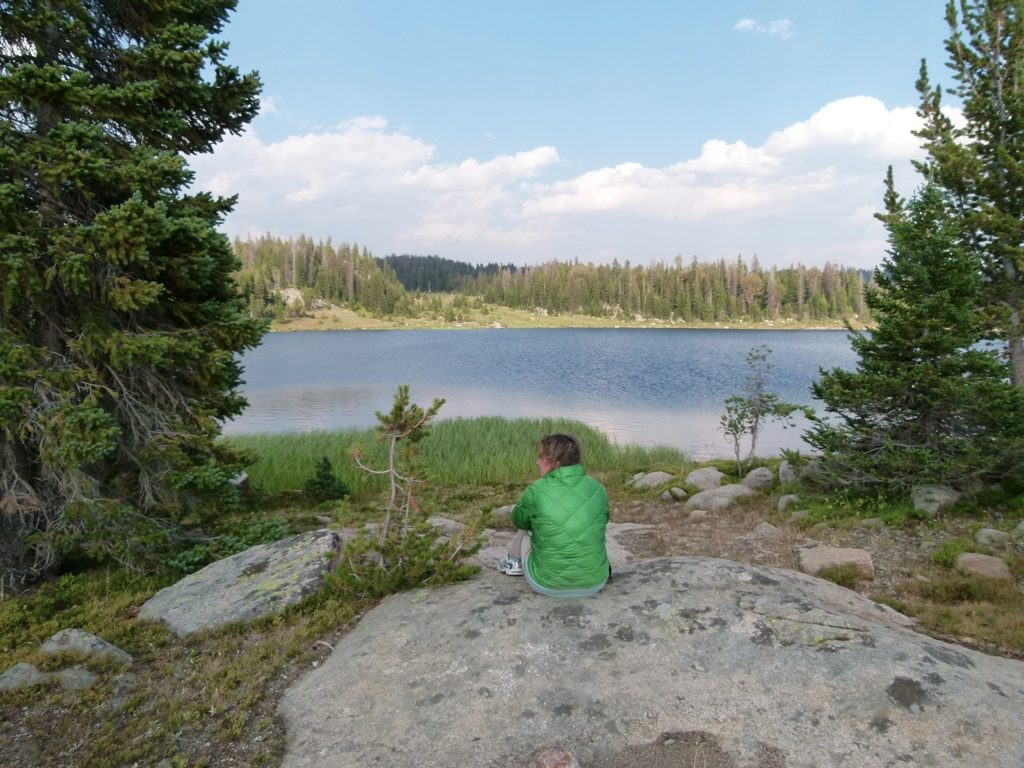 On August 23, 2012, Tracy and I had planned to take a three day weekend to hike a 14er in Colorado. However, Tracy was pretty shot from the weekend before at Spider Lake, and I had a long trip planned for the next weekend, so we decided to take it easier than the 14er. So we left Thursday after work and headed north. We spent the night in Rexburg, then got up Friday and headed through Yellowstone to the Beartooths. We had lunch in Cooke City, and then we drove up over Lulu Pass. The wind was blowing pretty good up there, but Lulu Pass was really pretty, with views out over the Beartooths and the Absarokas. We drove a little down the road to Lake Abundance, but the 4×4 road was really rocky, so it was very slow going, and I didn't feel like spending half the day driving to the lake, so we turned around and continued on to Daisy Pass. The roads over the passes were in good shape; Lulu Pass was steep, but it wasn't anything too bad. From Daisy Pass we dropped back down to the highway and then continued on towards Red Lodge. We hiked a little around Island Lake, and just generally enjoyed how beautiful the Beartooths are. We ended up in Red Lodge for Friday night and walked around town a little and had a nice dinner in town.
On Saturday we got up and headed back to the Beartooths. We saw some mountain goats on the way up, which was cool. We then did some hiking from Long Lake up to Sheepherder Lake. This was a really nice hike, mostly cross-country, with lots of lakes on the Beartooth Plateau. Tracy and I didn't want to leave this hike…it was really that nice. We then hiked a little at the trail near the Clay Butte Lookout to see the great views on the trail over the Beartooths. I then hiked a little bit on the Muddy Creek Trail. Next we started down towards Cody, and I hiked a little on the North Crandall Trail, which looked like a nice trail to take into Yellowstone. From there we headed into Cody for the night and walked around town for a couple of hours.
On Sunday we got up and headed back into Yellowstone via the east entrance. Once again, we didn't see much of anything in Hayden Valley while driving through. I know Hayden is supposed to have a lot of wildlife, but we never see much more than bison there. We've had much more success in the Lamar Valley. I do want to do some hiking in Pelican Valley, though…that looks like a nice trail. The rest of the day was just the long drive back home.
This trip reminded me how much I love the Beartooths…I still think I might like them more than the Winds. I want to spend more time up there…it's just such a long drive. But it's worth it.
Similar Posts: