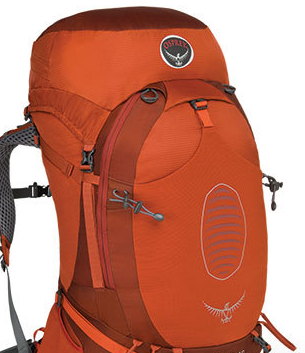 I used to swear by Kelty backpacks.  They were cheap and they had a lot of pockets which appealed to my OCD need to organize things.  My shoulders and neck were always sore after a couple of days of  backpacking, and they were downright unpleasant after longer trips.  But I figured that was just how it was when you backpack: you got sore.
And then I bought an Osprey Atmos 65 and I learned what I had been missing my whole life: comfort on the trail.
The Atmos is much lighter than a comparably sized Kelty, but that's not even the best part.  The best part is that I no longer have ANY shoulder or neck soreness from carrying my backpack.  I don't want to sound like this will be the same experience for everyone, but I can't stress enough how much better life on the trail has become since I bought the Osprey.  I truly no longer get sore from carrying the pack.
Oddly enough, the pack wasn't that great from the beginning.  The pack was actually pretty painful on my upper thighs the first two or three times I used it.  It made the muscles just below my hips very sore.  But I stuck with it because I figured the leg soreness was a result of the pack setting differently on my hips, thereby making my leg and hip muscles carry the weight differently…which made them sore.
And I was right.  After the third time I went out, this pack has been a dream ever since.
The 65 liter is big enough for a week-long trip, and it's lighter than my old Kelty's, so I don't mind having the unneeded space on shorter trips.  It has three small outer pockets that don't carry much, but they're big enough for my first aid kit, headlamp, InReach, and Steripen, so they do the trick.  It also has a pocket on the lid where I keep my rain gear, as well as two water bottle pockets where I keep water and snacks.  It also has small pockets on the waist belt, which is nice for bug spray and sunscreen.
And did I mention that I never get shoulder and neck soreness?
Bottom line: I love this pack.  The Osprey Atmos 65 is extremely comfortable and has greatly improved my experience on the trail.  If you're still carrying an old pack, make the switch.  You won't be disappointed.
Similar Posts: