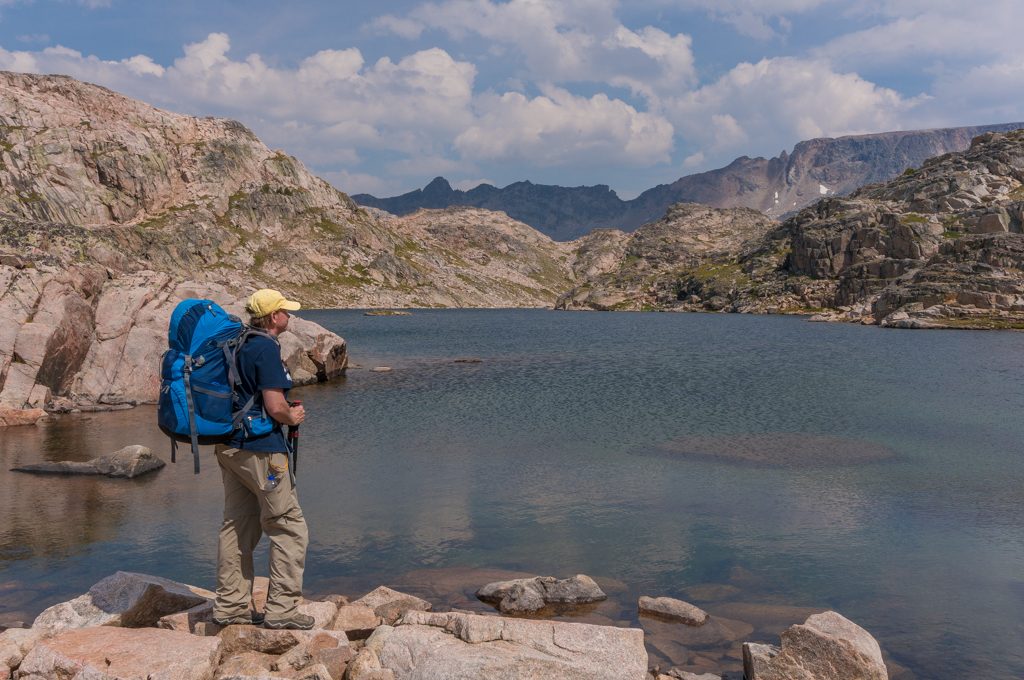 In August 2016, I had an ambitious plan to spend three weeks in the Rockies.  For the first part of the trip, Tracy and I drove from Alabama to the Beartooth Mountains outside of Cooke City, MT.  This was where we planned to spend the first week and a half of the trip.  We started hiking from the Island Lake Trailhead and headed up the Beartooth Highlakes Trail.
On the first day we camped at Native Lake.  The trail to Native Lake was beautiful, and the weather was nice most of the day.  As we were nearing Native Lake, we stopped for a break, and a couple passed us headed further into the wilderness.  It was getting late in the afternoon, and they were just carrying small day packs.  They stopped and asked us the way to the trailhead.  That's a bad sign.  I asked them which trailhead, and they weren't sure.  That's a worse sign.  I told them that the direction they were headed was away from all the nearby trailheads.  I asked them to describe the trailhead, and I decided they likely started from Beartooth Lake.  I gave them directions back to Beartooth Lake, and they turned around and headed back.  After the left, I realized that I didn't tell them not to turn right on the Clay Butte Trail before they got to the Beartooth Lake Trail.  But there were signs, so Tracy assured me I told them the correct trail to take, so it was up to them not to take the wrong trail.  Considering how badly they were lost, though, I wished I had told them about the Clay Butte Trail.  But we never heard anything about anyone getting lost, so I assume they made it out.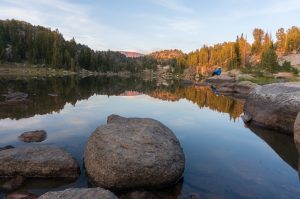 We then camped at Native Lake.  A thunderstorm moved through, but after it cleared, we enjoyed a nice evening and sunset by the lake.
The next morning something unexpected happened: the trail descended off of the plateau.  When I planned this loop, I guess I assumed that it stayed up on the plateau, and I didn't notice on the topo maps that it descended off the plateau and then quickly climbed back up.  So that kinda sucked.  The trail dropped back down into the trees and descended steeply.  It was not a pretty section, and it was not an enjoyable section.  Once at the bottom, it soon ascended quickly back up again.  I guess it drops off the plateau to bypass some steep, rocky sections up high.  Oh well.  Once we climbed back up, it got really pretty again, although the views were a little obscured by smoke from nearby forest fires.  We soon found a nice campsite near Kidney Lake.  I did some dayhiking out to Wright Lake and Liver Lake and just enjoyed the day.
The next day we packed up and headed cross country to Liver Lake, then to Cloverleaf Lakes, and on to Arrowhead Lake.  We had a little drama above Rachel Lake.  As we approached the basin where the lake was, I saw that the obvious route involved dropping down into the basin and then climbing back up above the lake.  But since we were at an elevation roughly the same as the spot above the lake, I thought maybe we could just skirt around the basin and save ourselves the descent and re-ascent.  I debated this option, because there were boulders on the slope ascending above Rachel Lake, so I knew it was possible that there was a cliff along the side of the basin that we couldn't see, but that would prevent us from skirting the basin.  But we decided to try it anyway.  Well, there was a cliff.  We had hiked nearly a mile when we encountered the cliff, and we didn't want to backtrack.  Then I found a very narrow and very steep couloir that cut through the cliff.  It looked like a terrible idea to descend through this defile in the cliff.  Considering what I know about the risks of dying from a fall in the backcountry, it really was a bad idea.  But we did it anyway.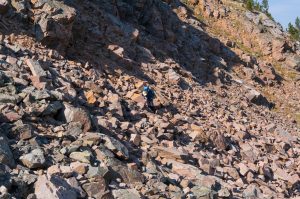 For better or for worse, it turned out okay.  The descent was very sketchy, and once on the bottom, we had to pick our way through a loose boulder field.  Tracy really didn't think she could descend the couloir, but I coaxed her through it, and we eventually made it to flat, firm ground again.  But this was a really bad idea.  We should have descended the basin originally, and we should have turned around when we encountered the cliff.  Don't tempt gravity…it doesn't always turn out so well.
We then pushed on to Cloverleaf Lakes, which were beautiful, and then we negotiated through narrow slots around Arrowhead Lake, picking our way towards Jasper Lake.  There were informal use trails through most of this section, but some areas required finding our own route…which I love doing.
We reached the lip of the basin above Jasper Lake, and then descended down to Jasper.  By this time, my feet were beginning to hurt.  I decided at this point that from now on I would begin trips with thick mole foam on the balls of my feet.  My feet seem to get bruised or something from the impact of walking for several days, and the mole foam helps prevent that.  After a break, we ascended out of Jasper Lake, and talked to a guy who had been backpacking up around Two Bits Lake…he made me want to go explore that area.  We then waited out another storm and headed to a camp right on the state line north of Becker Lake.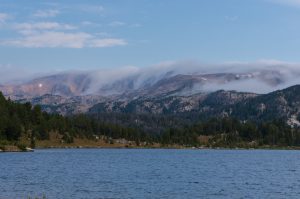 The next day we just hiked back out to the trailhead.  The plan was to stay the night in Cooke City and then head back out the next day for another backpacking trip at Skytop Basin.  We were both pretty beat, though, and the forecast wasn't great, so we decided just to explore around the north end of the Absaroka-Beartooth Wilderness.  We spent the next couple of days exploring trailheads between Red Lodge and Nye, MT.  We had never been to those areas, and we really fell in love with that part of Montana.  We didn't hike much, but we saw enough to make us want to hike more in the area…or to buy a cabin out there.
After a couple of days, it was time to get Tracy to Grand Junction, CO, for her flight back home.  We ended up at I-90 near Columbus for a hotel, so we had a long, long drive ahead of us.  We stopped on the way in Riverton for the night, but it was still an awful drive.  We made it to Colorado and met up with friends, and then the next day Tracy flew back home.  Now I had another week or so on my own.
The plan was to backpack in the Flat Tops Wilderness, but the weather looked really bad, and I didn't want to be above treeline in the Flat Tops during thunderstorms.  So I continued driving south.  And I drove a long way to the Uncompahgre Wilderness near Silver Jack Lake.  But it kept raining.  The trail was muddy and forested and didn't look pleasant.  I camped near the East Fork Trailhead, but when I got up the next morning, I decided I didn't want to backpack there.  So I turned around and drove back.  And I drove all the way back to the Flat Tops.  It was another terrible drive.  I then checked out a bunch of roads north of Dotsero off of the Colorado River Road.  Many of the roads were rough four wheel drive roads, and the forecast was still calling for storms, so I was worried about getting stuck on one of those roads.  I did some dayhiking above Sweetwater Lake, and eventually I made my way to Stillwater Reservoir to do some backpacking.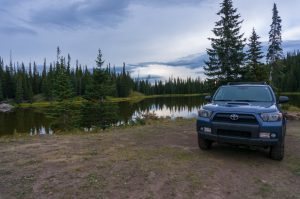 I found an amazing car camping site nearby, and the next day I started out into the Flat Tops.  I climbed up above treeline and headed south from the Chinese Wall.  The Flat Tops are beautiful up high, and I enjoyed the flat, expansive views at the top.  But storms were moving in.  I sat up high for awhile to wait out the weather, but the temperature plummeted, and I could see that the August storm was bringing in snow instead of rain.  As it moved in, the wind picked up and I started to get cold.  I decided I didn't want to stay above treeline that night with the cold wind howling and no tree cover.  So I descended back off the plateau hoping to find a campsite that would provide more shelter.  But the further I descended, the more it snowed.  Eventually, I was cold and wet, so I decided just to hike back out and car camp.
So I hiked back to the truck and drove back to that wonderful car camp site.  The weather stayed iffy for the next couple of days, so I just stayed at that camp site and dayhiked around the area.  It wasn't what I had planned to do, but it was relaxing, and it was much, much better than being in Alabama in August.  I had a really pleasant time just hanging out at the lakes where I was camped, and it was nice to stop driving for awhile.
But eventually I had to drive again, and it was a long, long drive all the way back to Alabama.  I stopped and saw some friends in Denver, and then continued on home.
This trip was really nice, but we drove way, way too much.  In the future, my trips will involve less driving.  The driving to get there and back, along with all of the driving I did once we got there was just unpleasant, and I don't want to do that again.  I also think that three weeks of vacation might be too much all at one time.  You kind of fall out of the "doing things" rhythm and want to spend some time relaxing.  But I enjoy doing things and working hard on my vacations, so future trips will probably need to be limited to two weeks.  But the Rockies are definitely where my heart is now.