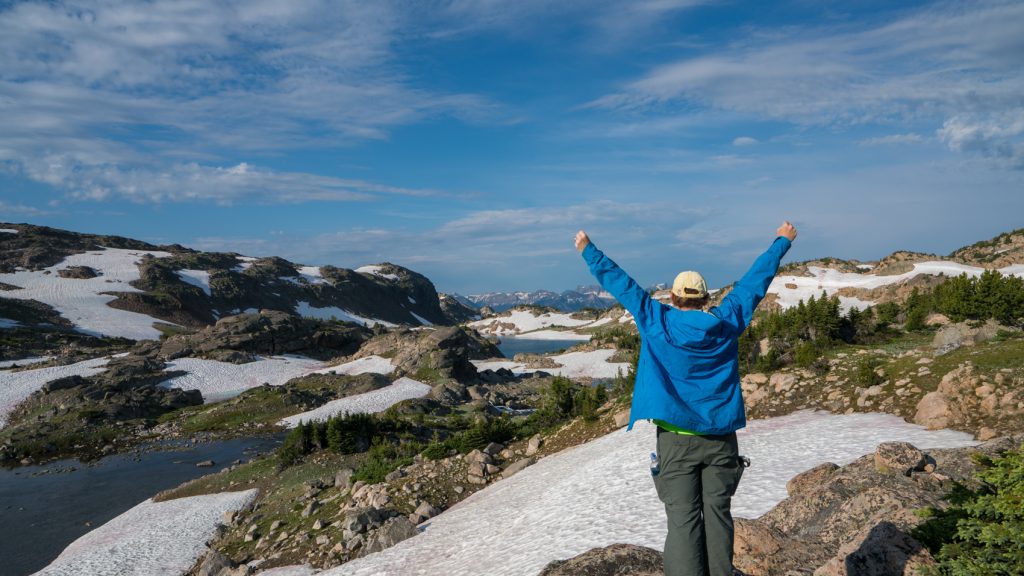 The summer of 2018 was a whirlwind of travel.  From the end of June to the end of September, work would have me going from Ohio to Seattle to New Orleans to Georgia and to Philadelphia, while personal travel would see me driving to Montana and flying to Norway.  I knew it would be a crazy summer, but I wasn't going to complain…I love to travel.  But because of all this travel, I needed to thread the needle for my vacations.  I wanted to backpack the Beartooths again, but my August was full of work trips.  And August is pretty much the only reliable month to hike the Beartooths of Montana.
But I decided to give it a shot in the last two weeks of July.  I knew there was a significant risk of encountering snow up high, but I really didn't have any other choice for time.  We debated going to Colorado instead, but I wanted to do the Beartooths.  So off we went.  We drove from Alabama all the way to Cooke City, MT.  We stopped on the way outside of St. Louis and in Wheatland, WY.  We checked out some roads south of Cooke City, then spent the night in Cooke City…we really love that town.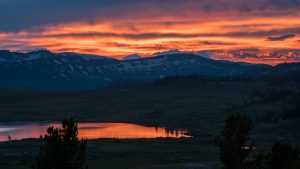 Unfortunately, it looked like there was still snow up high.  So we decided to do some dayhiking and car camping for a few days in hopes of giving the snow some more time to melt.  We spent a day hiking near Island Lake, which was just wonderful.  We then drove to a great car camp site above Chain Lakes off the Beartooth Highway and hiked the road for a couple of miles to Top Lake.  We returned to the truck for a wonderful sunset at a great campsite.
The next morning we drove towards Red Lodge and hiked from the Rock Creek Road up to Glacier Lake.  We ran into a nice thunderstorm just as we topped out near the lake, and we had to retreat back into the trees to wait for the storm to pass.  But then we got above the lake and enjoyed the great views of the mountains surrounding Glacier Lake.  We found a pile of used toilet paper right at the top on the side of the trail.  What do people think?  Seriously.  This would be a serious crime if I were king for a day.
But we enjoyed the view then headed back down.  We camped that night along Rock Creek, and then headed back up to the plateau the next day.  We spent the day hiking the chain of lakes on Little Bear Creek north of Long Lake.  We also took a packraft and paddled some on one of the lakes.  This was a great day.  The mosquitoes were awful, but it was still a very pretty day up on the plateau.
We got a room in Cooke City for the night, and then we started out the next day on our backpacking trip.  We had high hopes that the snow would be melted, and we began at the Lady of the Lake Trailhead.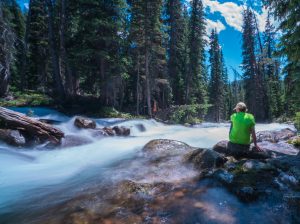 For the first day, the trail is pretty uneventful.  It climbs through thick forest, occasionally opening up into meadows, and running along the forested Lady of the Lake.  But there aren't many good views.  We passed a single person on our first day, and he reported bad news: there was too much snow up high, and he had retreated from an attempt to summit Granite Peak because of deep snow in Skytop Basin.  He also reported rough river crossings ahead of us.  This was our fear.  But we decided to press on and see what it was like.
We reached Star Creek and waded without any problems.  We then turned and followed a well-traveled informal trail that descended along the Broadwater River, and then ascended up along Skytop Creek.  This is not an official trail, but it is very well traveled, and we didn't have any problems following it.
When we reached the outlet stream from Lower Aero Lake, though, we found it to be extremely swollen from snow melt.  Tracy was worn out and didn't want to continue for the day, so we dropped our packs and I crossed the river to see what it was like on the other side.  I managed to find a way across that was only two or three feet deep and not too rapid, but the water was painfully cold.  I mean, it was really, painfully cold.  Once across, there were two more streams that needed to be forded, and they were also painfully cold.  I continued up the trail for a few minutes, and found that it was still free of snow.  So I returned back to Tracy and we decided to make camp and decide what to do the next day.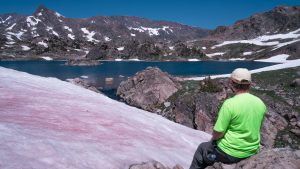 We got up the next day and I convinced Tracy that we should continue on.  The water wasn't nearly as cold in the morning…presumably because there was less snow melt from the overnight lows…and we continued on.  As the trail climbed towards treeline, it became much prettier, with great views and open meadows.  At one point, Tracy tripped and nearly fell into the creek.  Luckily, she didn't break anything, but we had a good discussion about paying more attention while walking in the backcountry.
As we neared the top at Lone Elk Lake, we passed a couple who were the only people we had seen besides the solo hiker from the day before.  They had much the same information to report: there was a lot of snow just half a mile ahead, and they had just spent seven hours hiking three miles.  They had been unable to hike all the way into Skytop Basin because of the snow, and they said we wouldn't be able to make it very far since we didn't have crampons.
But we decided to keep going.  And once we topped out at Lone Elk Lake, we did encounter deep snow drifts.  But the basin didn't look as bad as everyone made it sound.  There was definitely a lot of snow, but it was beautiful, and we wanted to enjoy it.  So we pressed on to an amazing campsite above Rough Lake.  We dropped our packs and explored around the basin.  I can't oversell this basin: it was absolutely gorgeous.  The snow-capped peaks and the blue reflections in the many lakes were just beautiful.  This was, without a doubt, far prettier than I expected, and one of the prettiest backcountry locations we have ever found.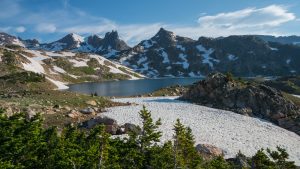 But we did see a very steep snow-covered slope leading down into one of the lakes, and it looked dangerous to try to hike through that snow without crampons.  We did see two more groups hike up into the basin, and they donned crampons and hiked easily across the snow.  Maybe it wasn't as dangerous as it looked.  So we decided to sleep on it and make a decision in the morning.
We spent the evening enjoying this beautiful campsite.  It really is an amazing basin.  I awoke in the middle of the night, and Mars was brighter than I've ever seen it.  I loved this basin.
We got up the next morning and hiked around the basin.  We got a view of the sky towards the south, though, and there was a storm moving through.  I checked the weather on my inReach and found that storms were in the forecast for the day.  So we made the decision: there was no way we would be able to do the full hike I had planned because of the snow, and we probably couldn't go much further than we already had…and now the weather threatened to make it unpleasant where we were.  So we decided to head back down.
We packed up camp and headed out.  We made the hike out in one day.  It's only about eight miles to the basin from the trailhead, and it was better going downhill.  The snow patches we had encountered on the way in were already melted, making me wish we had waited a couple of more days to start our trip.  We passed another group headed in, and they had been told by others to expect too much snow, but we encouraged them to continue on.  We almost camped at Lady of the Lake, but we decided to keep going and hike out.  That night we returned to the great car camp site we had found above Chain Lakes.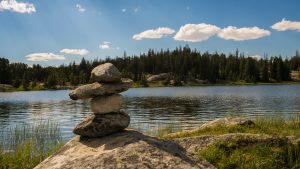 The next day we drove back towards Red Lodge and just explored around town.  We walked along some greenway trails and just relaxed.  This was the last day of a major motorcycle rally, so we waited for the town to clear out and then we hung out in town.  We stayed the night at a hotel in Red Lodge and remembered how much we love this area.  The next day we got up and drove up a nice four wheel drive road from Limber Pine up towards the Hellroaring Plateau.  This road was very narrow and rocky, but I didn't have any problems until we reached a spot where a rock slide covered part of the road.  Tracy had to get out and guide me around the rock pile so I didn't drive the truck off a 1000 foot drop that was precariously close as I skirted around the rock slide.  After that I was a little spooked, so when I found a place to turn around, we turned around and started back down.  On the way back up the highway, I used my telephoto lens and saw that there were people parked at the end of the road we had been driving.  So I guess we could have made it.  But the top of the plateau didn't look like it was all that nice, so maybe it wouldn't have been worth the drive.
We continued up the highway and ended up back at the same car camping site we had been using all week.  We hiked around cross country to a bunch of lakes in the area, and just had a great day.  We had another great night at that campsite, and the next day we drove into Cooke City.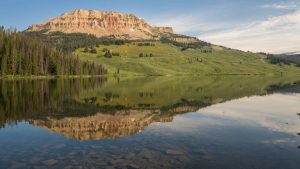 We then decided to start back east.  We had never been to the Bighorn Mountains, so we decided we wanted to check those out.  We drove all the way to the Bighorns to Shell Falls.  The drive through the canyon to Shell Falls was nice, but it was dry.  We then drove on a four wheel drive road out to Shell Reservoir, looking for a place to camp.  But the area at the lake was really dry and dusty, and storms were in the forecast, so I was worried about what storms would do to the road we had driven out here, so we turned around and headed out and spent the night in a hotel in Greybull, WY.
We got up the next day and drove into the south end of the Bighorns.  We went to backpack at West Tensleep Lake to Mistymoon Lake, but the trailhead was crazy crowded and the wilderness required a way to pack out waste, so we decided just to dayhike there.  It was a pleasant hike, and we found we really enjoyed the Bighorns.
We then continued driving east, and then found a great campsite south of Highway 16 along Webb Creek.  There were a lot of nice car camping sites back there, and we spent the evening walking the roads and enjoying the area.  It reminded us a lot of Yellowstone in the wide valleys, and we really liked this part of the Bighorns.  We never made it into the Cloud Peak Wilderness, but it looked like a pretty area, so we want to go back and explore it some more.
The next day we walked the road for a couple of miles, and then we started the drive back home.  We stayed in Cape Giradeau on the way and then finished the drive back to Alabama.
Once again, this trip reminded us that we love the Rockies.  I wish we had been able to backpack in more of the Beartooths, but the snow just wasn't cooperating.  We probably should have gone to Colorado instead of Montana since we were there in July, but we still had a great trip.  We liked the Bighorns, and we'll definitely need to explore them more.  Retirement just can't come soon enough.  The biggest problem I had from this trip was with my new camera.  I went on this trip with big plans of getting great photos with my new full-frame camera.  When I got home, my photos all looked pretty terrible.  I'm still not entirely sure what went wrong, but as I was reviewing my photos, I realized that my sensor was very dirty.  The photos aren't sharp, so I don't know if it was a problem with the auto-focus or the dirty sensor…or if it was a problem with the aperture I was using.  I did a lot of tests when I got home, and I just wasn't sure.  I took the camera in for a professional cleaning, and ended up with much better results on the next trip to Norway.  Oh well.  At least now I know the correct way to change lenses when in the backcountry.  Live and learn.