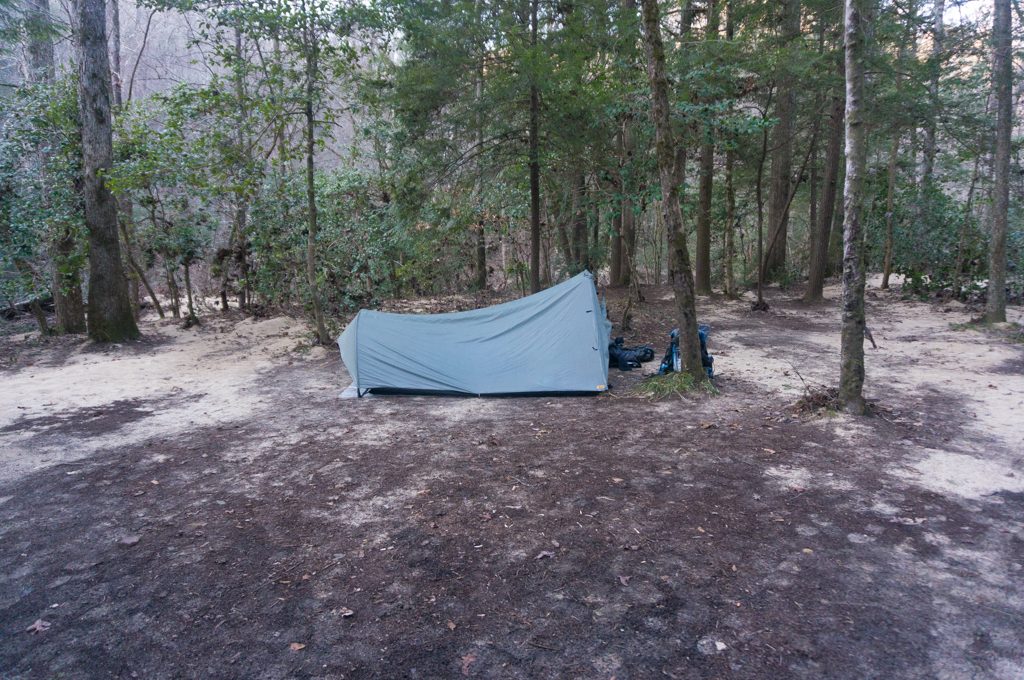 On January 16, 2016, Tracy, Zach, Layne, and I went to Sipsey Wilderness for a winter backpacking trip. We started at the Thompson Trailhead and did a loop that went up trails 208, 224, 204, 209, and 206. This route included old double-track and narrow single-track trails, went through thick forests, and recent forest fire areas. It also went by the Big Tree. I had heard about this and didn't know what to expect…but I half-expected it to be uninspiring. It was uninspiring. It was a big tree, I guess, but there were several people huddled around it, and it wasn't impressive enough to linger.
We then we made it down to the Sipsey River and found a campsite. The massive floods that had hit the south-east on Christmas Day of 2015 had really hammered this area, too. There were flood signs in the trees at the Sipsey River that suggested the river had flooded well over 20 feet deep. That was pretty amazing to see.
The night was nice, and we just enjoyed being outside. The next day we hiked out and headed back home.
The Sipsey Wilderness is one of only three wilderness areas in Alabama. It's not very big and it can get pretty crowded, but this was a decent trip. The best time to visit here on weekends is definitely during warm spells in the winter. I should also note that there are no really good maps of the area. I've found several online, but none of them are good. They mix up names of the trailheads, mark some trails as roads, and are just generally inaccurate. So just be mindful of that when hiking out here.