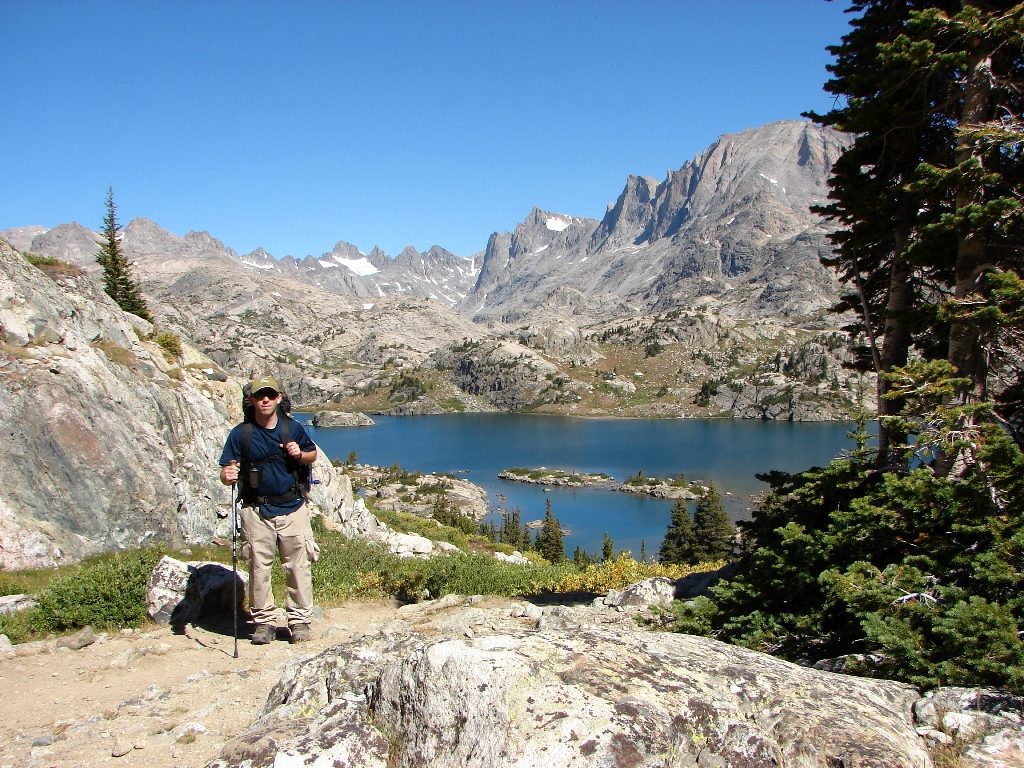 From September 10-13, 2009, Jess and I backpacked in the Bridger Wilderness of the Wind River Range in Wyoming. We left Salt Lake after work on the 9th and spent the night in Pinedale, WY. We got up early on Thursday, got fishing licenses for a couple of days (Wyoming out-of-state licenses are expensive…), and then headed up to the Elkhart Park Trailhead. From the trailhead we spent the day hiking to Seneca Lake. We rolled in to Seneca Lake in the late afternoon, after a nice, steep climb up to Seneca Lake to end the day. We camped at the lake and shared it with only one other solo camper who was several hundred yards away. This was a big difference from when David and I were there earlier in the summer two years ago…on that trip we saw dozens and dozens of people at Seneca Lake. We spent a couple of hours stargazing at the wonderfully dark night sky.
The next day we got up and headed out early to Island Lake. We made the steep climb out of Seneca Lake, and then the steep descent down to Island, before having lunch overlooking Island Lake while sitting on the same rock where David and I had lunch two years earlier. We saw two groups at the lake this time, as opposed to the dozens and dozens David and I saw on the last trip. After lunch, we hiked to the opposite side of the lake and found a nice camp site just behind the island, near the inlet river coming out of Titcomb. After setting up camp, we hiked up the river and then into Titcomb. We spent a little while in Titcomb, and then headed back to camp for the night. Island Lake was very relaxing and a great place to camp…especially since the lake wasn't overrun with people.
On Saturday I woke up early and headed up by myself to Indian Basin while Jess fished. Indian Basin was new for me, and was really pretty. The basin was a classic cirque, and the mountains surrounding it reminded me of the pinnacles of a cathedral…the cirque was very big, and the surrounding mountains were very majestic. I had thought about hiking up to Indian Pass, but I decided it was too far up and I had other things I wanted to do that day, so after 45 minutes or so up at the basin, I headed back down to camp.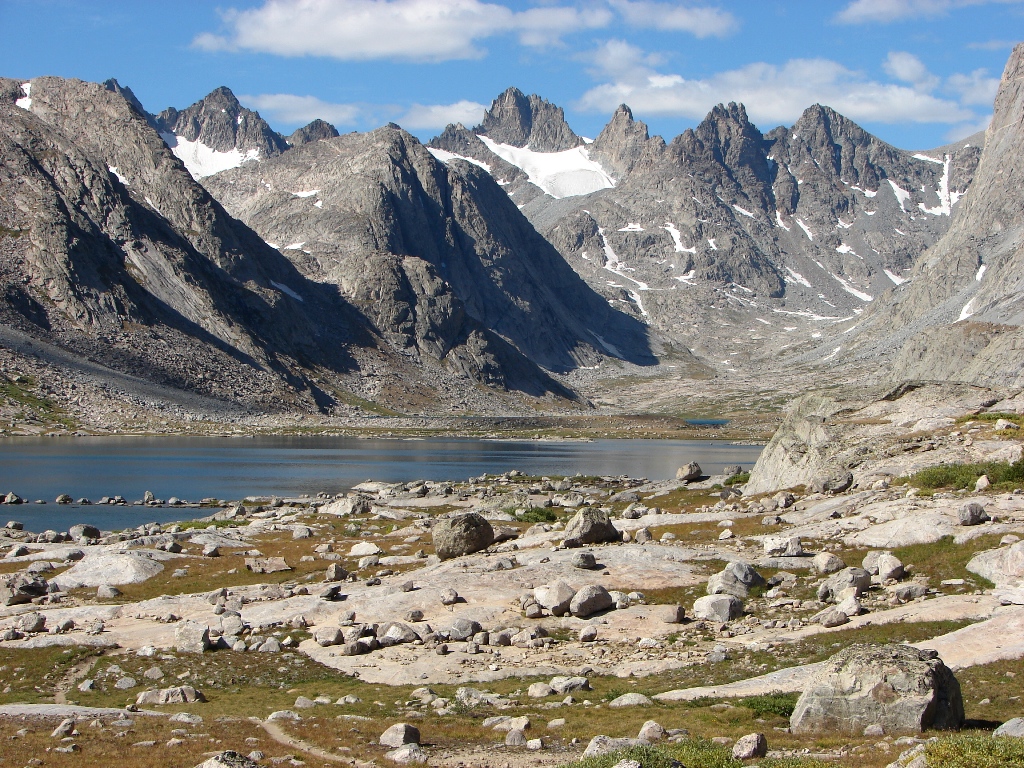 After getting back to camp, we packed up and headed out to Cook Lakes. We did the climb up to Lester Pass and enjoyed the views out over the range. I had hoped to see that the mountains on the other side of Lester Pass would be more conducive to cross-country hiking. While the basin immediately on the other side of the pass was less rocky than the terrain around Titcomb, it was a small basin, and we quickly dropped below treeline. I read a lot of trip reports of the Winds, and many people hike cross-country. However, compared to what I've seen of the Beartooths, I haven't seen anything in the Winds that were very inviting for cross-country travel. The terrain is just covered in boulders and rocks, and is usually really steep. It seems that the glaciers that used to cover this area have made it difficult for off-trail hiking. I realize there may be other areas that I haven't seen that might be easier for off-trail hiking, but so far I think I've decided I will stick to the Beartooths when I want to go cross-country.
But after coming over Lester Pass, we headed to one of the unnamed lakes in the Cook Lakes basin. On the way we got some good pictures of an American Marten. And we had the lake entirely to ourselves…in fact, we only saw one group all day long once we got off the Indian Pass Trail.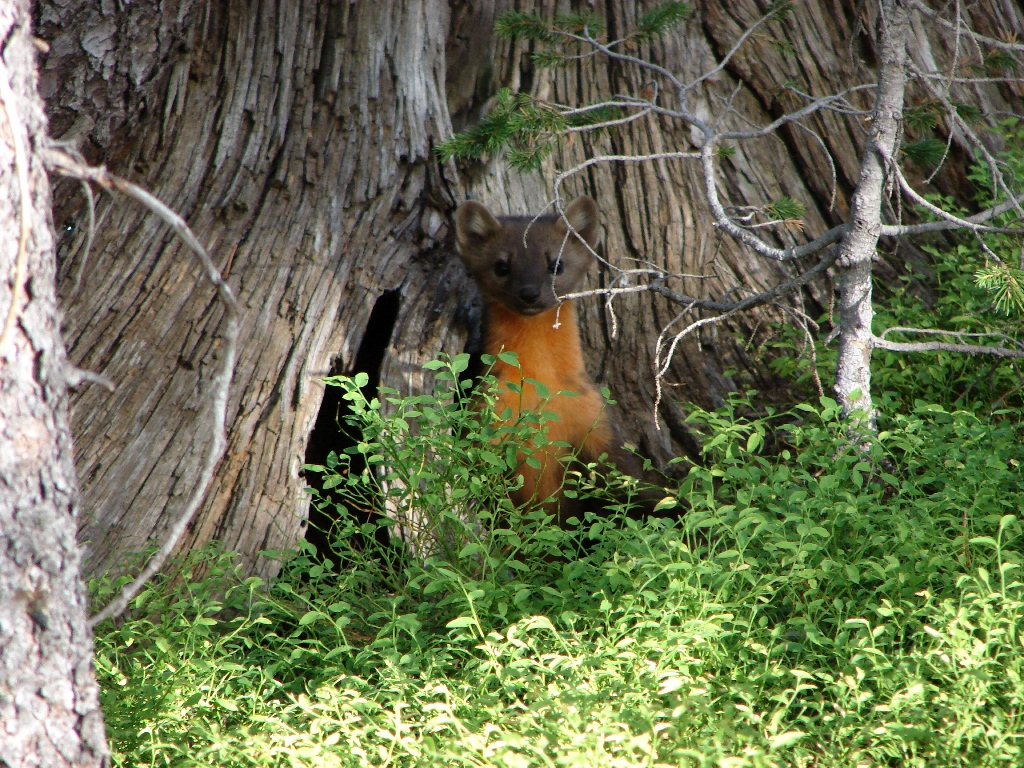 On Sunday we got up to continue our loop. I didn't want to leave on Sunday, and I knew that if we got close enough to the car that I would push on out. So I decided to try to trick myself, and we did a two mile detour up to the main Cook Lakes, in hopes of adding mileage to the day that would ensure we couldn't make it back to the car. But then I told Jess that it would be possible to hike to the car…and he got it in his head that he was ready to get back. So we hiked on around the Pole Creek Trail and ended up back at Eklund Lake, and finally back to the car at 6:45 pm, after about 17 miles of some serious undulating trail.
This was a really nice trip. I enjoyed seeing different places in the Winds, and I enjoyed doing close to 48 miles in 4 days. I didn't have any serious foot problems…the ball of my right foot did bruise after all the mileage on Sunday, but that wasn't too bad. I also forgot to put sunscreen on my lips, and my lower lip got sunburned. We enjoyed stargazing each night, because the sky was wonderfully dark out there. I also enjoyed the fact that we only saw 3 people after leaving the main trail up to Titcomb. But even the main trail wasn't very crowded at all. The weather was great, with just a little snow, and that was also pleasantly different from our previous trip. I would like to do more hiking in the Winds, but I really enjoyed the area outside Titcomb and Island Lakes, so I'd like to spend more time in those areas.