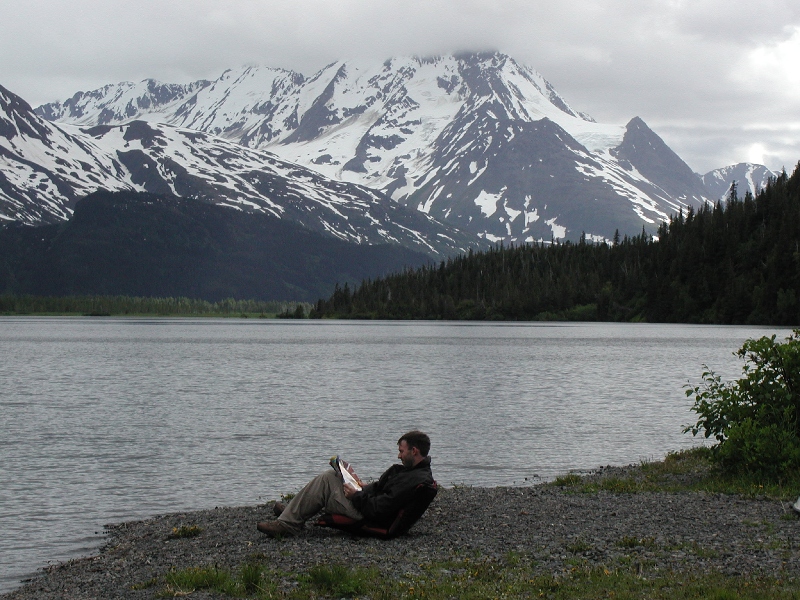 In June 2005, Tracy and I went to Alaska. This was definitely one of those epic trips. We were there for two and a half weeks from June 17th to July 4th. When we first arrived in Anchorage, we took a bus down to Seward. From there we flew a float-plane to the Lower Paradise Lake Forest Service Cabin. We stayed there for 4 days, and that was absolutely amazing. We just paddled around on the boat at the lake and hiked around some on each end of the mile-long lake. We also paddled down to the Snow River, which was our first exposure to a glacial melt river. That was like a different world. We saw moose and bear tracks there (I think they were black bear tracks), and we saw a very big moose on the opposite side of the river.
After leaving Paradise Valley, we went back to Seward for a couple of days and hiked on the Resurrection River and Harding Icefield Trails. We hiked all the way up to the Harding Icefield, which was a tough hike. It gained 3500 feet of elevation in 3.5 miles, and the last mile or so was in snow. But it ran along Exit Glacier, and all of it was again like being in a different world. The icefield felt like being in a desert…only it was snow for as far as you could see. We also took sea kayak lessons while there and saw some sea lions.
After that, we took another float-plane ride out to Whale Bay on the Gulf of Alaska. We had some really interesting adventures there with learning to read tide tables and keeping our camp from getting flooded. We also had a small raft that we rode around Whale Bay looking for bears and whales. We didn't see either of those, but we did see a bunch of seals and sea otters. We even had one seal that hung out in the cove we camped in…we named him Sherlock. We stayed there for 3 days and then took the float-plane back to Seward.
Back in Seward, we checked out some of the touristy things, then took the bus back to Anchorage and rented a car. From there we drove up to Denali. The weather was extremely clear, but you couldn't see the mountain because smoke from forest fires was too thick. The rangers said that fires pretty much always burn all summer. But we took the bus through the park and that was fun. We saw 4 brown bears, and one of them was close enough to watch. We also saw several caribou. We then drove back down through Denali State Park and hiked a little on the Ermine Trail looking for a very elusive geocache. At the lower Denali overlook, we were finally able to see the outline of Denali…that is a VERY big mountain! I realize that should seem obvious, but we were looking at other big mountains for about 30 minutes, thinking they were Denali, until the smoke cleared a little, and we saw the outline of Denali. Then we were really impressed.
Then we drove back towards Anchorage. We started towards Wrangell-St Elias National Park, but the rental car people wouldn't let us take the car there, and we really liked the Kenai Peninsula, so we headed back down there. We hiked a few miles in the Kenai River Canyon, and that was really pretty. The Kenai River is very green and the trail had nice overlooks where we could watch the eagles fly up the river looking for fish. We then made our way all the way to Homer, which was pretty cool. If we ever go back, we may go to Homer and use it as a jumping off point into Katmai or the marine parks across the bay. Homer wasn't any prettier than Seward, really, because they both had really pretty bays around them, with great mountains, but Homer was bigger…of course, it was also further from anything.
After Homer, we rented a canoe and paddled around the Kenai Wilderness for a day. We had to hike a couple of miles out to the lake and expected lots of wildlife. Since we're the evil anti-critters, we didn't see anything.
After that, we went to the Russian River and watched the fishermen at the start of the salmon run season. That was interesting. I hoped to see bears, but, again, we're the evil anti-critters.
And that was pretty much it. We spent a day in Anchorage cleaning up and looking for a geocache, and then we came back home. This was definitely an epic vacation.
Similar Posts: