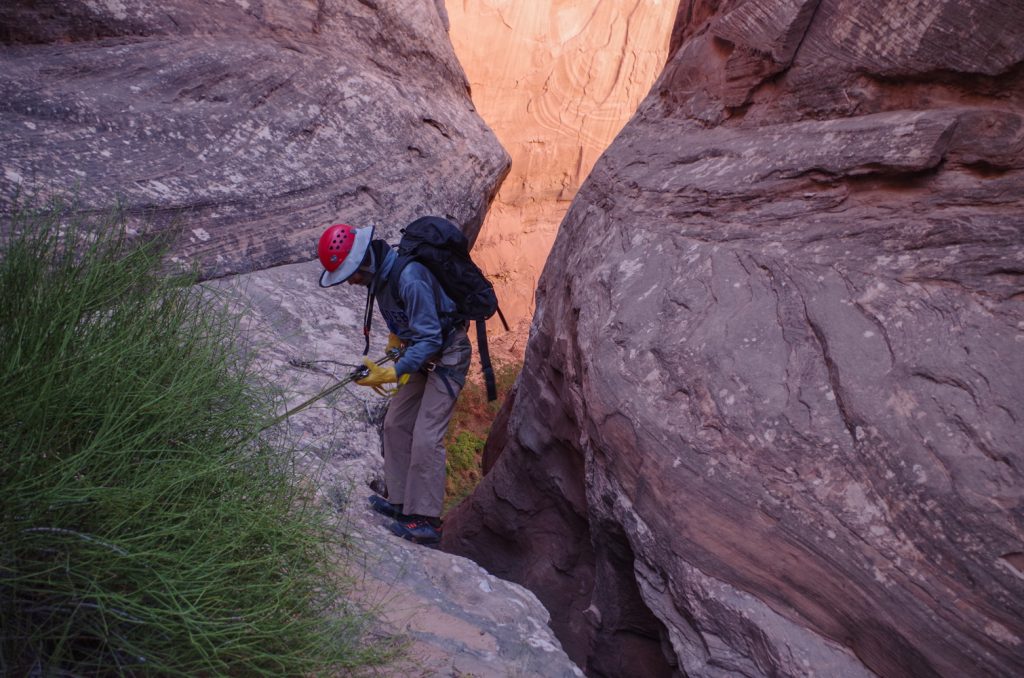 On October 6, 2017, Layne, Zach, and I hit the road for the third annual canyoneering trip to southern Utah. Every year I swear that I will never make that drive again, but there's just really no better way to make the trip with all of our gear and the off-roading usually required. So the three of us headed out. Zach's wife, Victoria, also left with us, and we took her to meet her family in Denver. This year we did try something different: we stopped and got a hotel room on the way out. This definitely made the drive less miserable, but it was painful to lose 10 hours of our trip to the stop. On the plus side, the hotel desk clerk said that there was a storm ahead of us on the interstate with tornadoes, so it was best to stop.
We made it to Green River at dinner time, so we bought some supplies and had dinner at Ray's before heading into the desert. We found a campsite near Goblin Valley just off Highway 24 and enjoyed the wonderful desert night.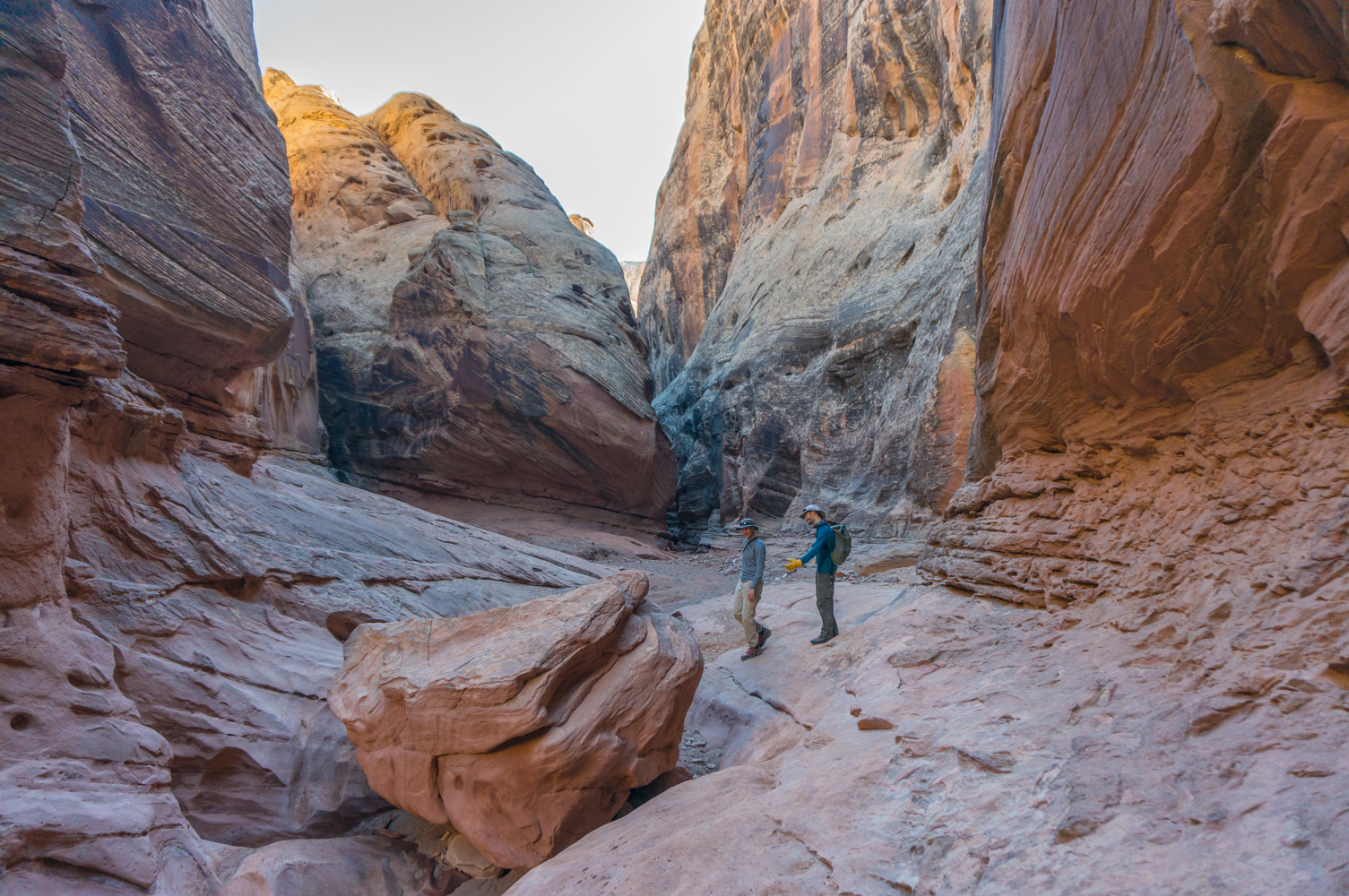 I decided to ease into the trip this year, so our first canyon was Little Wildhorse and Bell Canyons in the San Rafael Swell. I've done this loop two or three times, so I thought I knew exactly what to expect in these easy canyons. There were a lot of people camped in the Swell, but we arrived early enough to be the first car at the trailhead. We headed up Little Wildhorse, and soon encountered much more water than I've ever seen in this canyon. In fact, some of the pools were at least waist deep…and I had never even seen water in this canyon before. So the day was more interesting than expected. We saw our first hiker as we were hiking between Little Wildhorse and Bell on the back side. I really enjoy the desert in that part of the Swell and want to spend more time back there. As we headed down Bell, we ran into several groups heading up the canyon. Luckily, Bell didn't have water in it, and we made it back to the truck without any more drama. The trailhead was now a mad house, and I was glad we had gotten an early start. It really seemed like the area was busier than I have ever seen it. That was weird.
After we left, I decided I wanted more gas before heading into the Roost, so we drove into Hanksville to fill up and to treat ourselves to a milkshake at Stan's. We then headed out into the Roost and our next canyon at Not Mindbender. The beta for this canyon recommended a handline for the class 4 exit climb, so we figured that was a good idea. So we drove to the exit trailhead to hike down to the exit climb and rig a rope for the next day. There was a guy from Ireland/Canada at the trailhead. The three of us set out to find the exit, which proved to be harder than expected. After a couple of false starts, we finally figured out where to get down off of the caprock and into the canyon. In the confusion of false starts, Layne and I got separated from Zach, so Zach just stayed at the trailhead while Layne and I went to the exit. The route to the exit was steep with some loose rocks in a couple of places, so we didn't like the idea that we were going to have to do this exit hike twice. But after nearing the waypoint for the climb out, we wandered around for a bit until I finally saw a cairn for the exit climb. We rigged the rope, left a note so that no one would take the rope, and made the long, steep climb back out to the trailhead.
At the trailhead, we talked some with the Irish/Canadian, learned his name was Brian, he was doing a solo canyoneering trip, and he was thinking of doing one of the Mindbenders the next day. It was very windy, so we told him we were going to go to a more sheltered campsite at Robbers Roost Spring, and then we would come back in the morning to see if he wanted to do Not Mindbender with us. So we headed to camp, spent a lot of time trying to get out of the wind, and then called it a night.
The next day we drove to the exit trailhead and Brian had decided to join us. So we left his truck at the exit, and drove my truck to the entrance trailhead and headed across the desert to find Not Mindbender. We found the canyon without any problems, but we had a really tough time finding the correct route down into the canyon. We spent over 30 minutes trying to find a good route. Another pair of guys arrived as we were searching for a way down, and they found a really sketchy way down. It didn't look good to me, so I started looking further afield, and immediately saw a better route just a couple of hundred yards away that I couldn't figure out how I had missed it. That route proved to be straightforward, and the four of us made it into the canyon.
Just like Little Wildhorse, this was supposed to be a dry canyon. It was not. Within 15 minutes of entering the bottom of the canyon, we found a deep pool that required me to swim it. It was cold. The wind was blowing. It was early. It was unpleasant. Layne's first order of business for the canyon was to lose a borrowed GoPro into the pool. But he didn't realize it until we had already gone through a few more pools much further down canyon. The canyon was great, but the water and wind made it tough. And then Layne realized he didn't have the GoPro. So he headed back up canyon to look for it, hoping it wasn't in the pool, while the rest of us waited on him and tried not to get too cold. Layne returned empty-handed…the camera is most likely at the bottom of that deep pool. I also realized that I dunked my nice camera when swimming and the camera was shot. Oh well…I wanted a new camera, anyway. And then we needed to make the 15-foor partner-assisted drop. There were no anchors to use to rappel, so I held a handline for the other three, and then they were supposed to catch me as I slid down. It didn't really work that way, and I ended up sliding all the way and landing in the pothole at the bottom in the fetal position. But I didn't hurt anything, so we continued on.
We eventually found a sunny spot, so we stopped and tried to warm up, dry off, and eat lunch. Continuing on, we arrived at the final 90-foot rappel, and there was another pool blocking the route. We climbed above the pool and did a short rappel off of a small tree to bypass the pool. Once at the bottom, Layne looked around for the anchor for the 89 foot rappel, but couldn't find it. This had me worried. The rappel was 89 feet, we were about 70 feet back from the edge, and 20 feet above the canyon. And we only had 150 feet of rope and 100 feet of pull cord. I didn't know what we were going to do if Layne couldn't find an anchor. But then he found a couple of bolts in the wall right above the rappel on the edge of the drop (I have since read that these bolts have been removed). Thank Goodness. So the rest of us rappelled down the short drop, pulled the rope, rigged for the long drop, and rappelled down into the beautiful alcove.
The rest of the canyon was a beautiful hike with very high walls and a wide canyon with cottonwoods at the bottom. Not Mindbender soon met up with Mindbender, and Mindbender soon joined with North Fork Robbers Roost. And then we reached the exit climb and were grateful for the handline we had rigged the day before. And then we just made the long, steep ascent back out to the trailhead. This was a great canyon, and I especially enjoyed the hike in North Fork Robbers Roost. The water was cold and deep, but we survived.
We planned to do Alcatraz the next day, and Brian said he would join us. So we drove to the beautiful Alcatraz trailhead to find a campsite. When we arrived at the trailhead, a couple was just exiting the canyon in wetsuits. They said it was wet and cold. Brian didn't have a wetsuit and the rest of us were still stinging from the cold day in Not Mindbender, so we started to reconsider the plan. We also couldn't find a good sheltered site near Alcatraz, so we drove to the Larry Canyon wash where we had camped our last night the year before, and we camped there. After discussing it over dinner, we decided that Layne and Brian would go do one of the Blue John routes, and Zach and I would spend the day filming and hiking.
So the next day, Zach and I rigged the rappel at Alcatraz and did some filming of him rappelling and climbing back up the drop. And then we split up and he hiked around Alcatraz while I did some hiking and filming above Larry Canyon. Zach and I met up in mid-afternoon and headed to the Little Blue exit to meet Layne and Brian and give them a ride back to the Motel 6 trailhead.
We decided we were going to do Sams Mesa, but Brian wanted to do High Spur, so we separated and continued on to Sams Mesa. We found a campsite near the trailhead and settled in for the night. Layne's new Big Agnes sleeping pad was losing air, so he and Zach spent some time fixing that while I tried to nurse my tight back. I woke up the next morning and my back was really tight, but we headed out to Sams Mesa, anyway.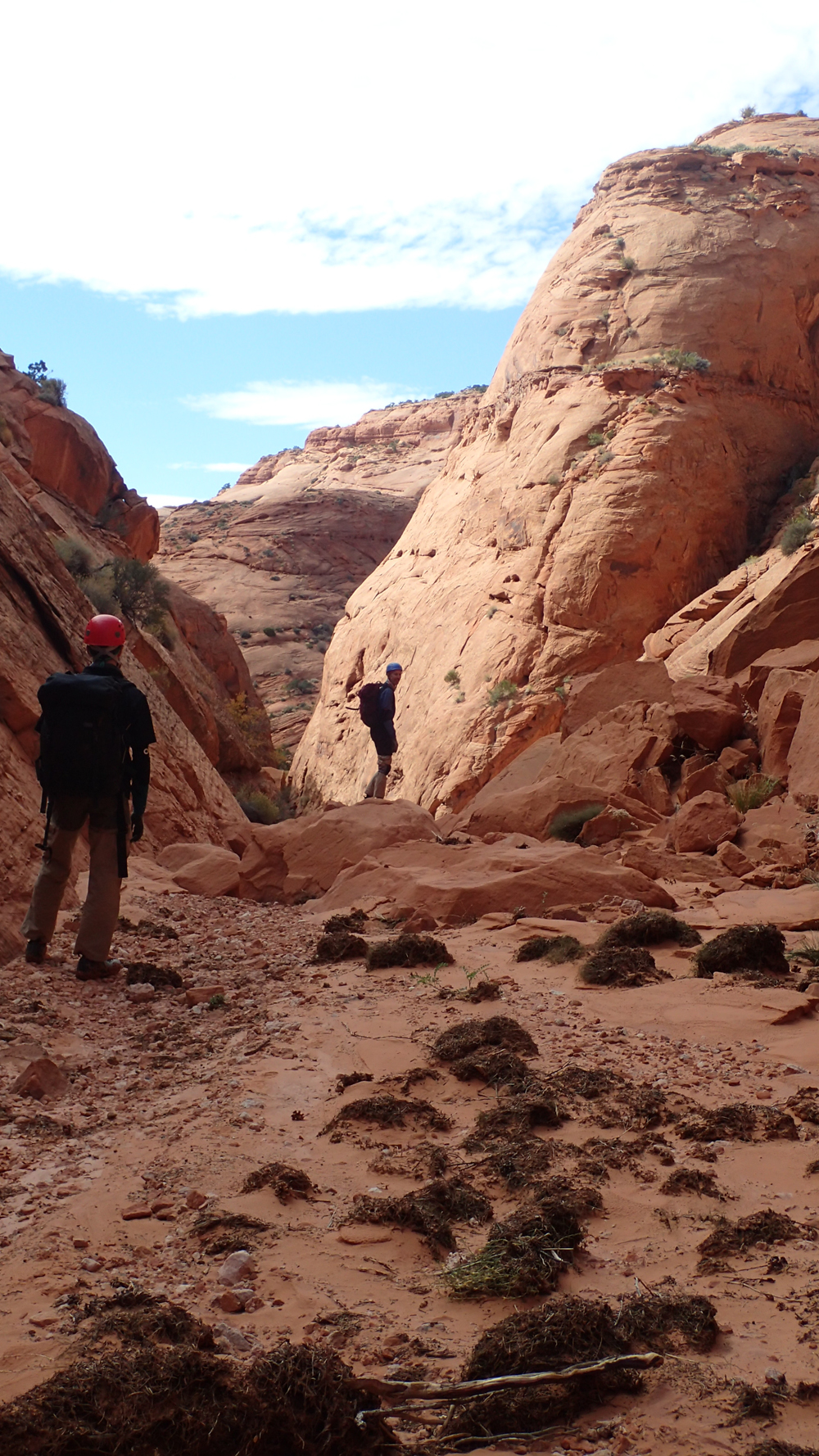 I really wasn't expecting much out of Sams Mesa, but I really enjoyed it. There were several challenging downclimbs, and there was a very tight 50-foot rappel that was very tough. Best of all, there was no water. And the hike out was very pretty. The hike out was a couple of miles across un-tracked desert, but I really enjoyed the route-finding and the views. We then headed to Ticaboo as a result of miscommunication with Tracy over my satellite messenger. When my back was hurting the night before, I asked her to check hotel rates in Hanksville and Ticaboo in case my back got worse. She thought I wanted her to make a reservation, so she booked us a room for the next night in Ticaboo. Not wanting to let the hotel go to waste, we adapted the plan. We had another milkshake in Hanksville, and then drove to Ticaboo for a night of good sleep.
The next morning we headed out to Smith Fork for another non-technical day. I remembered this canyon having some tight downclimbs, so I thought it would keep everyone's interest. But after getting 3/4ths of the way through the canyon, I realized I had been thinking of a completely different canyon. This canyon was pretty much just a walk. Oh well. There was still a nice side slot that we squeezed through and climbed up on the slickrock for some more filming. We then continued all the way down canyon to Lake Powell. The lake level was up significantly, so we actually met several groups in the canyon who were hiking up canyon from the lake. We then ended up just backtracking up canyon back to the car. I remembered this canyon being better than it was, so I felt a little bad that we spent the day in such an average canyon. But, hey, any day playing in southern Utah is a good day. We then headed out to Ticaboo Mesa to a beautiful campsite overlooking Good Hope Mesa. It was windy again, but we used the truck as a windbreak for our tents, and enjoyed the night.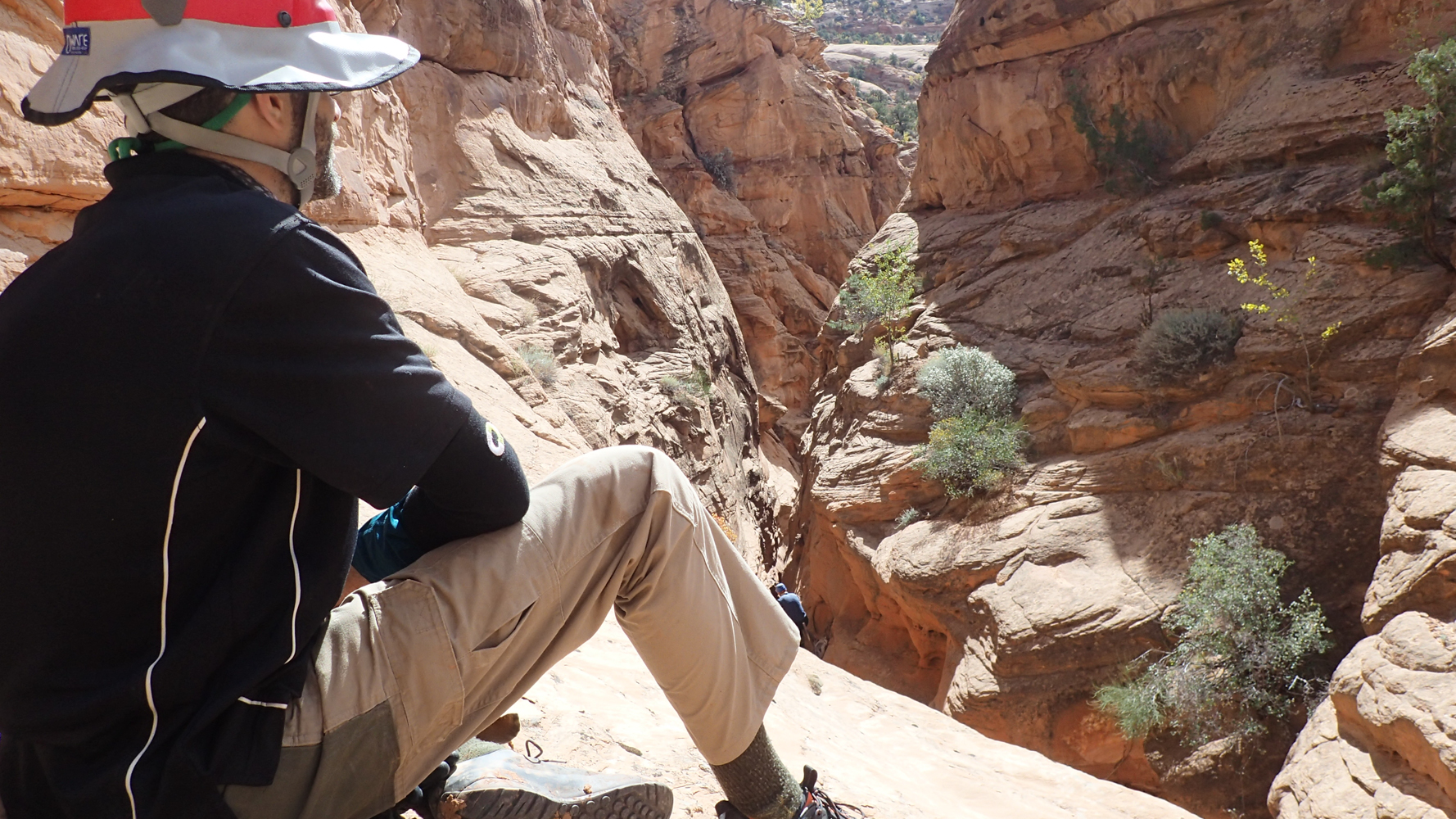 The next day, Layne and Zach headed down into Dave's Not Dead Canyon directly from the campsite. I decided to stay behind to do some filming and reading. It had a nice day just walking around and relaxing. I found some nice views over Lake Powell, and it was just nice to enjoy the day. Layne and Zach had a good day in the canyon. The canyon had several rappels, and it took them about 5 hours to do 5 rappels. Layne also had a little excitement when he rapped from an overhang and slipped about 20 feet before catching himself. That drop left him with a blister, but nothing worse. The hike back up also took them longer than expected, so it was pretty late in the afternoon when they reached the trailhead. They both said they really enjoyed the canyon, and I sort of wished I had gone with them since it was the last canyon of the trip. But I had a good day, too, and we were ready to head back out.
So we drove back to the same campsite north of Hanksville that we had used the first night of the trip, and got some sleep before starting the long drive back.
Again, this was another great trip. Not Mindbender and Sams Mesa were both great canyons, but they were the only non-technical canyons I did on this trip, so that was a little weird. I had told everyone before we went that I felt more like relaxing in the desert on this trip than doing a lot of canyons, and that's what I did, but part of me wished I had done more canyons. Of course, we were a little affected by the water in the canyons, so that changed some of our plans. I was very surprised by the water…I guess it had rained quite a bit a few weeks earlier, and it just hadn't dried out, yet. The lesson I learned was that if there's water in one canyon, there will be water in the other canyons…so just take the wetsuits.
As always, though, this was a great trip, and southern Utah is always wonderful.