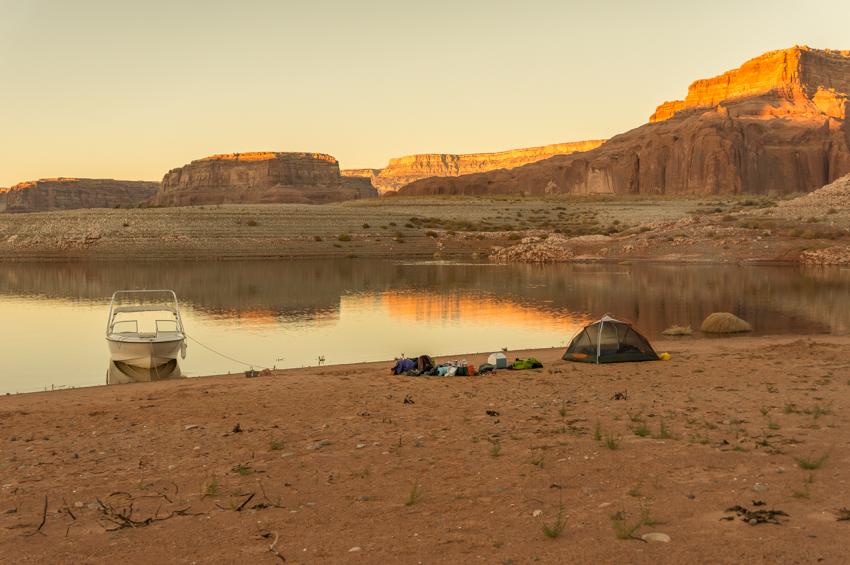 On November 11, 2013, Tracy and I decided to do something different at Lake Powell: rent a power boat. We had kayaked on the lake several times, but we decided to rent a boat so we could see more of the lake. We were trying to move from Utah, so we figured we needed to spend the money and do some of the things we hadn't done in the nine years we had lived there.
We rented the boat from a place in Big Water near Page, AZ. I had never really towed anything, so it was a little nerve-wracking to tow the boat down to the lake and get it in the water. But we didn't have too much drama, and we were able to get going from Wahweap.
Since Lake Powell never disappoints, the next couple of days were great. We were able to get further up river and see things we hadn't seen before. As luck would have it, though, we spent a lot of the trip on the phone with our realtor. We had put our house up for sale just two days before we left, and we had two offers on the house while we were on the lake. Luckily, we were able to stay within cell phone range for much of the trip, so we actually negotiated prices with two potential buyers and ended up accepting an offer on the house while we were on the lake. So, yeah, that was fun.
But we spent one night camping on the lake, and just enjoyed the views. The lake was beautiful, and I'm glad we rented the boat…it was different. Getting the boat out of the water was stressful, and it took several attempts before I was able to get it lined up and onto the trailer. I enjoyed the boat, but I don't know how often we would do it again in the future…I enjoy paddling.