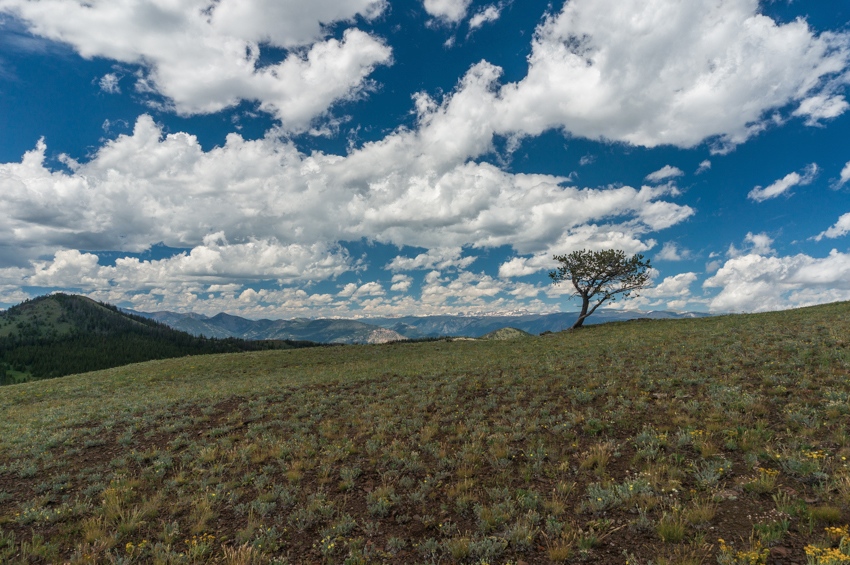 Over the long 4th of July weekend of 2013, Tracy and I went to do a long backpack in the Winds, starting at the Green River Lakes trailhead. When we got there, though, the weather wasn't good, and the forecast was worse. We decided that rather than spend a long weekend in thunderstorms, we would just spend the weekend exploring the northern Winds. So we drove up and over Union Pass, exploring some of the roads and hiking some trails. The weather was iffy all day, so we ended up driving into Dubois to spend the night. We got to see fireworks from Dubois, which was nice. It wasn't as cool at the fireworks show a couple of years earlier in Cooke City, but it was still better than expected.

The next morning we went hiking to Lake Louise. The hike up to the lake was a little steep, but it wasn't too bad. The lake, however, was really pretty, as was the waterfall coming out of the lake. The lake was surrounded by cliffs, so it didn't look very easy to find a way to the upper part of the lake. As a result, this lake made me start thinking seriously about buying packrafts. It would be fun to explore further up lakes like this in the backcountry.

We made our way back down the mountain and then drove towards Cooke City via the Chief Joseph Highway. We explored roads along the highway and tried to drive to Kirwin along the Wood River outside of Meeteetse, but there was a river crossing on the road that was running too high. We then drove into Red Lodge on the Beartooth Highway, and ultimately made our way back into Cooke City for the night. The next morning we headed through Yellowstone, doing some hiking in the Lamar Valley, before heading home.

We saw two badgers at two different places on this trip, which was cool, because we had never seen badgers before. As always, I love the Absarokas and the Beartooths.