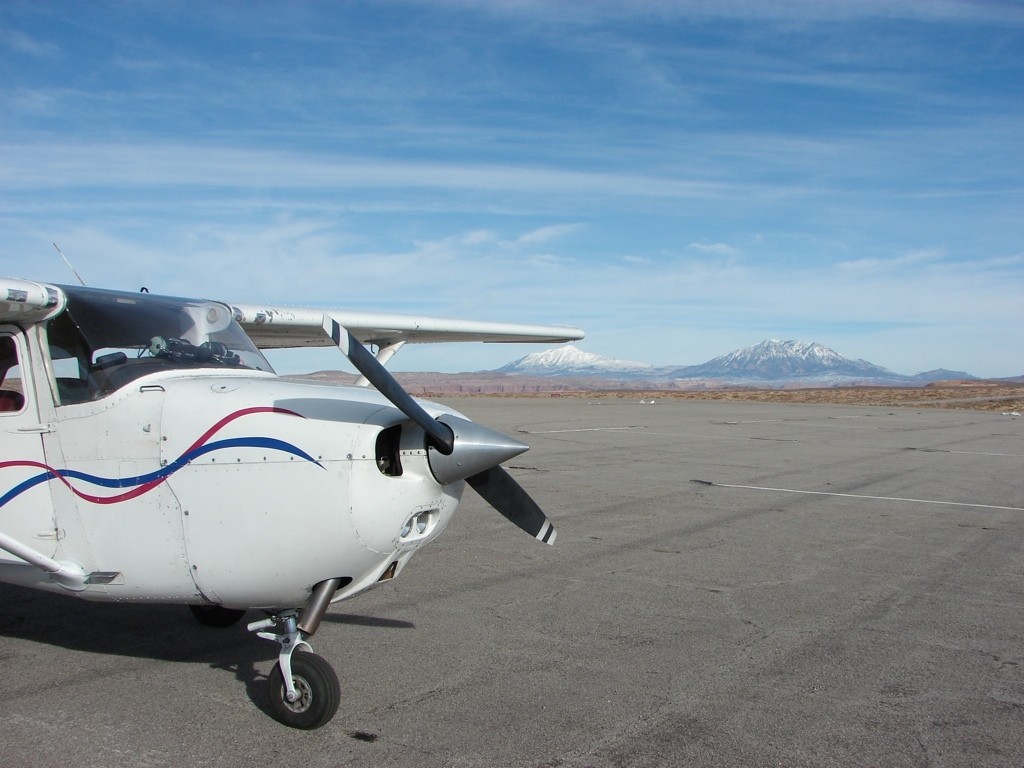 The weekend of 14 Jan 11, Tracy and I had a really cool trip down to Moab.  On Saturday, we headed up to Canyonlands Field airport where we took a scenic flight over southern Utah.  This was really cool.  We had a pilot and a little 4 seater single prop plane, and we flew south-east from Moab over the Green River, Horseshoe Canyon, Robber's Roost, the Henry Mountains, Lake Powell, and back up to The Maze, The Needles, and back to Moab.  This was a very nice thing for us, because I was able to find three or four locations that I wasn't familiar with, and now I want to go check them out.  It was also nice to see places that we had hiked, and to see the area around it from the air.  This flight certainly re-energized me on wanting to explore parts of southern Utah that are much harder to get to.
After returning, we spent the afternoon just outside of Moab practicing our technical canyoneering skills on an area cliff.  We spent the night in Moab.
On Sunday we headed down to Lake Powell to check out some areas that we had seen from the air the day before.
We spent the night in Hanksville, and then headed out to the Swell, and we did the Little Wildhorse / Bell Canyon Loop.  I had hiked the trail once before, but Tracy had never hiked it.  We had a great hike here, and we had it completely to ourselves.  This is a really good slot canyon that's not too hard to hike, and it's easy to get to.  There were surveyors out on the road that day, so I hope they're not planning on paving the road…that would make it even more popular.
Anyway, great trip.  I love southern Utah.
|
|
|
mi
|
|
|
/mi
|
+ft -ft (net: ft)
|
download GPX file