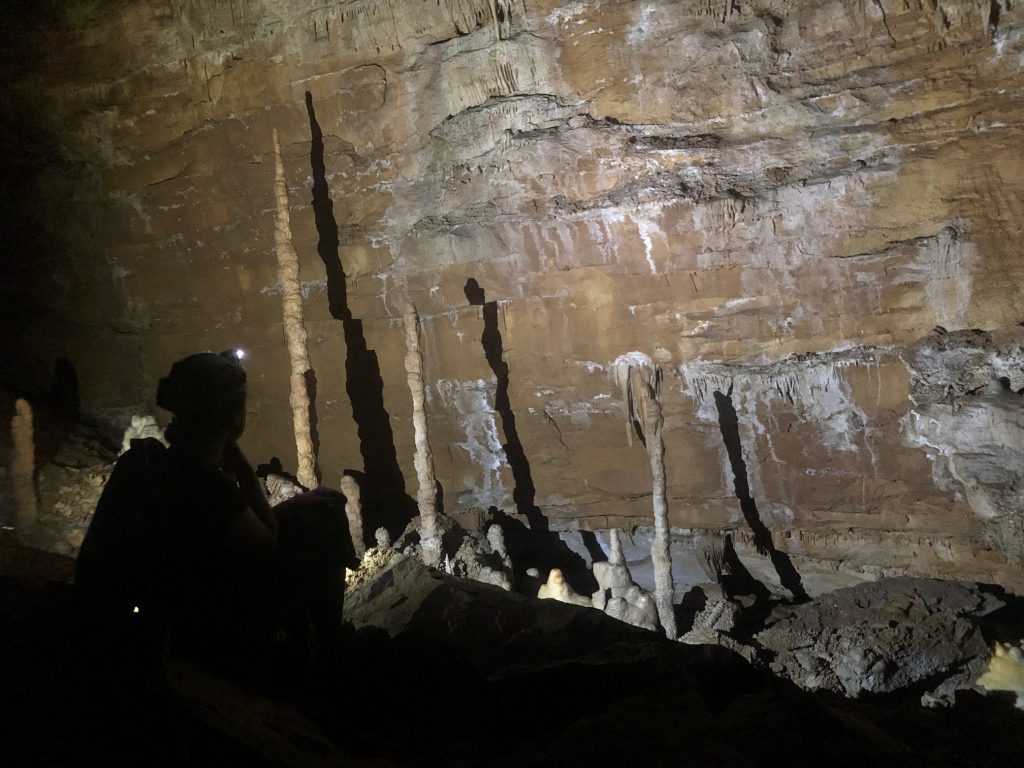 Unsterstein Cave is fascinating to me because it's the biggest cave I know about that has been discovered since I moved to Alabama.  In the 21st Century, it's tempting to think that everything on the planet has already been discovered.  But when it comes to caves, at least, there is still a lot to be found.  Long caves still hide passages deep underground, and every once in awhile, someone happens upon a small hole in the ground at just the right time when the barometric pressure and the temperature outside hit just the right levels, and warm air blows out of the hole as the person is walking by.
That's pretty much what happened in 2015 when several people were combing the side of a mountain in the city limits of Huntsville looking for caves.  They had a dog with them, and the dog stuck its nose into a very small hole.  Closer examination of the hole revealed blowing air.  But the hole was too small even to look inside, so they returned several times and made the hole bigger.
Once they enlarged the hole, they uncovered a large virgin cave with a vertical entrance, multiple drops, a large room at the bottom, and beautiful formations.
On October 21, 2018, I finally got a chance to visit this new cave.  There is a bit of a cross-country hike down the mountain to get to the cave, but it's not too bad.  This was my first multi-drop cave, so that already made it interesting.  The longest drop is about 90 feet, and then you can remove your vertical gear and explore the bottom of the cave, with its waterfall, cave pearls, large breakdown, and other pretty formations.  These were also my first cave pearls, so that was really cool.
I didn't get many photos, but it really is a nice cave…especially since it's newly discovered.
Note: This is not the actual location of the cave.
Similar Posts: