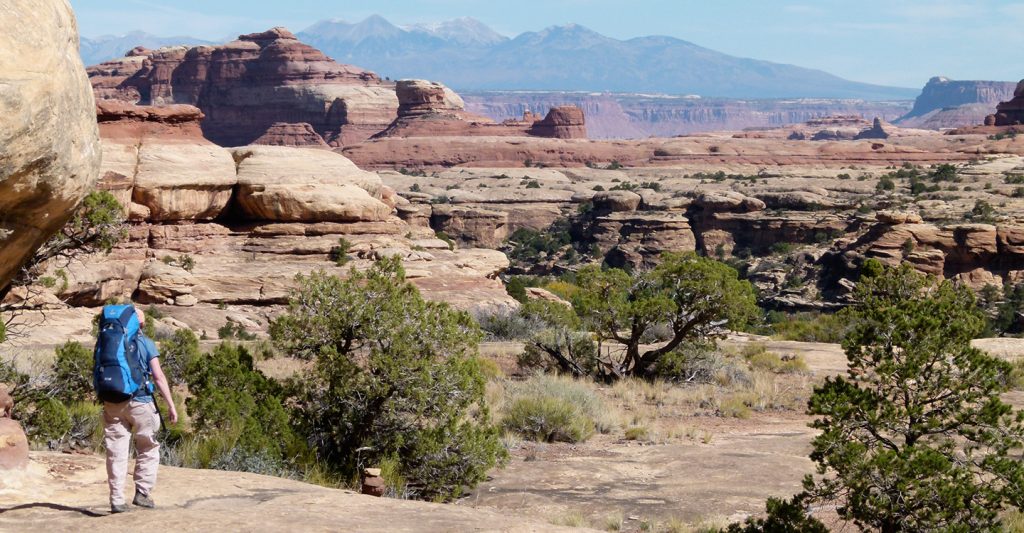 Tracy and I took a long weekend on 13 Oct 11 to finally hike The Needles District of Canyonlands National Park.  We had driven out to the The Needles right after we moved here, and I didn't remember seeing anything that looked all that interesting or even anywhere that we could hike.  So, consequently, we haven't been back there and we haven't hiked anything out there.  But after we flew over the area last year, I saw things that looked interesting and I decided we should go back and try it.  So we got permits to backpack in it this particular weekend.  I hoped it would be late enough to be fairly cool…it wasn't.  Really, it wasn't too awful hot, but it was hotter than I had hoped it would be.  But the trip was still really nice.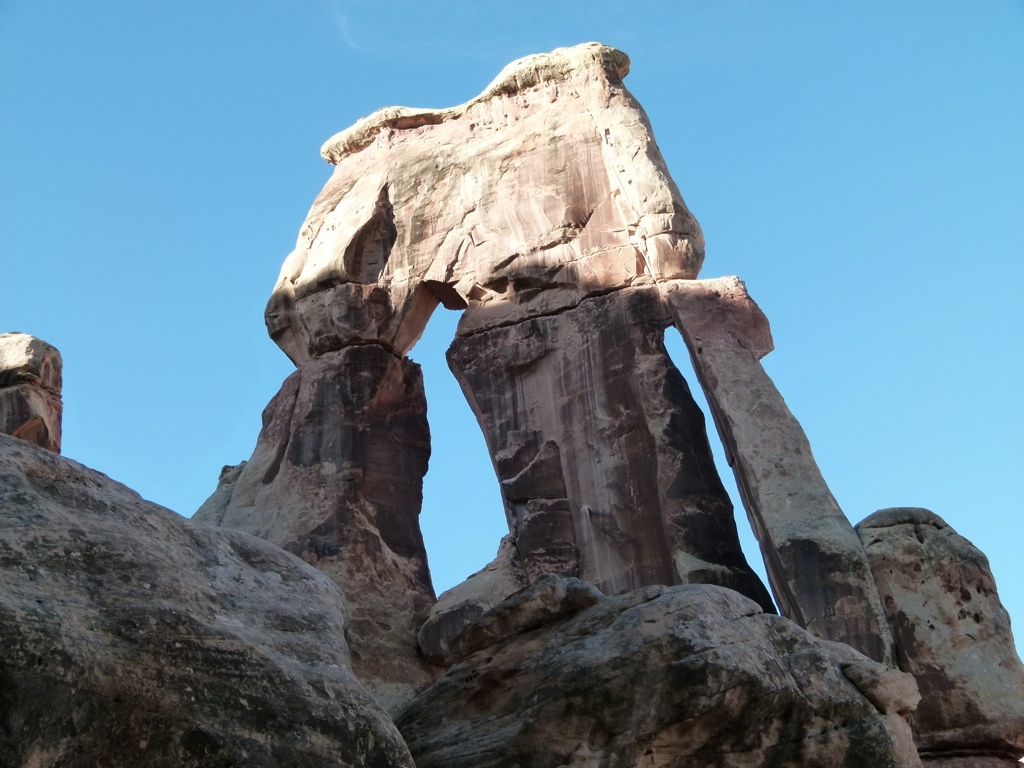 We took off work on Friday and drove down to Green River on Thursday after work.  On Friday we drove on to Moab and then on to The Needles.  After picking up our permit, we started at the Squaw Flat Trailhead.  Our permit was to camp the first night in Elephant Canyon and the second night in Lost Creek Canyon.  The hike to Elephant Canyon was really nice.  There was a lot of hiking across open slickrock, which I really enjoy.  Because it was across the slickrock, though, it was hot.  But it wasn't a big deal, and Tracy only got overheated once, which was easily overcome by taking a break in the shade of a cliff.  The hike wasn't too hard, and we made it to the EC2 site early in the afternoon.  The campsite was really pretty, setting on a bench surrounded by high canyon walls.  We could also see some spires north of the site.  We stayed in camp a couple of hours, and then we hung our gear and headed out for a dayhike to Chesler Park.  The hike to Chesler was narrow and challenging in some places, but it wasn't too hard, and we eventually made it up out of Elephant Canyon.  Once out of the canyon, there was an awesome basin before reaching Chesler.  It looked a lot like a glacial cirque, but it was completely slickrock, and it was just really cool.  We then climbed out of that basin up into Chesler Park.  Chesler was also really cool.  It also looked like a cirque, but it was a large grassy basin completely surrounded by high cliffs.  From the park, you can see The Maze on the other side of the Colorado River, so it was cool to see where we had been the week before.  It was getting late, though, so after a few minutes we started back to camp.  On the way, we found a small pool of water in the canyon, and we were able to get some water for the night.  I later found another, bigger pool closer to camp, which I used to refill our bottles after dinner.  After it got dark, I played around with the camera, trying to take some nighttime pictures.  I got some pictures of a rising Jupiter, and some pictures I took of a rock behind camp using my flashlight to paint the rock.
The next day we g
ot up and dayhiked out to Druid Arch.  It was about 5 miles round trip, and we had to hike every step of the way because the arch is turned sideways to the canyon…so we had to hike up to it just to be able to see it.  We also missed the trail at one point as it climbed around a pour-off, and that set us back for about 30 minutes.  The hike was nice, though, and the back side of Elephant Canyon was really cool.  The arch was also really big, and that was nice.  After hiking back to camp, we were ready to just call it a trip, and we pretty much decided that The Needles were really pretty, but the heat was unpleasant, and we just wanted to hike out.  But rather than backtracking and making our decision right then, we decided to continue the loop into Squaw Canyon towards our second campsite and decide later in the day.  The hike down the fork of Elephant Canyon wasn't all that, but when we connected over to Squaw Canyon, it was just awesome.  Squaw was really, really pretty with lots of high slickrock walls.  We had to use a ladder to climb out of Elephant Canyon and then another ladder to drop down into Squaw Canyon.  Then it was just easy hiking across the slickrock.  Eventually the trail dropped down into the canyon as the walls got lower, and the canyon bottom was thick with underbrush, and it got hot again.  Once we reached the intersection for Lost Cre
ek, we were ready to go home.  So we just continued on down the trail and back to the car.
From there, we made a quick stop at the little store just outside the park…we had run out of water about 20 minutes before getting back to the car, and we needed some Gatorade…we really need to start carrying Gatorade in the desert.  I had some new electrolyte powder to add to the water, but it tasted terrible.  We just need to carry Gatorade.  After reviving ourselves, we started driving back to the highway and then drove north to head back home.
I'm glad we didn't hike a second night…we were just too hot to enjoy it…although there were a lot of people who were staying several nights out there.  However, I do want to go back to this area.  The canyons were really pretty.  I think we'll hike more out here on our winter trips to Moab.