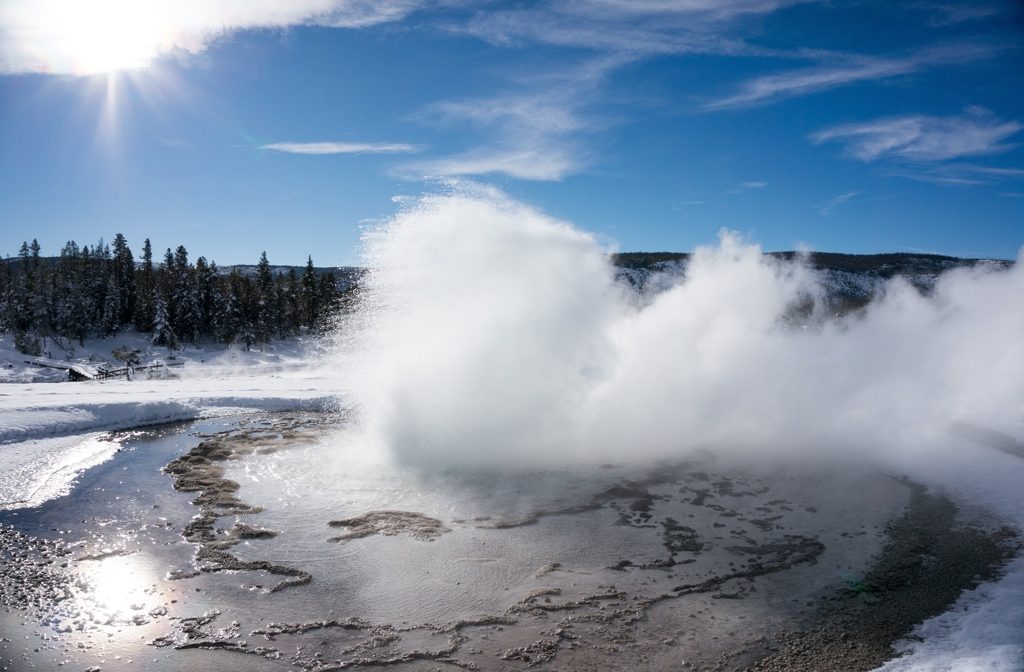 On January 17, 2013, Tracy and I headed up to Yellowstone for a long four day weekend of fun in the snow. We have been to Yellowstone several times in the winter, but we've always gone through the Gardiner entrance and driven around the northern part of the park. For this trip, we finally decided to take a snow coach to Old Faithful and stay at the Old Faithful Lodge. We stayed in West Yellowstone on Thursday night and then caught the snow coach on Friday morning. The snow coach ride was nice, and we saw some elk and bison on the way. We met a couple who used to live in Knoxville…it seems like we run into this quite often.
Once we reached the lodge, we checked in to the cabin. The cabin was nicer than we had expected, and only about a 3 minute walk from the main lodge and the restaurant. We then headed out to Old Faithful and the Upper Geyser Basin. It was really cool exploring around the geyser basin with almost no one else out there…it's a welcome change from what the basin normally looks like. In fact, we saw Old Faithful erupt with only about half a dozen other people…that was nice. After dinner, we took a night snow coach tour around the geyser basins. The tour was alright, but mostly just because it was nice getting out and about at night. The tour hiked around the Fountain Paint Pots in the dark, so that was nice. We then watched Old Faithful erupt at night.
On Saturday we snowshoed up to Kepler Cascades. We took a trail for part of the way, then intersected with the road and hiked the road the rest of the way. We saw some good sized wolf tracks on the road that were fairly fresh. I thought they were cat tracks for a long time, but eventually I found claw prints in them, so I think they were wolf tracks…they were really big. At Kepler Cascades, Tracy became famous as a group of Asians on a snow coach tour were fascinated by her snow shoes and wanted pictures with her. We then snowshoed a little down the Imperial Geyser Trail, but soon had to turn around to catch our snowcoach ride back to West Yellowstone. We were the only ones on the coach back to town, so we learned a lot from the driver about the employee lifestyle. We've always wondered how they did things, so that was actually a big highlight of the trip! We also saw a wolf on the way out. We got to West Yellowstone about 4 pm and then headed to Driggs, ID, for the night.
On Sunday we drove in to Jackson, where we met Travis and Pamela who were visiting from back home. We rented snowmobiles in town and Travis towed them out to Greys River. Since there were four adults and three kids, we had three double snowmobiles and one single. Tracy took the single since she was afraid of hurting one of the kids. We then headed up the trail. The plan was to do the same route that Tracy and I had done a couple of years earlier. We had a good time, and saw a couple of moose, which was nice. Later in the afternoon, though, when we were heading up Mill Creek to complete the loop back to the trailhead, we missed a turn and followed an unofficial, but well-traveled, trail up into the mountains. On the way up, Pamela got stuck, and we spent some time digging out her snowmobile. Just a few minutes after that, though, we reached a place where it was really steep, and it became evident to me that we were not where we were supposed to be.
So we decided to turn around and backtrack to the trailhead rather than doing the loop. It was getting late, though, and this meant we were a little pressed for time. I estimated that we had about 45 minutes more than we needed to get back before dark, but that still wasn't much breathing room, so I told everyone we would need to hurry back. Unfortunately, Pamela got stuck again near the same place she got stuck before. Even more unfortunately, I was in front of her and Travis and didn't realize they had gotten stuck for about 10 minutes. By the time I got back to them, they had been stuck for nearly 20 minutes and had given up on getting it unstuck. Since we now only had about half an hour of estimated cushion time before dark, Pamela wisely decided to leave the snowmobile and get back. They had already left when I found them, so I don't know how badly the snowmobile was stuck, and while I think we could have gotten it unstuck if it had just been us adults, I think Pamela made the right decision since we had three young kids with us. The rest of the ride back was uneventful, even though it was getting cold quickly, and Tracy didn't realize that we weren't behind her until she had gotten nearly 30 minutes ahead of us and arrived at a trail intersection. That was pretty funny. Her response: you told me to hurry! We ended up having about an hour or so of daylight left after getting the snowmobiles loaded up. It ended up costing them about $400 to get the snowmobile recovered.
After getting back to Jackson, we had dinner and laughed about the fun we had. On Monday morning, we drove around the Tetons a little and saw some moose and elk. I also screwed up some otherwise nice pictures as I continue to try to learn my new camera. We then met Travis and Pamela for breakfast, and then Tracy and I headed home. This was a great trip, despite the problems with the snowmobile. I'm glad we did Old Faithful in the winter once. It was cool, and it wasn't too awful expensive. The snowmobiles were also fun, but Tracy still doesn't enjoy snowmobiling very much.
Similar Posts: