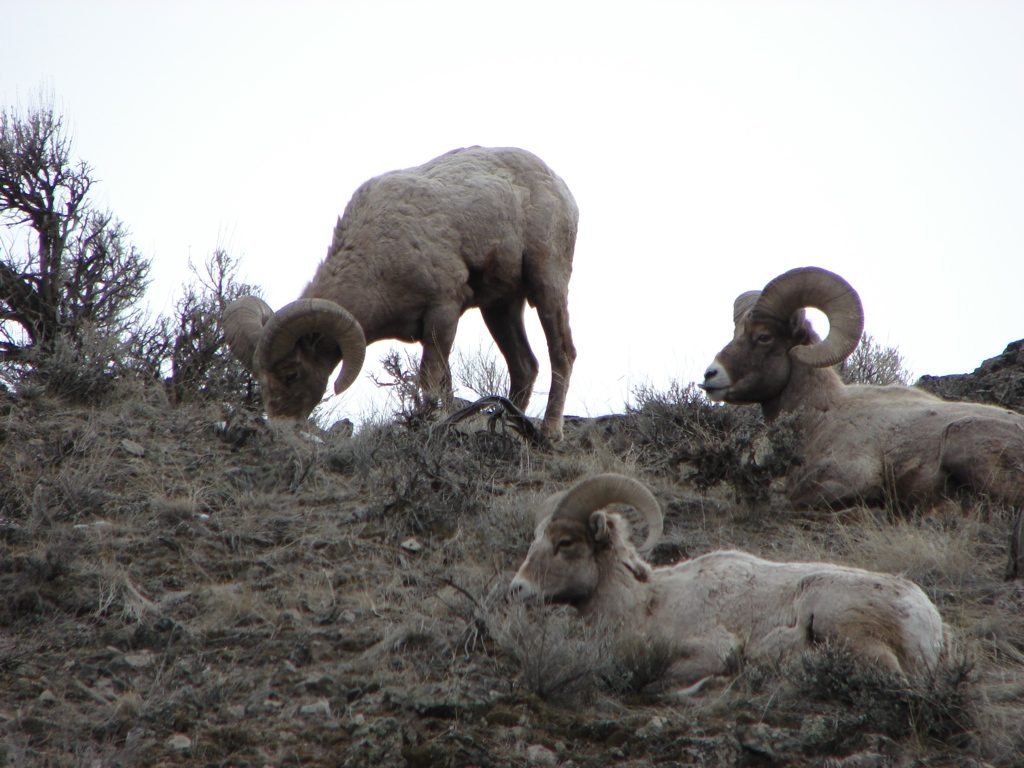 The weekend of March 18, 2011, Tracy and I took a drive up to Yellowstone. Tracy wanted to see Yellowstone in the winter again, so we made the long drive up to the north entrance. We spent Thursday night in Rexburg, ID, and on Friday we drove to Gardiner, MT. On the way, we stopped and I tried to see if I could build a snow cave. I worked at it for a while, but there was only about 3 feet of snow, so it was going to take longer than I wanted to spend to make a real snow cave. I dug in a little, and primarily learned that I would need to be sure to wear my snow pants to keep from getting cold and wet if I ever tried to dig another snow cave.
We drove around the park a little on Friday, and spent the night in Gardiner. On Saturday we hiked a little near the north entrance, but there was snow a mile or so up the trail, and the snow-free section of the trail got really muddy, so we only spent an hour or so out on the trail. We did see a lot of bighorn sheep, though, so that was nice. After hiking, we drove into Lamar Valley to look for wolves and bears. There was supposed to be a grizzly on a bison kill, but by the time we got there he had evidently finished his 3 day feast about an hour earlier, so we never saw him. We did see one wolf on Saturday, but then it started snowing quite a bit, so we drove on into Cooke City for the night. On Sunday we drove back into the park and saw an entire wolf pack of about 6 wolves. That was nice. After that, we headed out for the long drive back home.
I enjoy Yellowstone, but it's hard to get there in the winter, and there's not much else to do once you've already seen the wolves. I've said this before, but I don't much feel like we need to go back to Yellowstone in the winter. I would like to hike some of the park trails in the north-west corner of the park, though, so maybe we can do some of that this summer.